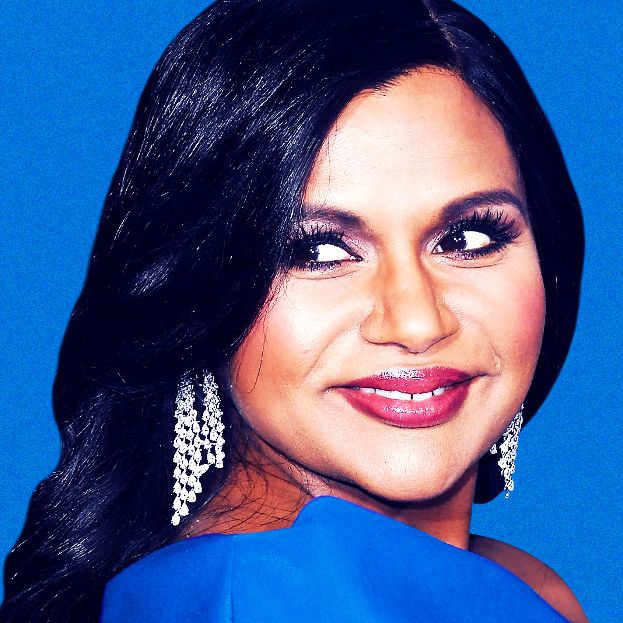 Photo-Illustration: Maya Robinson/Vulture and Photos by Getty Images and Hulu
When was the moment you realized you were an admirer of Mindy Kaling's work? Was it her bitingly sharp writing in The Office, her acting in the delightful rom-com The Mindy Project, or, if you're one of the lucky OG Kaling-ers, her Off Broadway run at the beginning of the millennium when she ridiculed two famous Boston thespians? Regardless of when it happened, there's no denying Kaling is everywhere in 2019 and beyond. To fully explore how she got to where she is today, we've tracked the evolution of Ms. Kaling's career since day one.
June 1979: Vera Mindy Chokalingam is born in Cambridge, Massachusetts, to a Tamil architect father and Bengali ob-gyn mother. In both of her memoirs, Is Everyone Hanging Out Without Me? and Why Not Me?, she describes herself as being a "sensitive" child who grew up in a loving household.
Mid-1990s: Kaling goes to high school at the prestigious Buckingham Browne & Nichols School, where she was a respectful and hardworking wallflower — or an average "overlooked" student. "I was never the lead in the play. I don't think I went to a single party with alcohol at it. No one offered me pot," she wrote in Is Everyone Hanging Out Without Me? "I always felt I was missing out because of the way the high-school experience was dramatized in television and song." It was around this time her interest in comedy began to peak, thanks to frequently watching Comedy Central, Monty Python sketches, and Saturday Night Live reruns whenever she had the chance.
Late 1990s–early 2000s: Kaling continues her education at Dartmouth College, ultimately graduating with a degree in playwriting — a collegiate experience that was a vast improvement over her high-school years. "I was freakin' Jaws in a community swimming pool. I wrote plays, I acted, I sang, I was the student newspaper cartoonist," she writes in Is Everyone Hanging Out Without Me? "I got all the attention I could ever have wanted." Her cartoon column, "Badly Drawn Girl," was popular with the student body.

She was particularly active in the school's improv group, the Dog Day Players, which gave her the opportunity to write well-attended comedy one-acts and travel to other universities. She was also briefly a sorority sister of Sigma Delta, but quit after 12 weeks. As she recalls in Why Not Me?: "I wasn't traumatized. I was just bored." At 19, she netted a summer internship at Late Night With Conan O'Brien, where she reckons she was one of the worst interns the show had ever seen. "I treated my internship as a free ticket to watch my hero perform live on stage every day, and not as a way to help the show run smoothly by doing errands," she wrote. When she appeared on Late Night in 2006 — when she was then working on The Office — she and O'Brien bantered about her less-than-ideal experience.
July 2001: Kaling moves to Windsor Terrace, Brooklyn, with her two best Dartmouth friends in the hopes of pursuing a career in comedy. It's a rocky start — she works as a babysitter for a wealthy family in Brooklyn Heights, gets passed over for the NBC Page Program, and eventually gets a full-time job as a production assistant at Crossing Over With John Edward, a series in which Edward gave psychic readings to audience members. She likened working on the show to a normal, boring job experience, noting in Is Everyone Hanging Out Without Me? that "it was cathartic, and therapeutic, and it helped people."
August 2002: Kaling and one of her college BFFs, Brenda Withers, debut their hour-long comedic play Matt & Ben at the New York International Fringe Festival after more than a year of writing and workshopping. The premise is absurdly silly: What if the entire script for Good Will Hunting fell into the lap of a young Ben Affleck when he and Matt Damon are writing a movie adaptation for The Catcher in the Rye? ("The tone is somewhere between The X-Files and The Odd Couple," Kaling writes.) The play was so well-received that it quickly transferred to an Off Broadway venue, P.S. 122 in the East Village, where it further skyrocketed in popularity.
Early 2004: Due to the massively successful run of the play, Kaling and Withers's agent was able to parlay a comedy pilot deal to the now-defunct WB network, turning Matt & Ben into Mindy & Brenda, a sitcom that followed two best friends getting through life in Brooklyn. However, the network wouldn't allow the ladies to portray themselves — which came as an unexpected surprise — and the series, unfortunately, ended up barely resembling them or what they had written. (Noureen DeWulf and Virginia Williams portrayed Mindy and Brenda, respectively.) "By the time we shot the pilot, the script made little sense," Kaling explained in Is Everyone Hanging Out Without Me? "Being 'zeitgeisty' was the biggest criterion for the show. Being funny was maybe fifth important, after wardrobe choices, hair styling, cross-promotional opportunities with advertisers, and edgy sound effects." Much to Kaling's delight, the WB didn't pick up Mindy & Brenda to series.
Mid-2004: After seeing Kaling perform Matt & Ben in New York, Greg Daniels — who developed The Office for American audiences — sets up a meeting with her to discuss career options, eventually offering her a staff writing gig for the first season. (She was one of nine total Office creatives for the inaugural season.) Between the show's break in its second and third year, Kaling was hired as a guest writer on Saturday Night Live, a gig she described as "humiliating" in Is Everyone Hanging Out Without Me? Nearly all of her ideas, such as a proposed sketch starring Antonio Banderas reuniting with an identical twin at the Berlin Wall, were met with complete silence at table reads.
She was also given the supporting role of the delightfully narcissistic Kelly Kapoor in The Office, which the writers specifically crafted as an exaggerated version of Kaling. As the seasons progressed, so did her role on the show, with Kaling becoming a director and executive producer, writing 24 episodes in total. She departed The Office at the conclusion of season eight, admitting she grew a little "restless" with the minutiae of television writing, given that she wasn't the showrunner. (She also joked how "difficult" she was to manage back then.)
September 2012: Kaling releases her first memoir, Is Everyone Hanging Out Without Me?, which humorously traces the highest highs and lowest lows of her life in a collection of essays. It makes the New York Times' best-sellers list.
Late 2012: As part of her final season contract with The Office, Kaling is granted a development deal for a pilot at NBC. The Untitled Mindy Kaling Project — which she said was most inspired by Pride and Prejudice and her mother — ended up getting passed over during pilot season. The rejection ended up being a blessing in disguise: Fox picked up the pilot a few weeks after, which later became titled The Mindy Project, with the only note being "to make sure that the character of Danny Castellano was strong and masculine … they didn't want my character to outsmart him and push him around." Fox also encouraged her to change the lead character's name from Mira to Mindy. "It lent an authenticity to the show that people really responded to," Kaling wrote in Why Not Me?. The Mindy Project, which revolved around a very fashionable, eccentric ob-gyn and her quirky colleagues in Manhattan, soon became a popular series among viewers and critics alike, although the ratings were never stellar.
May 2015: Fox cancels The Mindy Project after three seasons, with the rom-com ultimately getting revived at Hulu for an additional three seasons, concluding in the fall of 2017. ("I have never been prouder of the show than during that brief cancellation period," Kaling wrote in Why Not Me?.) Throughout the series' run, Kaling starred in the titular role, served as an executive producer, and wrote dozens of the 117 total episodes. Kaling also made a few notable supporting appearances in movies during this time, including The Five Year Engagement, Inside Out, and The Night Before.
September 2016: Kaling is cast in her first Hollywood blockbuster as Mrs. Who in Ava DuVernay's adaptation of A Wrinkle in Time. (In fact, she was the very first casting idea DuVernay had.) Weeks later, she's further thrusted into film stardom when she joins Ocean's 8, the all-female spinoff of the Ocean's 11 series. (She joked about how paparazzi don't care about her on movie sets.) Kaling also releases her second collection of essay this month, Why Not Me?, a memoir that again makes the New York Times' best-seller list.
May 2017: The Mindy Kaling TV universe expands, with NBC putting in a series commitment for Champions, which she co-created with her pal Charlie Grandy. The ensemble comedy follows a bro-y, bachelor gym owner in Brooklyn (Anders Holm, a recurring character on The Mindy Project), who's blindsided by the news that he has to take in the teenage son he fathered with his ex-girlfriend (Kaling), so his son can attend a prestigious performing arts school.
December 2017: Kaling gives birth to her first child, Katherine Kaling. The father of her daughter, whom she has not named publicly, has become the source of intense tabloid and fan speculation, with many hoping it's B.J. Novak — her sometimes-co-worker, once-boyfriend, and current best friend.
March 2018: Champions premieres on NBC, with Kaling pulling triple duty as executive producer, writer, and guest actor. It generally receives positive reviews — we at Vulture called it one of the most promising comedies of 2018. Alas, NBC chooses not to renew the show for a second season.
January 2019: Late Night, a workplace comedy written by and starring Kaling, premieres at the Sundance Film Festival to favorable reviews. (We liked it a lot!) Co-starring Emma Thompson, the film revolves around an out-of-touch talk show host who hires a new writer (Kaling) to help make her show relevant again, to mixed results. Amazon shells out $13 million to acquire Late Night, one of the highest amounts spent at the festival.
February 2019: Kaling leaves Universal TV, where she's worked in various capacities for over a decade, and signs an overall deal with Warner Bros. Television Group. (Per Deadline, the deal is reportedly worth $8.5 million a year for six years — not too shabby!) She will be developing, writing, and producing television projects across all of Universal's platforms, which could take the form of comedies, dramas, and miniseries.