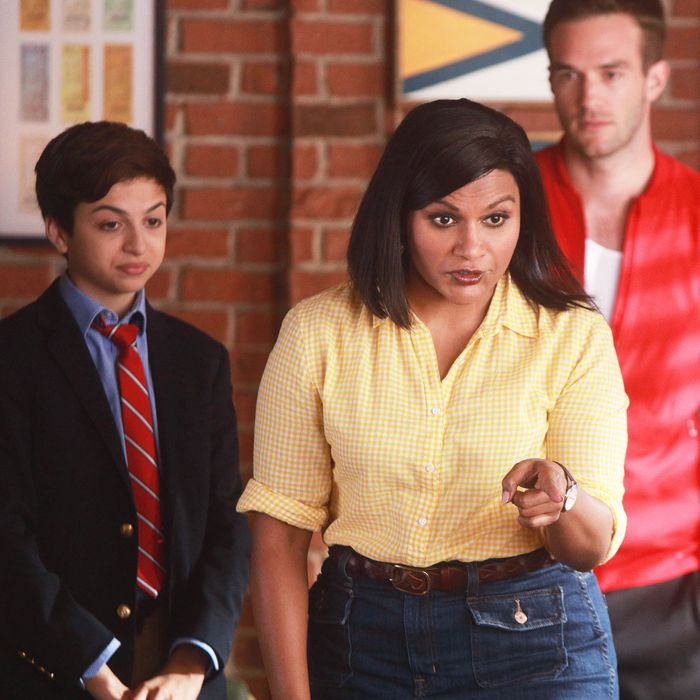 L-R: J.J. Totah, Mindy Kaling, and Andy Favreau in
Champions.
Photo: NBC/Jordin Althaus/NBC
We all know Mindy Kaling as our funniest fantasy best friend. But in her new sitcom creation (with collaborator Charlie Grandy), Champions, debuting on NBC this Thursday as the follow-up to her breakthrough, The Mindy Project, we can discern something a little more practical: her distinct comedy vision and voice. Champions sounds nothing like The Mindy Project — it's about a gay teen boy, Michael (J.J. Totah), who moves in with his long lost father, Vince (Anders Holm), so he can attend theater school in New York. But below the surface, it's exactly like The Mindy Project in some great ways.
Kaling is developing a recognizable show schtick that can be broken down into seven major elements.
Workplaces full of colorful characters
Vince owns a grungy Brooklyn gym called Champions with his sweeter, buffer brother, Matthew, and employs boundary-free trainer Ruby, social media-obsessed yoga instructor Britney, and old-timey boxing instructor Uncle Bud. They sure seem like they'd get along well with the doctors of The Mindy Project's ob-gyn office. Basically, in Champions, Matthew's the Peter, Britney's the Tamra, and Uncle Bud's the Beverly.
Handsome white men, often athletically inclined
Mindy was notorious for Mindy's lily-white taste in men, and while there's plenty of diversity among Champions' secondary characters — and Michael is half-Indian — the central brothers are pure Mindy stock. In fact, Holm played Mindy's sometime fiancé, Casey, on Mindy, and the gym would surely please the old-school, fitness-obsessed Dr. Danny Castellano.
Golden throwaway lines, the less context the better
Ruby: "Hey, I need to shower at your guys' place tomorrow. I'm making sports drink in my tub. As long as I drink 30 gallons a week, it pays for itself!" Michael: "Well, good-bye, dreams! I guess now I'm going to have to return to Ohio, go back into the closet, marry an ugly girl from my high school, and run a pashmina cart in the mall." Matthew: "That's when I realized that I just didn't have what it takes to collect coins."
Nowhere is the crossover between Champions and Mindy more apparent than in their many shared cast members: In addition to Holm, other Mindy alumni include Fortune Feimster, Mindy's Colette, as Ruby; and Richard Gant, Mindy's deadly serious accountant Melville, as Champions' deadly serious lawyer. And, of course, there's always at least a little Mindy Kaling herself, who plays the recurring role of Michael's mom, Priya, on Champions.
Indian-American characters playing against stereotype
Kaling's Indian-Americans don't deny their cultural ties, but they're never the standard-issue model minorities you typically see on TV. Champions' Britney is another perfect example: She teaches yoga, but she's more interested in Instagram and her tenuous romantic relationship with Vince. And while Michael flirts with plenty of gay-theater-kid tropes — something the show seems poised to challenge over time — he doesn't play into an Indian-American stereotype one bit.
Mindy always had a theater joke ready and usually delivered it via British stage aficionado Jeremy; Michael's performing-arts school is an even better venue for such material.
The best alter-ego names in the biz
It's hard to forget Mindy's "warrior name": Beyoncé Pad Thai. Same goes for Michael's "stage name": Miguel Blanchett Almodóvar.