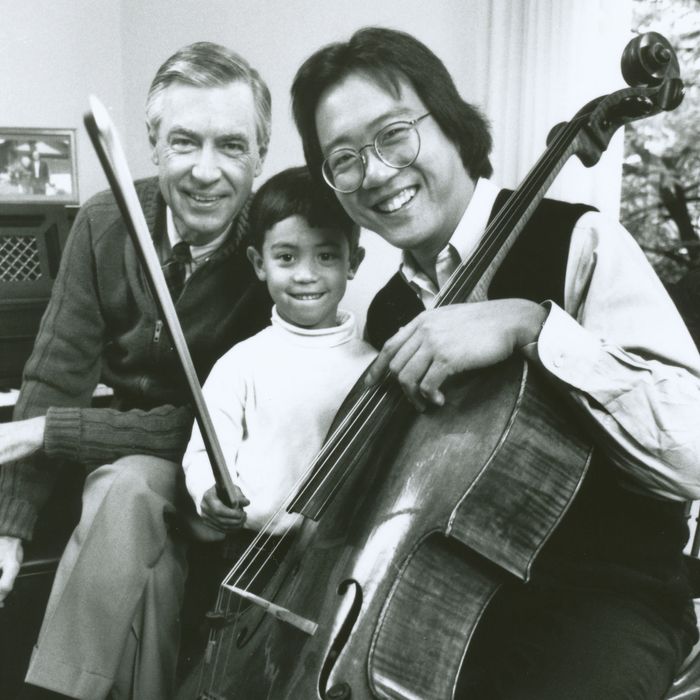 Rogers and Yo-Yo Ma, with Ma's son Nicholas.
Photo: Courtesy of Matt Bulvony/PBS
Mister Rogers: It's You I Like is a PBS special about Fred Rogers done in the spirit of Fred Rogers. It runs about an hour, makes every point as simply as possible, and moves on as soon as it's made them. The entire time, you feel as if the tale is being told to an audience of one. Despite its brevity, this is a powerful special because, like Rogers himself, it speaks plainly and without affectation to the deepest part of us, in a calm and accepting tone of voice.
It's You I Like is produced by JoAnn Young and John Paulson and hosted by Michael Keaton, a fellow Pittsburgh native who worked with Rogers at their home station in the 1970s. It is not an exhaustive special packed with biographical detail that tries to say everything there is to say about Rogers and his long-running show. It's more interested in what Rogers, who died in 2003, meant to people: the impact that he had on their childhood development, and on the rest of their lives. Its spirit is encapsulated in footage of Rogers watching a small boy named Nick play a Bach minuet on the piano. He doesn't watch the boy's hands to see if he gets every note right. He watches his face to see what he's feeling as he plays.
This special often shows famous guest stars watching the same scenes that it shows us, to capture their reactions. These are always illuminating, sometimes moving. Opera star Joyce DiDonato, a longtime Rogers fan, watches the scene of the boy playing Bach and observes, "It's like he's reading what's going on inside Nick's head."
Whoopi Goldberg, Chris Kratt, John Lithgow, Yo-Yo Ma and his son Nicholas Ma, Itzhak Perlman, Sarah Silverman, Esperanza Spalding, and Caroll Spinney (a.k.a. Big Bird) all pay tribute to Rogers, and there's never a grandiose or self-serving note. Many of the guests tear up, often at moments that seem to catch them by surprise. The special has the intuitive structure of a Mister Rogers episode, going wherever it feels like going, with full confidence that if it gets the tone just right, you'll follow anywhere it leads. It starts off with a section about Rogers as a music appreciator (of jazz especially), and shows us clips of a young Wynton Marsalis stopping by Mr. Rogers's house. It moves on to Yo-Yo Ma and Nicholas Ma (who says that the only two times he ever mustered the nerve to perform with his father were on Rogers's show), and gives us a scene of Perlman walking onto the set with his crutches. One of Rogers's great gifts was his ability to find the strength in things that society marks as weakness. Notice what he says about Perlman: He talks not about how weak his legs must be, but how strong his arms must be, by virtue of walking on those crutches.
Rogers brings out the grateful child in everyone. Some of the strongest moments consist of nothing more than Rogers talking to a child (or an adult) about what they enjoy doing, what they're feeling, or what they fear or don't understand, always with curiosity and without judgment. Sometimes it's Rogers doing the talking directly. Other times he's in the Land of Make Believe, speaking in character as one of his many puppets. We learn a lot about Rogers's interest in musical composition and performance, as well as in creativity of all kinds, including the manufacture of ordinary objects. (There's a section about all the visits he took to factories to show kids how things like balloons, spoons, and harmonicas were made.) And we see his imperfection and lack of ego displayed as visibly as other performers might showcase mastery. He welcomes a series of cultural giants onto his program, but never seems inclined to try to compete with them. Sometimes he asks them to teach him what they know, and he struggles to do it, smiling and laughing at his inability to instantly rise to their level, in order to communicate to kids that it's okay to try and fail, that no skill is mastered instantly, that it's the doing, the trying, that really matters.
The opening and closing sections create little montages of Rogers performing the same signature tunes at various points in his life, always with sincerity and a warm smile. The color of his hair changes from shot to shot, there are more wrinkles on his face, and, in time, his posture becomes slightly more stooped. But he's always wearing that sweater and those sneakers and speaking in that voice that tells you that whatever you're going through, things will be better if you can talk about whatever's on your mind.
What a gift it must have been to know Fred Rogers.
Mister Rogers: It's You I Like premieres on PBS stations this March. Check your local listings for more details.