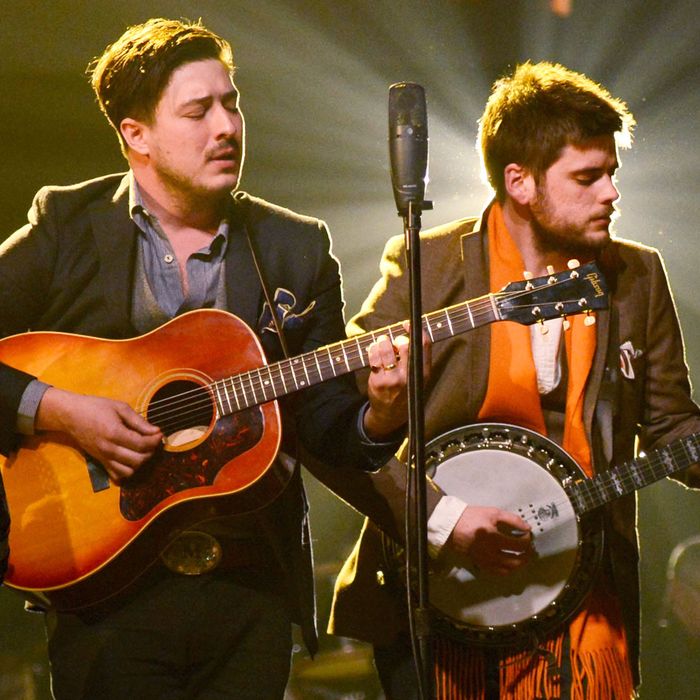 Photo: Kevin Mazur/WireImage
At the dawn of the decade, the neo-folk band Mumford & Sons released a string of singles that have since become staples at summer-camp guitar circles and hors d'oeuvres tray/mingling hour at weddings. They spawned copycats like the Lumineers, Of Monsters and Men, and even Avicii, who joined the fun with his EDM hoedown "Wake Me Up." The band surfed a wave of banjo-forward pop across the festivals and adult-contemporary radio stations that define American taste. As a country, we seemed to have an insatiable appetite for the British band's sanitized representations of our past.
Though their rapid rise felt surprising at the time, its vectors are obvious in hindsight. DIY heartthrobs like Bon Iver and Fleet Foxes spent the '00s sowing the seeds of early-adopter support for woodsy folk pop. By the time the Mumfords emerged at the end of that decade, a wider audience was primed and ready. And unlike their forebears' emphasis on homespun intimacy, the Mumfords aimed their accordions at the universe. Their Springsteen-in-suspenders shtick landed them Lollapalooza crowds and weepy TV syncs. They made their late-night debut on Letterman, performing "Little Lion Man" in front of a display of wooden slats and Edison bulbs. Their 2009 debut Sigh No More would go on to sell more than 4 million copies.
The neo-folk scene took off among a subset of impressionable post-subprime-crash 20-somethings just looking for something real, as defined by a specific form of Americana cosplay. Mumford disciples in suspenders, porkpie hats, and brown wingtip boots flooded urban centers worldwide.
The phenomenon irked many because it seemed to imply an arch posture of retreat from the modern world into a pastoral paradise. Within a year of achieving fame, Mumford and their fans became a recurring punch line for comedians like Jake Fogelnest and Rob Delaney. By the time the band beat Frank Ocean and Janelle Monáe to win Album of the Year at the 2013 Grammys for their sophomore effort, Babel, a backlash was in full swing.
The chorus of jeers did not help Mumford & Sons' confidence. "The clothes have become more of an issue than they ever imagined," notes a Rolling Stone profile of the band from March of 2013, a month after their Grammys win. Asked to respond to British singer Jake Bugg saying they dressed like "posh farmers," the band responded with huffy indignation. "The Band were not actually Civil War veterans," retorted Marcus Mumford (as paraphrased by the writer), and "Bob Dylan never rode the rails."
The band was struggling under the caricature image they'd cultivated. A few months after the piece ran, Mumford & Sons released a video for their song "Hopeless Wanderers," the fifth and final single from Babel. The clip stars Ed Helms, Jason Bateman, Jason Sudeikis, and Will Forte as an exaggerated parody of the band, complete with an accordion, a barn, and Forte rocking a full Amish beard.
At first the comedians gamely play the tune, but by the end, they're smashing their antique instruments in the dust. The joke is that Mumford are supposed to be peaceful and pastoral — the injection of modern violence and rage ruptures their earnest façade. In retrospect, the video feels a little sad. Mumford & Sons had become a punch line even to themselves. Tired of acting out stale gestures from the past, they enlisted agents of chaos from the present to transform their identity into a caustic joke. It recalls the playground archetype of the victimized kid whose defense against bullies is to mock himself harder than anyone else, making his tormentors so uncomfortable that they leave him alone.
The video accurately characterized the state of play: the band's shtick had become radioactive. "Fuck the banjo," Mumford's banjo player Winston Marshall told DIY Mag in 2015. Later that year, the band released their third album Wilder Mind, which, according to PopMatters, "stripped away … their ostensible Americana aesthetic to reveal the boilerplate alt-rock that forms its core circuitry." It spawned no memorable hits and sold around 500,000 units, disappointing numbers for a band whose first two albums had both sold more than 3 million copies each.
These days, neo-folk is diminished at the mainstream level. While third-wave acts like Of Monsters and Men still nab sunset slots at mid-tier festivals, they certainly aren't topping the charts, and the Dust Bowl–chic look is less ubiquitous in big cities than it once was. As for Mumford & Sons, they — along with the Lumineers — have entered a strange twilight, where they can fill stadiums and appear on adult contemporary radio stations without making a dent in the pop conversation. They've reached a plateau reserved for acts as beloved by their core fans as they are reviled by tastemakers, like, say, Papa Roach.
From a contemporary vantage, it's easy to dismiss the whole scene as a brief, inconsequential '00s hangover. But in retrospect there's something fascinating about the fact that it happened at all. New stars who play the banjo don't appear every day. Despite the jokes, there's something about it that feels important in understanding what came after. Mumford & Sons took pop's nostalgia impulse to new heights of abstraction, synthesis, and commercialism. The band provided an evolutionary link between the indie experiments of the '00s and the globalized nostalgia culture of today.
In his 2010 book Retromania, Simon Reynolds diagnoses the modern world as "stretched thin … pierced by portals to innumerable potential elsewheres and elsewhens." His critique focused on consumers from the '00s who used the internet to cherry-pick an identity from a collage of references (think "I was there in Jamaica during the great sound clashes"). But Mumford short-circuited that paradigm. Their music — Coldplay melodies with folk instruments and bluegrass accents — is vast and vague, gesturing at an idea of "the past" that encompasses anything between the Louisiana Purchase and the 1940s.
"I always feel slightly embarrassed saying how much of an influence O Brother [Where Art Thou] was," said Marcus Mumford to Rolling Stone, referring to the film's hit soundtrack, "because that feels so recent." Mumford's primary inspiration is itself a secondary source, a modern facsimile of Depression-era sounds released in the year 2000, which means the band's music is a copy of a copy. "I don't really know what an Okie is, but I feel like one," added upright bassist Ted Dwane. That distance from context differentiates the band from obsessive revivalists like Jack White. They weren't reclaiming specific moments from a particular old time — they're just old-timey, invoking the past itself as an identity through sepia tones and Edison bulbs. These loose gestures allowed them to appeal to an incredibly wide swath of people. Rather than accumulating social capital through historical knowledge, the Mumfords acquired real capital by achieving something unavailable to an earlier generation of cool-hunting buzzbands: scale.
Of course, this exchange rendered them uncool, which caused the jokes, and in turn the banjo-smashing. Yet it's remarkable to consider how the band precipitated a wave of massive pop acts who incorporate nostalgia in a similar way, although with more finesse. If LCD Soundsystem and the White Stripes were chimpanzees experimenting with rock revivalism in the forest, and modern stars like Lana Del Rey and Carly Rae Jepsen are sleek, dominant Homo sapiens with subtle tools, then consider Mumford & Sons and their followers as hunchbacked Homo erectus. They briefly ruled the land, flailing around with primitive instruments in caves, until their progeny evolved and wiped them out.
There's one space, though, where the Mumford sound still thrives: ads. Spend an hour watching TV and you'll inevitably come across a spot with a healthy dose of fiddle, ukulele, and glockenspiel. Typically, this music is paired with products intended for families, like minivans or data plans. The trend is especially ubiquitous for baby items —nearly every crib or stroller on the market comes with a treacly soundtrack that could be a lost Mumford B-side.
This marketing phenomenon took off at the end of the '00s, around the same time as Mumford. Advertisers turned a decade of twinkly indie music into a framework for branding products with an innocent, whimsical slant. It's not a stretch to argue that demand for advertising syncs may in fact have launched an arms race of commercially friendly neo-folk, as enterprising musicians around the country jumped at the chance to land valuable ad placements.
In a wider sense, this music's rise predicted the way that personal branding, consumerism, and taste have grown increasingly intertwined in the era of Instagram. After all, when people transform their lifestyle into a product, it's only right that they should listen to music that sounds like an ad.