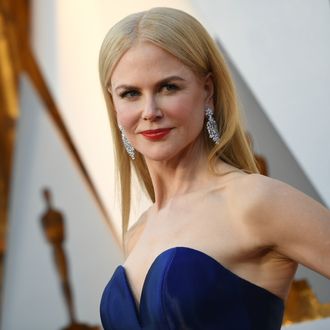 Nicole Kidman.
Photo: VALERIE MACON/AFP/Getty Images
Successful, overachieving upper-class mom? Check. Horrible familial secrets threatening to bubble to the surface? Check. Husband of extremely dubious character? Check! Much like her Big Little Lies co-star Reese Witherspoon, Nicole Kidman is currently developing one of your favorite recent books. The Undoing, starring Kidman and written by David E. Kelley, is a murder mystery set among the world of New York's private-school parents.
Based on Jean Hanff Korelitz's 2014 novel You Should Have Known, the limited-run series follows Grace Sachs, a therapist whose picture-perfect Upper East Side foundation is suddenly shaken when a fellow mother is found dead — and Grace's husband is suddenly unreachable. Even worse, Grace is about to publish a self-help book called, you guessed it, You Should Have Known, written specifically to chastise women who lie to themselves about their husband's flaws. A fragile façade hiding an increasingly desperate inner turmoil? Check, and congratulations, you've completed the Roles I'd Like to See Nicole Kidman Play scorecard. As your door prize, you've won … this very show!