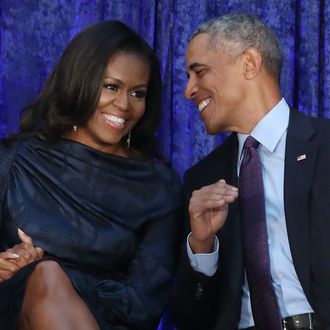 Michelle and Barack, plotting their content takeover.
Photo: Mark Wilson/Getty Images
Netflix has spent the last year snapping up some of the biggest names in TV, like Ryan Murphy and Shonda Rhimes. And according to the New York Times, the streaming giant is about to land one of the biggest names in the entire world. Barack and Michelle Obama are reportedly in negotiations with Netflix to produce "a series of high-profile shows." There aren't any confirmed details about what those hypothetical shows would entail, and Netflix declined to comment on the news, but the source for the Times says the Obamas have talked about content that focuses on "inspirational stories."
The planning apparently has not been framed as direct counterprogramming to President Trump (and Fox News), but the Times does report that, "In one possible show idea, Mr. Obama could moderate conversations on topics that dominated his presidency — health care, voting rights, immigration, foreign policy, climate change — and that have continued to divide a polarized American electorate." Another show could revolve around Michelle Obama covering "topics, like nutrition, that she championed in the White House." Cross your fingers for Hope TV, everyone.