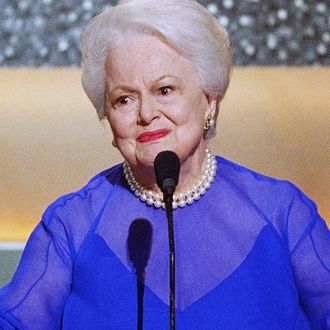 Olivia de Havilland.
Photo: Getty Images/Getty Images
As you are probably well aware at this point, Olivia de Havilland has sued FX over her depiction in Ryan Murphy's series Feud: Bette and Joan. Today, the California Courts of Appeal dug into the minutiae of Catherine Zeta-Jones's characterization of the Gone With the Wind actress, in order to establish whether or not there is sufficient evidence that Feud portrayed de Havilland in a "false light, with intentional or reckless disregard for the truth." One point of contention? Whether the fictional de Havilland's use of the word bitch to refer to her sister Joan Fontaine is worse than the actual insult the actress used in real life: dragon lady.
According to at least one member of the court's three-judge panel, the distinction between the two terms is unclear. "Is there something substantially different between calling someone a bitch and a dragon lady?" Judge Halim Dhanidina asked de Havilland's lawyer Suzelle Smith, according to Variety. Replied Smith, "Bitch is a vulgarity. In my household, if you say bitch, you get your mouth washed out."
All "bitch" aside, the larger question underpinning the lawsuit is whether or not the show's portrayal of de Havilland constitutes defamation of character. FX claims that their rendition of the actress is accurate. Moreover, the network claims the kind of fictionalized depictions central to Feud (and many other dramas based on real people) are protected free speech. Absent any malice, their lawyer argued, the case should be dismissed per California's anti-SLAPP law, established to combat lawsuits designed to censor or intimidate critics.
De Havilland's counsel, however, asserted that the show willfully created a depiction of the actress not based on her real-life persona, (ostensibly creating a brassier, more gossipy one) and violated her publicity rights as a famous person. Said Judge Lee Smalley Edmon of their argument per Deadline, "How is that not censorship, if the person who is being depicted gets to make the call?" According to Variety, Edmon reportedly pointed to another FX production, American Crime Story: The People v. O.J. Simpson, as an example. Per de Havilland's argument, he challenged, the show would have had to gain Judge Lance Ito's permission before depicting him on television. A docudrama can use the fictional depiction of a real person, countered Smith, provided that depiction was "a factual, accurate depiction that's not defamatory."
While the legal debate rages on for now (the court didn't decide whether or not the case will move forward on Wednesday), at least we can all agree: Anyone who has ever called someone a "bitch" or a "dragon lady" outside of a courtroom can testify to the very nuanced, but important, difference between the two if need be.