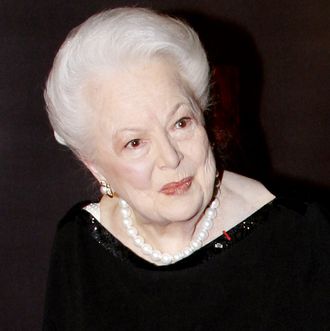 Olivia de Havilland.
Photo: Patrick Kovarik/AFP/Getty Images
This iconic centenarian wasn't going down without a fight. Last summer, Olivia de Havilland had seen enough of Ryan Murphy's recent anthology series, Feud: Bette and Joan, to determine that she didn't like Catherine Zeta-Jones's portrayal of her. The actress sued FX over the depiction, claiming it put her in a "false light, with intentional or reckless disregard for the truth." (In fact, just last month a major point of contention in the case was the show's strategic usage of "bitch" and "dragon lady" between de Havilland and her sister, Joan Fontaine.) Those hoping for a 101-year-old to smack down a prolific television creator in the eyes of the law are in for a disappointment, though.
Deadline reports today that a California appellate court has thrown out the lawsuit in question, concluding that de Havilland does not have "the legal right to control, dictate, approve, disapprove, or veto the creator's portrayal of actual people." As such, Zeta-Jones's depiction of de Havilland in Feud, individual feelings about her acting aside, "is not highly offensive to a reasonable person as a matter of law." Murphy, happy with the verdict, released a statement proclaiming it a victory for the creative community and the First Amendment. "Today's victory gives all creators the breathing room necessary to continue to tell important historical stories inspired by true events," he said. "Most of all, it's a great day for artistic expression and a reminder of how precious our freedom remains."
De Havilland — a two-time Oscar winner and seminal presence in the Golden Age of Hollywood — previously wrote that Zeta-Jones damaged her "professional reputation for integrity, honesty, generosity, self-sacrifice and dignity."