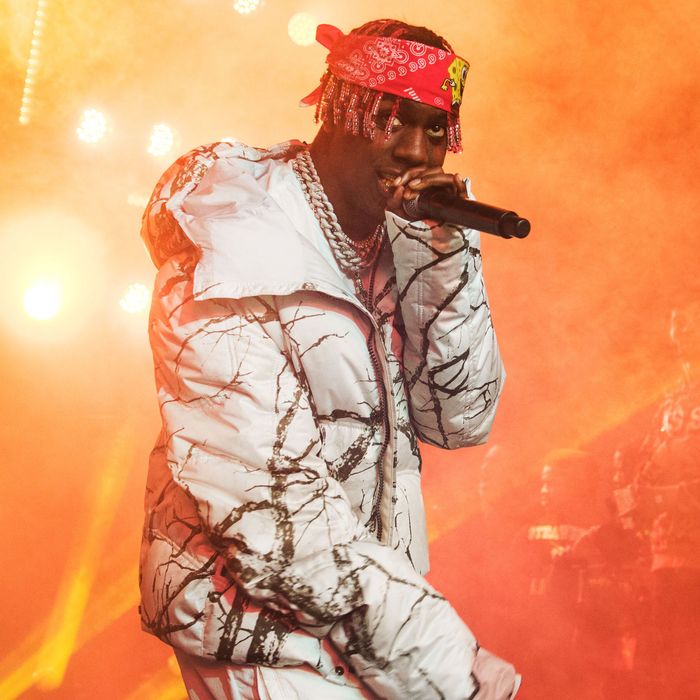 Photo: Noam Galai/Getty Images
Atlanta's Quality Control Music is a peculiar mainstream hip-hop outfit. It's nothing like Young Money, G.O.O.D. Music, or OVO Sound, labels founded by superstar rappers who use their platforms to try and grow the profiles of a new class of mid-tier and lesser known artists. It's not like Top Dawg Entertainment, a collective pieced together around a singular talent — at the time, it was Jay Rock — whose sage roster choices and round-robin release schedule made it a power player. It's not a grandfathered heavyweight like Aftermath or Roc Nation. Instead, Quality Control's two smart guys: Kevin "Coach K" Lee, a rap fan with a business degree and a great ear for talent, and his partner Pierre "Pee" Thomas, whose dream of starting his own hip-hop label roped Lee, up until that point a manager to the stars, into a joint venture. Coach K and Pee signed a slew of promising but untested Atlanta talent in 2014 and set about making plans for a takeover.
QC has had the most success with the Migos, whose drive turned a spitfire rap flow poised to blow over like a fad after 2013's "Versace" into a lasting force on the charts and in the clubs. QC's other gem is the cherry-braided 20-year-old rapper Lil Yachty, self-proclaimed "king of teens" and the son of a friend of Coach K's. Yachty's popularity on SoundCloud quickly spilled over into a run on features in 2016 that yielded the multi-platinum singles "Broccoli" and "iSpy." Yachty's Lil Boat and Summer Songs 2 mixtapes matched the rapper's airy hooks and smarmy raps to booming trap beats with pillowy low end. The Migos, meanwhile, refined the sprawl of their mixtapes into the airtight Culture album, whose hit single "Bad and Boujee" shot to No. 1 on the Billboard Hot 100 and dragged the album to the top of the charts along with it.
Things get a little prickly from there: Yachty's debut studio album Teenage Emotions was bloated, derailed by talkbox funk and synth-pop genre experiments when bratty teen swag raps like "Priorities" and "Harley" ought to have been the meat of the thing. Last year's 30-song QC label comp Control the Streets, Vol. 1 offered a string of all-star collaborations but is best remembered so far for the ad lib in "Ice Tray" where the de facto chief Migo Quavo calls rapper, podcaster, and YouTube personality Joe Budden a "pussy." The Migos' own follow-up album Culture II is a success on the charts this year, but at 24 songs and 106 minutes, it seems to have unlearned all the lessons of its predecessor, and it isn't the hit among rap fans that the last album was. It's harder to build a rap dynasty than it looks. When it works, it's a game of genius buttressing genius, of Mannie Fresh beats rocketing Juvenile, B.G., and Lil Wayne into the stratosphere; of Dr. Dre, Snoop Dogg, 2pac, Nate Dogg, and Tha Dogg Pound usurping car stereos from coast to coast. QC's on the march — Rich the Kid and Lil Baby got next — but the organization's still got a lot of room left to grow.
There's good news! Lil Yachty's Lil Boat 2 is the short, focused full-length that Culture II, Control the Streets, the Quavo and Travis Scott mixtape Huncho Jack, Jack Huncho, and the Offset, 21 Savage, and Metro Boomin collab No Warning couldn't quite manage. Yachty isn't the most technically gifted rapper in the bunch, but he has the most to prove after Teenage Emotions' disappointing sales. Lil Boat 2 revisits some of the lazy, summer-afternoon energy of its precursor from the start with opener "Self Made," where spectral synth chords meet cavernous, trunk-rattling low end, and Boat sails joyfully through the middle, happily talking up all the exciting shit he gets to do because he's rich now. It's short, sweet, and impactful, like a shock of warm weather in a cold season. This sensation is the cream filling of every great Lil Yachty song.
Lil Boat 2 brings Yachty back to his strengths, where Teenage Emotions got caught up trying to showcase his range, but that doesn't mean the new album is safe. Boat 2 is also a Who's Who of new school rap talent and a collection of some of the quirkiest beats on a mainstream rap project so far this year. "Count Me In" calls up "Magnolia" producer Pi'erre Bourne, but instead of having him clone the muted, hypnotic sound of his most memorable productions, Boat takes a bass-heavy thump that sounds like house music pumping through distant, blown-out car speakers. "Das Cap" and "She Ready" toy deviously with the flute sample fad triggered by Future's "Mask Off." Rapping alongside the Indiana jokester Ugly God on "Boom," Yachty is snide and arrogant. He kicks a tight, shockingly technical flow on "Oops" to match his Atlanta elder 2 Chainz's effortless verse and launches into a soaring, melodic vocal when Philly hook man PNB Rock uses his falsetto to mimic the woodwinds in "She Ready." Yachty's guests challenge him, but he gets railroaded a few times by a sharper writer, like when Trippie Redd shows up to "66" with a short melodic spot that's better than anything else the song can muster.
As rewarding as it is to hear rap's "king of teens" hold a summit with ten or so of his peers, they set Lil Boat 2 outside the lineage of its predecessor. Lil Boat was about joy and adolescence, about falling for someone and excitedly watching the sunset together, about reveling in the company of friends. Boat 2 is largely too rich, connected, and cynical for all of that, but the songs that recall that mixtape's blissful innocence rank among the best. "Love Me Forever" is a warm, romantic jam in the same vein as Boat's "Out Late" and Summer Songs 2's "Pretty." "Boom" is bratty swag rap that takes after 2016's "Wanna Be Us." The outrageous flutes in "She Ready" are reminiscent of old tracks where Yachty's producer friend Burberry Perry (or, TheGoodPerry, since Burberry sued) would send him a chop of the Rugrats theme or music from Super Mario Bros. 3 — songs that really sounded like reckless teens turned loose in a room full of recording equipment. Perry's absence from the credits is a huge loss. You can't have Lil Boat without him.
Naming this album after the mixtape feels like smart marketing, Yachty is letting us know he's taking a step back from the experimentation that turned people off from the last studio album, but Lil Boat 2 is textbook workmanlike Quality Control trap music to the point that you could shuffle the Yachty collaborations from Control the Streets, Lil Baby's Too Hard, and Johnny Cinco's Same Time, Every Time EP into Boat 2's tracklist without radically altering the mood or the guest list. Ultimately, there's nothing wrong with that. There are collectives who would kill for QC's tight roster and laserpoint consistency. Lil Boat 2 is rowdy and catchy enough to hold court in your spring party rap rotation. But its attempts to reimagine a beloved franchise by cramming famous guests into the frame feels like Stranger Things 2's "more cast, more monsters" aesthetic. It works, but it makes me nostalgic for simpler times.