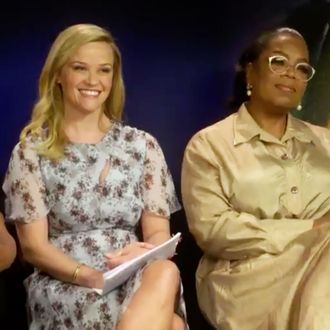 Photo: Twitter/Lucy Jayne Ford
The latest of the very good Wrinkle in Time press appearances: If you wrote your dissertation about Legally Blonde, wouldn't you take the opportunity to print it out, spritz it with perfume, and hand it to Reese Witherspoon herself? When Bauer Media writer Lucy Ford was face to face with A Wrinkle in Time's three missus — Witherspoon, Oprah, and Mindy Kaling — she took an opportunity to shoot her shot. "I wrote that four years ago," Ford said, handing Witherspoon her dissertation. "I got to watch Legally Blonde 800 times." Witherspoon was gracious, of course, and Kaling ooh-ed and ahh-ed politely. But Oprah was not very amused:
When Witherspoon asks if the pages are scented, Oprah does an are you serious double take. She didn't come here to make friends, she came here to promote A Wrinkle in Time!
Later, however, it seems she came around: Ford tweeted that Oprah "thoughtfully flipped through" the paper, and read a section where one of her books was referenced. Thoughtful, indeed.