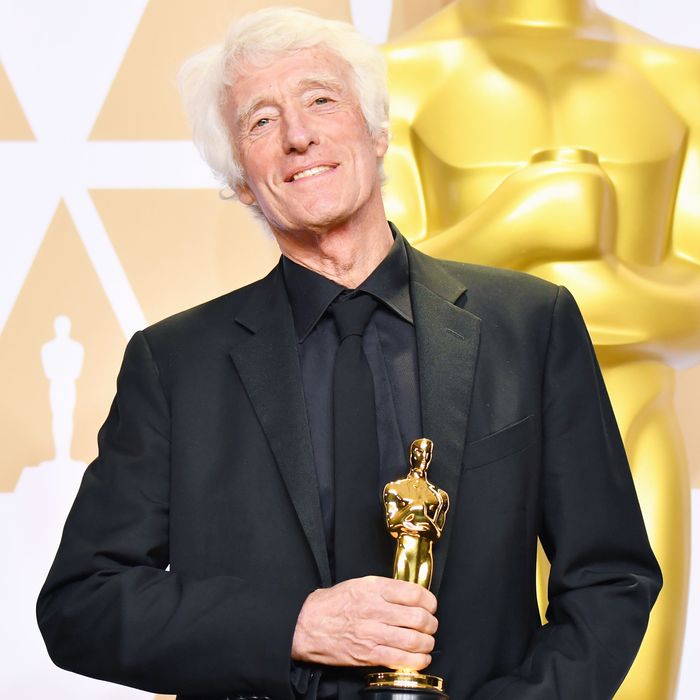 Roger Deakins posing with his first Oscar.
Photo: Jeff Kravitz/FilmMagic
Fourteenth time's a charm! On Sunday night, your sexy British photography teacher Roger Deakins took home the Best Cinematography trophy for his work on Blade Runner 2049, ending a streak of empty-handed nights dating back to The Shawshank Redemption.
Deakins's string of snubs was the third-longest among living nominees after composer Thomas Newman, who's gone 0-for-14, and sound mixer Greg P. Russell, who's pulled in 16 nominations without ever winning. (Russell would have had 17, but his nomination for 13 Hours was rescinded for improper campaigning.) That sounds like a lot, but it's nothing compared to fellow sound mixer Kevin O'Connell, who last year won his first Oscar after a whopping 21 nominations. At what point do you just stop showing up?
You've got to assume that the win feels pretty good for Deakins, and not just because he can stop worrying about what he might have done to turn the Academy against him: He's now only two wins behind Emmanuel "Chivo" Lubezki and Vittorio Storaro in the Most Oscar-Winning Cinematographer Alive race. (Mid-century DPs Leon Shamroy and Joseph Ruttenberg top the overall standings with four — still potentially catchable for the 68-year-old Deakins, who averages about a film a year.)
Despite his long winless streak, it's hard to call Deakins's win for Blade Runner 2049 a makeup award. The look of the film — the incessant rain and blimp-sized neon women of its futuristic Los Angeles, the vision of San Diego as a rusted wasteland, the amber clouds of smog that fill its Las Vegas section — sticks with you even after the specifics of the plot have long faded. Still, it's worth celebrating the moment with a look back at some of Deakins's other equally Oscar-worthy work.
The Shawshank Redemption (1995)
Deakins had worked in features since the early '80s — he did the 1984 adaptation that lent its look to that famous Apple ad — but his first Oscar nomination came for this future cable classic. In a 2009 interview with NPR, he highlighted the film's famous roof scene as one of his personal favorites, thank to one "ostentatious" crane shot that showed how close Tim Robbins really was to the edge. (Don't worry, he was wearing a safety harness.)
Fargo (1996)
Snow is one of the hardest things to photograph, but Deakins was able to find the tension in a landscape full of flat, snow-covered plains. (It may have helped that much of the snow was fake, as the film was shot during a particularly precipitation-free winter.)
Kundun (1997)
As part of his determination to work with every good director in Hollywood, Deakins earned his third nomination for Martin Scorsese's Kundun, bringing a wide-screen sense of scale to this mid-budget Tibetan epic.
The Assassination of Jesse James By the Coward Robert Ford and No Country for Old Men (2007)
This is where the Deakins snub narrative really took off; despite shooting the eventual Best Picture winner, he wound up going 0-for-2 at these Oscars. (Robert Elswit won for There Will Be Blood, which you can't really complain about.) The Assassination of Jesse James is the best Terrence Malick film Terrence Malick didn't direct, and its opening train-robbery scene presaged the many moody silhouette shots to come in Deakins's oeuvre. No Country was his ninth collaboration with the Coen Brothers, and it's hard to argue it's not his best, filled with stark, perfectly composed images that underscore the film's existential dread.
Skyfall (2012)
Skyfall was snubbed at the Oscars, but it would almost certainly take home the prize for Best Silhouettes in a Roger Deakins Film, thanks to its instantly iconic Shanghai skyscraper fight scene. Here and elsewhere, the level of visual showmanship on display would cement it as the best of the Daniel Craig Bond films (so far).
Sicario (2015)
Deakins's collaborations with Denis Villeneuve would prove just as fruitful as his work with the Coens. His moody landscapes on Sicario helped give what could have been a by-the-numbers genre exercise some much-needed verve. The final sequence in the tunnels borrows heavily from the look and feel of video games, but as my occasional colleague Sean T. Collins likes to say, what's wrong with being influenced by one of the most popular media forms of the 21st century? Ultimately, it was proof that, even in his 60s, Deakins had some new tricks up his sleeve.