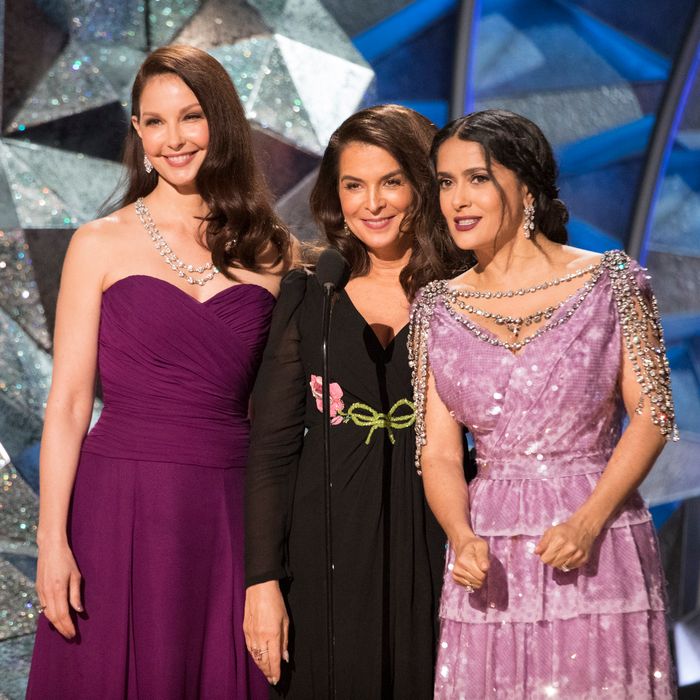 Ashley Judd, Annabella Sciorra, and Salma Hayek.
Photo: Craig Sjodin/Getty Images
This was the best, most inspiring, and most sheerly likable Academy Awards telecast I've ever seen and I've seen 'em all. (Well, all since 1967, when I was 7 years old.) It was also — in terms of the actual awards — among the most disappointing. Not Crash or Out of Africa or Chariots of Fire disappointing. Not the hammier-than-usual Jack Nicholson in As Good As It Gets beating Robert Duvall in one of the greatest performances ever captured on film, in The Apostle, disappointing. (Even Nicholson knew that was nuts.) But there were no surprises. All the awards went to the favorites or, in the case of The Shape of Water, a near favorite. And they were virtually all mistakes.
Let me get this out of the way. I'm a film critic, and a film critic who doesn't value his or her judgments over everyone else's — including the members of the Academy of Motion Picture Arts and Sciences — has no business writing about film. The best picture of 2017 by leagues was The Florida Project, which received a single nomination — for Willem Dafoe, who should have taken home the Supporting Actor prize. Timothée Chalamet gave the year's best performance in Call Me By Your Name and Saoirse Ronan was simply miraculous in Lady Bird. (You can't see the acting in what she does, though it's poetically heightened at every turn.) Laurie Metcalf played Lady Bird's mom with all her nerves exposed. Meanwhile, the tragic-comic-tragic-comic seesaw of Three Billboards Outside Ebbing, Missouri was an escape hatch into camp. The Shape of Water was deeply, deeply, deeply felt, but the archetypes were more like stereotypes and nearly everything in the movie was borrowed — as Guillermo del Toro would tell you himself — from some other movie. The sublime Faces Places must have lost to a lesser — though very good — documentary, Icarus, because Academy voters wanted to stick it to Vladimir Putin. I could go on but …
See, I hate to root against Frances McDormand, whom I adore, and del Toro, a mensch, and Gary Oldman, an incredibly nice guy (okay, well, a right-wing loon with domestic abuse in his past). But that's what you do during awards shows. You pick sides where there shouldn't be sides.
The evening got off on an exhilarating note, maybe the best of any Oscars ever. Not in the show itself but beforehand. No one would talk to Ryan Seacrest, except Tiffany Haddish, who'll talk to anyone, and Whoopi, I guess for old time's sake. E! was stuck with four people discussing the clothes, but no one disagreeing and no one dissing. They were going to cut to a still of Mira Sorvino, but I'm guessing she gave them the finger. Finally, Ryan was forced to interview E!'s own panel of experts (anything to get off that red carpet!), but they seemed only marginally less disgusted than the celebrities from whom he'd fled. The diminutive Seacrest was no match for the towering Michael Strahan, who was killing it for ABC.
There was a lyrical and funny prologue — black-and-white newsreel-style footage of the evening's event — followed by a modest and mostly clunker-free Jimmy Kimmel monologue. What we were supposed to register — and did — was POSITIVITY.
Last years was a shambles in a way that was weirdly symbolic: #OscarsSoWhite had yielded uneasily and sloppily to the forces of change. This year, there was grace. There was empathy. There was the pride of inclusiveness. Three alleged victims of Harvey Weinstein — Ashley Judd, Salma Hayek, and a fragile Annabella Sciorra in between them — suggested various iterations of PTSD, with Judd, who escaped the earliest, the most triumphant and probably one of the first to use the word "intersectionality" on network television. Sciorra lost many years dealing with her trauma — and we lost many great performances. But she is still younger than I am.
Right-wing viewers surely found the presenters and recipients self-congratulatory, which they weren't. A bone was thrown to them: a montage that celebrated the troops. The "jet ski going to the winner with the briefest speech" gag was inspired, as was Dame Helen Mirren as Carol Merrill, and the orchestra only goofed once, coming to a shatteringly abrupt stop when one of the songwriters paid tribute to his mother, who'd just died. Invading the theater across the way was a much less labored set piece than last year's lame tour-bus prank. Kimmel's only sour notes were the age jokes regarding Christopher Plummer — who'd just said on the red carpet that he wasn't terribly fond of them. Plummer was a good sport but was probably thinking, "Fuck this."
The montages were great this year, both fleet and punchy and short enough that you only registered the absence of Kevin Spacey when they were over. Though I think Lee Smith (winner for Dunkirk) is a heavy-handed editor, he was (a) very amiable and (b) made of point of mentioning that Christopher Nolan is also an editor, which explains the heavy-handedness. Cinematographer Roger Deakins has done far, far greater work on many films, but his time had come and he was so lovably fidgety — can he hold a camera steady? — that my qualms about all that dispersed light in Blade Runner 2049 dissipated like the fog.
I could nitpick that none of the songs were very good (I love Sufjan Stevens's other song from Call Me By Your Name, "Visions of Gideon"), but at least that horror show "This is Me" didn't win and Gael García Bernal was quite a charming non-singer, endearing himself more with every missed note.
McDormand was as weird and exhilarating as you could have hoped for although she seemed to be hyperventilating — I worried she was going to keel over and she did, too. Approximately 500,000 people broke Google searching for the term "inclusion rider," but we'll be talking about it for years. Maybe the OED will make it the term of the year. It means that women in positions of power need contractual guarantees that their crews will not be largely male and white. Before some people start yelling about "quotas," they might consider the quotas imposed by studio executives for going on a century, which mostly centered on white male crews and hot young women.
Did anyone else think Gal Gadot was good enough to co-host the Oscars with Kimmel next year? Did anyone else love the standing ovation for Warren and Faye — not because they're so lovable but because they've likely spent the last year in their bedrooms with the shades drawn, crying softly?
Have I mentioned that del Toro — the fourth Mexican winner for directing in five years — is a mensch? I have! And listening to him speak — even if I didn't like his movie — made me want to believe that Hollywood can change. It might be home to some of the meanest, most venal, most sexist and racist millionaires/billionaires in the world as well as a lot of egomaniacal basket cases. But it has collectively taken the first step: admitting that there is a problem. And it has taken the second step: expressing a passionate desire to be kind and generous and inclusive.
Now if those people can just work on their taste in movies …