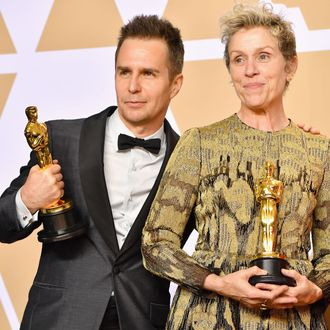 How dare they!
Photo: Jeff Kravitz/FilmMagic
The highlight of this year's Oscars was undoubtedly Frances McDormand's win for Best Actress and all the things she had to say, namely "inclusion rider." During that speech, you may have noticed her put her Oscar down on the stage and take her eyes off it for the remainder of her speech. It now appears that wasn't the last time she was separated from her little gold man. Multiple reports say that at the famed Governors Ball after party, McDormand's Oscar was temporarily stolen. According to the New York Times' Cara Buckley, McDormand had "set [her Oscar] down and was chatting" when someone made off with her trophy. Buckley shared a photo of the suspect, whom a photographer for chef Wolfgang Puck (who caters the party) apparently tracked down. The photographer was able to retrieve the Oscar and get it back to McDormand.
According to USA Today, "McDormand was spotted crying emotionally outside the Governors Awards ball after giving up the search for the statuette on the premises, and departing with her husband, filmmaker Joel Coen." Though the Oscar was easily returned to McDormand because it was engraved with her name on it, the alleged thief was reportedly able to sneak back into the party and remains at large. Buckley claims that McDormand has said to "let him go"; however, a representative for the actress did not comment on the nature of how her Oscar went missing, telling USA Today that "Fran and Oscar are happily reunited and are enjoying an In-N-Out burger together." The paper did note that security at the Governors Ball was alerted of the situation, which can only mean it's going to take three billboards to demand justice for her briefly missing Oscar.
Update, 11:15 a.m. ET: TMZ now reports that the man who stole McDormand's Oscar has been arrested for felony grand theft. They've obtained footage of the man, identified as Terry Bryant, bragging about the Oscar, claiming it belongs to him and asking for congratulations. He reportedly had a ticket to the event.