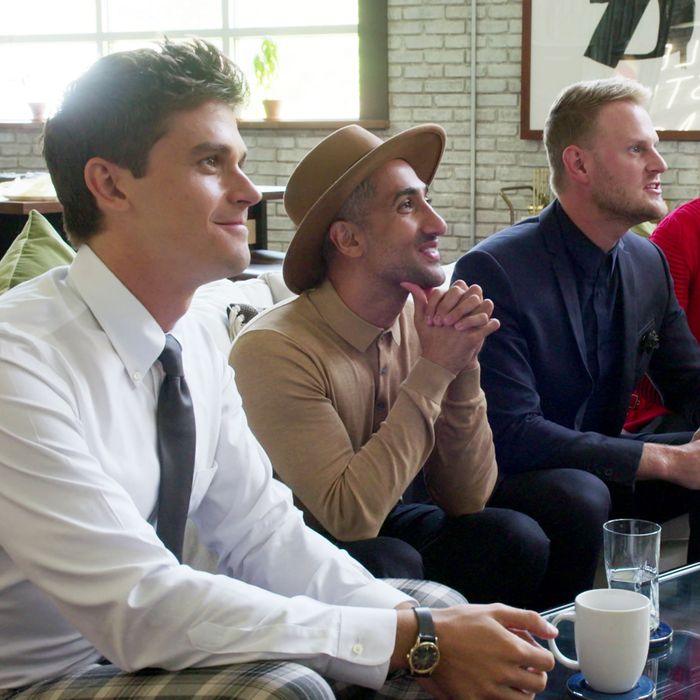 I don't have much experience in earnest, unironically encouraging social-media comments from my closest friends. Hayley will let me choose restaurants that adhere to my specific diet of pasta and burgers, and Eliza will approve or veto a dozen outfit options before a party, but my friends drag me on the internet relentlessly. We've elevated it to an art form, really: Embarrassing each other online is our love language. It's how we keep one another humble.
The men of Queer Eye — Antoni, Tan, Bobby, Karamo, and Jonathan — do not speak this language. Their language is "Yaaaaasssss henny," their dialect "snatched!" They're the most supportive, loving community of friends on Instagram that I've ever seen. A selfie doesn't go unliked, a highlight does not go unappreciated, a sexy pose does not go un-thirsted after. The comments they leave on each other's photos are Pinterest and fortune-cookie-worthy. It's hard enough to open your heart to this cold, cruel world (and harder still to share a selfie in it), so let's take a moment to appreciate the most emotionally supportive clique Netflix has ever known.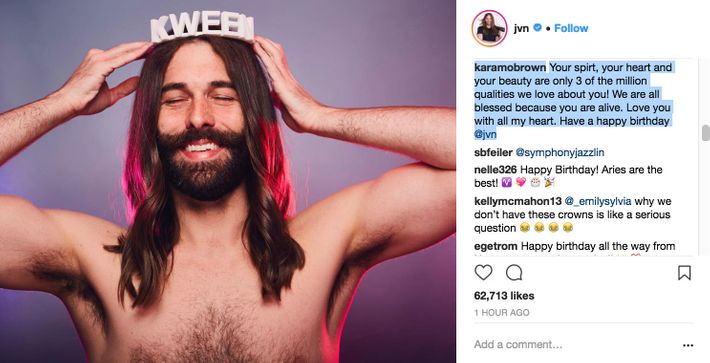 Karamo to Jonathan: "Your spirt, your heart and your beauty are only 3 of the million qualities we love about you! We are all blessed because you are alive. Love you with all my heart. Have a happy birthday @jvn"
This is a moving, insightful, and deeply loving comment. Karamo is right: We are all better for Jonathan's presence in the world (and our Netflix queue). Imagine that!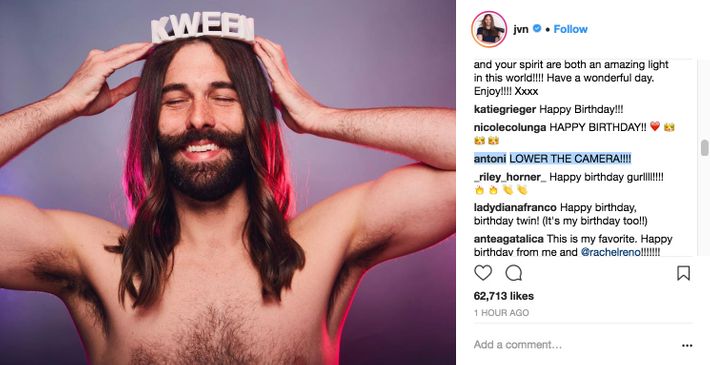 Antoni to Jonathan: "LOWER THE CAMERA!!!!"
Then, Antoni takes a different approach: Unabashed thirst! Let's celebrate that too!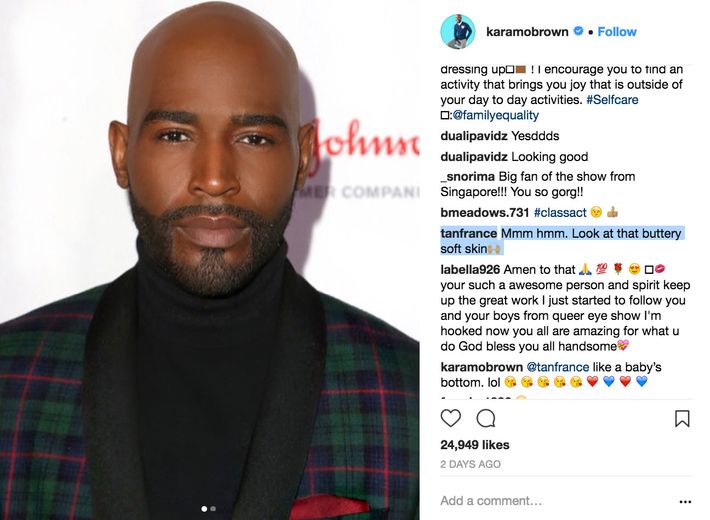 Tan to Karamo: "Mmm hmm. Look at that buttery soft skin [raised hands emoji]"
Tan would never miss an opportunity to compliment Karamo's face.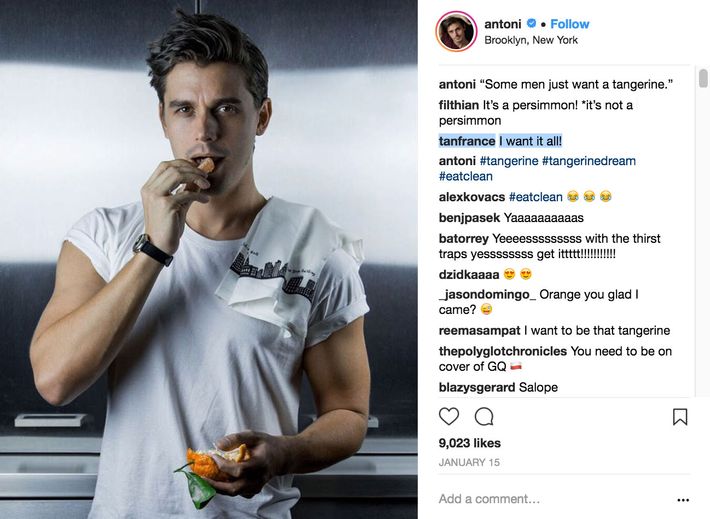 Tan to Antoni: "I want it all!"
But go on, go on and take it alllllll!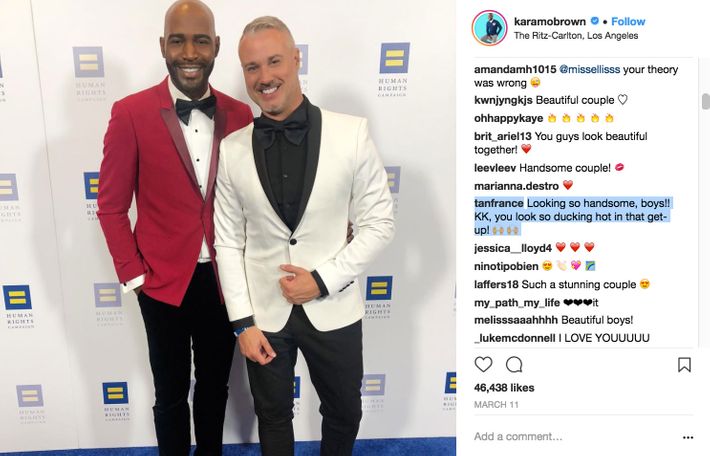 Tan to Karamo: "Looking so handsom, boys!! KK, you look so ducking hot in that get-up! [raised hands emoji] [raised hands emoji]"
An important aside: Even Tan falls victim to autocorrect's "ducking."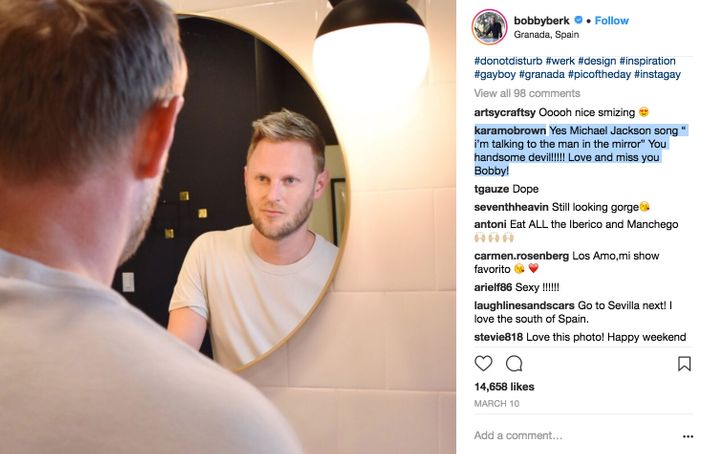 Karamo to Bobby: "Yes Michael Jackson song 'i'm talking to the man in the mirror' You handsom devil!!!!! Love and miss you Bobby!"
When Bobby wants to give the fans a smolder, Karamo even has a song queued up! (Also, of course Bobby's mirror is this chic.)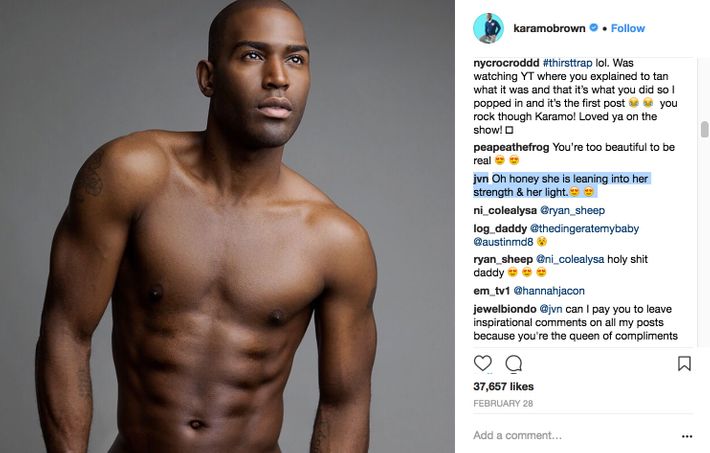 Jonathan to Karamo: "Oh honey she is leaning into her strength & her light. [heart eyes emoji] [heart eyes emoji]"
"She is leaning into her strength and her light" ought to be embroidered onto a pillow as soon as humanly possible. CC: Etsy.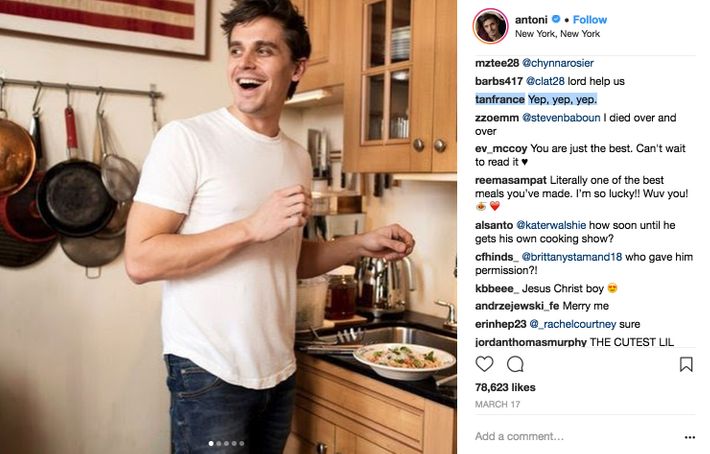 Tan to Antoni: "Yep, yep, yep."
Not every comment is a deep rumination on your personal worth and importance. A simple "yep, yep, yep" from Tan and you're seen.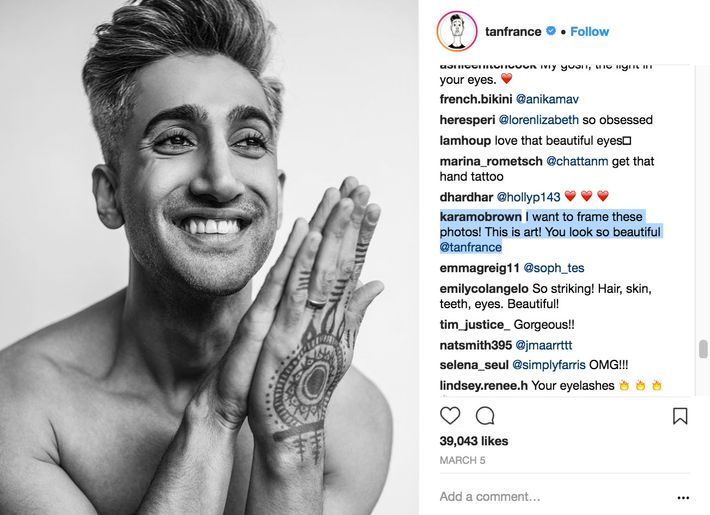 Karamo to Tan: "I want to frame these photos! This is art! You look so beautiful @tanfrance"
You know who frames photos? Moms frame photos. Grandmas frame photos. Friends who have enough money to regularly buy trinkets at Anthropologie frame photos. But Karamo will frame them too, when they're photos of his favorite co-workers!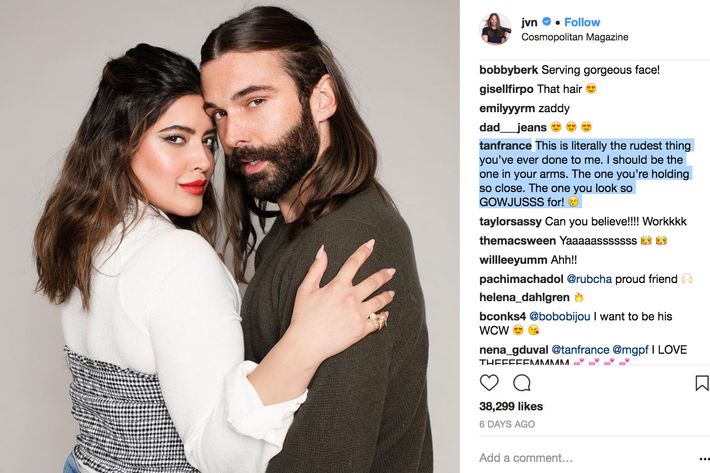 Tan to Jonathan: "This is literally the rudest thing you've ever done to me. I should be the one in your arms. The one you're holding so close. The one you look so GOWJUSS for! [crying face emoji]"
GOWJUSS.