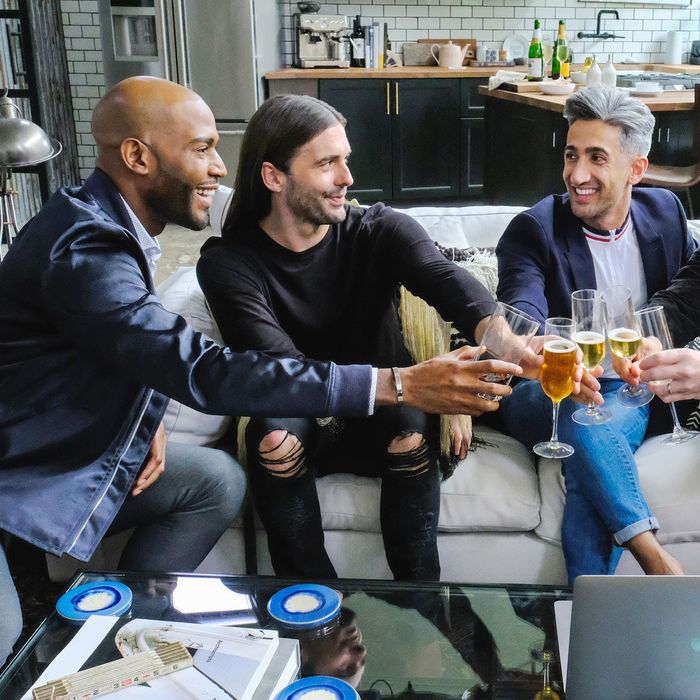 Photo: Carin Baer/Netflix
Things keep getting better for Netflix's Queer Eye: Season two of the critically praised makeover series is officially a go, Vulture has learned. The streaming giant will officially announce the renewal Monday, along with second seasons for the Nicole Byer/Jacques Torres–hosted baking competition Nailed It! and three other docuseries (Dope, Drug Lords, and The Toys That Made Us). Netflix didn't take long to decide on the green lights for Queer Eye and Nailed It, ordering their renewals just six and three weeks after their respective premieres. And while nothing's set in stone just yet, Netflix unscripted content chief Bela Bajaria tells Vulture the company's goal is to get eight new episodes of both series streaming by year's end.
Given the strong buzz and mostly positive critical reactions to both Queer Eye and Nailed It!, today's renewals aren't a complete shock. Still, particularly in the case of Queer Eye — an updated version of a once-beloved Bravo franchise — success was hardly guaranteed. "When you're rebooting a show, it's sort of double-edged sword when you go into it," Bajaria says. But she credits series creator David Collins and his Scout Productions for figuring out the right way to reinvent it. "The team here did such a great job of casting … [and] also, just tonally, letting the show just be authentic and real. [If] the last series is really about tolerance, this one is about acceptance."
Bajaria wouldn't offer any specifics about how many Netflix subscribers have sampled the just-renewed series, but she did note Nailed It! and Queer Eye have generated particularly strong (and growing) social-media reaction. It's an encouraging sign for the streamer, which is in the early stages of an aggressive push to dominate unscripted TV — reality shows, docuseries, and talk shows — the same way it's conquered scripted entertainment. In addition to the five projects it renewed today, Netflix in recent months has launched a monthly David Letterman interview series, brought about the return of Joel McHale to weekly pop-culture spoofery, and debuted two seasons of Bill Nye's adult-appropriate science talk show and the America Ninja–like global competition Ultimate Beastmaster. The next 12 months or so will bring another batch of big names getting in front of cameras to chat (Jerry Seinfeld, Michelle Wolf, Hasan Minhaj, Norm Macdonald); reality shows starring hosts as diverse as Carol Burnett and Marie Kondo; and a just-announced docuseries that goes behind the scenes of Formula One racing.
Overseeing it all is Bajaria, who joined Netflix in late 2016 after five years running Universal Television (the studio behind Master of None and Unbreakable Kimmy Schmidt) and a decade making movies and series at CBS. Vulture recently rang up Bajaria for a wide-ranging chat about Netflix's unscripted division, tackling everything from why the company decided to jump into the already crowded talk show space to whether being a streaming network allows it to invigorate the cliché-addled reality genre.
You've just renewed Queer Eye for a second season. I'm not even going to ask for viewership stats, because I know you won't give them. But are there other things you can point to as a measure of its success, from your point of view?
What's been amazing is just the social chatter [around] the show. Here is the one thing I will tell you about the numbers: All of the cultural conversation and all the social media has increased every week. And that means people are feeling an emotional connection, and they want to share it. That doesn't always happen. We see a lot of social chatter usually at launches, for obvious reasons, but what's been to interesting to see [with Queer Eye] is the word of mouth. People are just so excited. They want other people to experience it. So, we're very pleased with how the show has performed, but it's just really gratifying to see people connecting with other people. The word of mouth [is] actually driving the show week-to-week.
One of the common complaints about reality shows — from network execs, producers, even some fans — is that the genre has become mature to the point of often being stale. There are obviously exceptions, and innovation, but so often producers rely on the same tricks they've been using since Survivor. When you decided to get into unscripted, did you really see it as a chance to blow up the form? Or was it something more subtle?
When we discussed getting into unscripted, we knew that, just like all the other groups at Netflix, we had a great opportunity to say [to producers], "You have an idea. We want to make the best unscripted shows." Because we have the freedom to say, "Okay, let's put eight episodes up," and [viewers] can binge all of them. You don't have to have all of those teases in between commercials, those artificial teases of what's coming up. You can just have a really great, organic experience of watching the episodes straight through. We knew we were going to provide A-list production companies and showrunners a great place to come, hopefully, do their best work.
And you don't have to stick to one or two genres. There's no narrowly defined brand like a Food Network or VH1.
It's such a wide variety of tone and different categories in unscripted. Shows like Dope and Confession Tapes — that sort of docuseries. The talk shows. Queer Eye and Nailed It. Areas like cooking and cars — they're not new formats or genres. But we can elevate it. We can do a different kind of take on formats that may seem familiar. And it has been really fun and rewarding to see the launch of this first slate of shows, and to see how well they're being received. Even with the breadth of shows — there really is something for everybody — it's a very personalized experience. You can watch Girls Incarcerated or Dope, or you may love Queer Eye and Nailed It. You may love all of them across the board. It's been a really good start to the unscripted initiative.
Do you want to have more than one season a year, or more than one cycle, for your reality shows?
We're definitely going to try to have them have a better cadence, schedule-wise, so you're not waiting an entire year. With Nailed It, the goal will be to try to get more episodes in 2018.
So will Queer Eye be back in 2018? And how many episodes will it be?
Yes. I think we're going to do eight.
Let's shift over another part of your portfolio — talk shows. Is the goal here to find a cost-effective way to engage viewers more frequently than you can with a scripted series? You can have new episodes of a franchise every week, as opposed to eight or ten episodes of a show dropped once a year. Or was it not as complicated as that?
It's an interesting question, but no, it didn't start that way. It wasn't, "Let's do a weekly engagement with our viewers, and talk shows are the way to do it." It really started with a [talent such as] Michelle Wolf walking in the door [with] a pitch for a show that … would feel a little more topical. And a weekly series just lends itself to that. It was more organic. The show came in, and we wanted the right thing for that show.
Can you give a sense of how the shows from Michelle Wolf and Hasan Minhaj will look? You haven't said much about what they're going to be.
You know, they're so early in their process. For Hasan, we don't even have a writers room, we don't have any of that. Because of where they came from, people might just go, "Oh, you're doing two topical shows" — and they're not. Michelle Wolf is a very different format [than] Hasan Minhaj's. They will definitely have very different visual styles than each other, and a different tone.
American talk-show hosts, at least the comedic ones, have historically been overwhelmingly white and male. You've already got a more diverse slate than anyone else, in part because you've got so many shows in the works. But do you still think there's more to do? Is aiming for diversity in your slate something you're conscious of?
I'm definitely conscious of that. There are obviously people that have done it for a long time, and have done it well, and are big names. But for us, it was also, who are those next people? The new voices who really are smart and funny and have a vision and something to say. There's always more to do [on diversity]. You see a lot more diverse voices coming up through comedy and stand-up. It looks very different than even when I started 20 years ago in the business. Also, [Netflix has] 120 million members globally, right? All of these shows launch everywhere in the world. So the diversity in voices and points of view and backgrounds is really important.
As you've built your unscripted roster, did you mostly identify people you wanted to be in business with and then pursue them? Or did you just send out the signal to the talent agencies: "Bring us your hosts! Bring us your formats!"?
As you can imagine, we got a lot of pitches in the area. A couple of people we pursued … but it was a little bit open. It was: If you have an idea for a show that hopefully either turns the format on its ear, or has a different way to do it, then we're open.
Are you looking to find a talk show that's not based in the U.S.? James Corden, if he had gone to Netflix, I could have seen him staying in the U.K. and doing his show there. Would you launch a British or Australian or Indian talk show that's streamed globally?
Oh, yeah. We're definitely open to that. There's been a couple people who have done shows out of the U.K., and it could be a show from there that travels across just like a show from here would travel that way. And if you're looking at the [reality] slate, there are going to be shows that might have a really interesting cast of characters, or a docuseries in another country. We do that with scripted shows. There's no reason that can't happen with unscripted or talk.
Right now, you're doing mostly weekly talk shows, with David Letterman's series airing monthly. What about a show that comes on five days per week?
I don't think we're really interested right now to try to do a daily show. The logistics of turning a show around so everybody in the world can have it — I'm not saying there won't be a day we can actually turn it around daily. But it's not the focus right now.
With the talk shows, some of the initial orders — with Joel McHale for instance— have been 13 episodes. That's a very old-school, linear TV number. Is the thinking right now that you'll have one of these big talk shows every quarter, and they'll only air one or two batches of episodes every year? Or will they all exist year-round, with new episodes most weeks?
It's a little bit early to tell. Joel — his show is really strong and he's so talented. Even watching week-to-week, you find it getting stronger and stronger. Joel will be on, and then Michelle [Wolf] will be on, and more in summer. So if you want to watch a show weekly, there'll be another, right? You're not waiting another year. There'll be a regular cadence. And then with each show, we'll evaluate if we're gonna do more. But we're not in the kind of linear cable [business of], "Let's do the entire year." Is 13 the right number? Is 15 the right number? I'm not sure. We're learning a lot this year. It's still experimental.
So it's unlikely, at least for now, that you'll have four or five different talk shows rolling out new episodes every week, most weeks of the year?
Right. For now, the way they are spaced out — some strategically and some just for logistical reasons — is that they are going to be more staggered. You're not going to have three new talk shows coming at you all at that same time. If you enjoy talk shows – and a lot of people obviously watch more than just one person — you'll have them staggered through the year.
I'm a bit of a game-show junkie, so I've got to ask: Any possibility of Netflix getting into that business, too?
For sure. We've considered a couple of them, [and] we would absolutely do a game show. We just haven't found the right one.
Do you want your unscripted roster to grow as dramatically as the scripted side? Are we going to wake up two years from now and find 400 Netflix original reality shows?
There's no agenda to say, "Let's do ten cooking shows." It's not really that. It was, let's build this slate and really see what kinds of shows work in all these different categories. Let's build this audience and be thoughtful about this process. There are so many different categories in unscripted, and I think you'll see it expand.