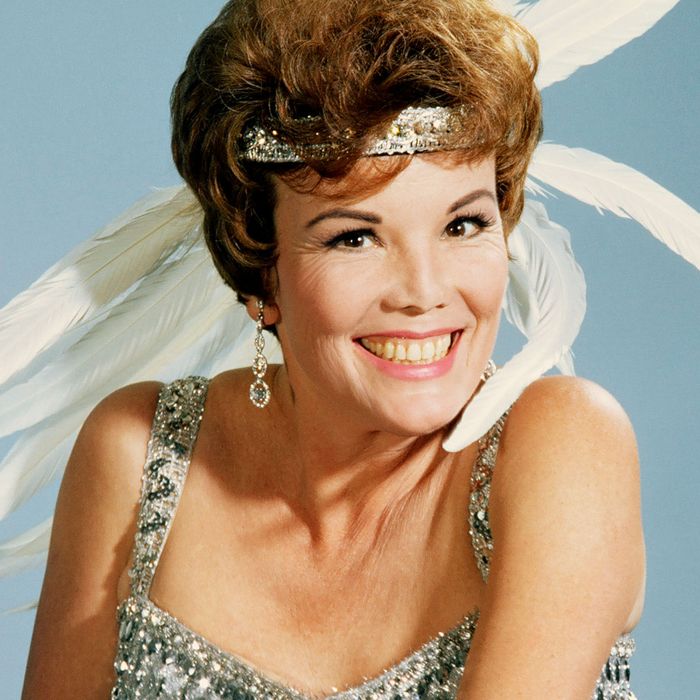 Photo: NBC/NBCU Photo Bank via Getty Images
In the early 1940s, when Nanette Fabray was in her early 20s, she was touring with a musical revue called Meet the People. By chance one night, the musical director of the New York Philharmonic, Artur Rodziński, was across the street seeing another show and heard Fabray's voice through the open door. Enchanted, he put in a call to Juilliard to get Fabray studying opera. After four or five months studying opera at one of the most prestigious performing arts conservatories in the country, Fabray decided she was over it. She wanted to pursue musical comedy, and besides, Juilliard interfered with her ability to go out clubbing whenever she felt like. It turned out to be a wise move – from 1941 to 1951, she appeared in 11 Broadway shows, often as a star. In 1949, she won a Tony for Best Actress in a Musical, for Love Life. Still, she hadn't yet begun the work that would define her career for generations to come.
Fabray, who passed away last month at the age of 97, followed up Love Life with the 1950 Broadway show Arms and the Girl, directed by Rouben Mamoulian and written specifically to star Fabray. Mamoulian was abusive throughout the production, telling Fabray (who was coming off a Tony win), "You don't have talent," "You're lucky to be in the show," and "You should kiss my boots that I would work with somebody like you." Fabray, who rarely used vulgar language, told him, "Rouben, go fuck yourself." From then on, Fabray set a rule for the production: She would take no direction whatsoever from Mamoulian. She walked off the stage any time he tried to give her any notes. "You have to speak up in this life if you want something," she would say later. She was still a half-decade away from her most famous role.
In the mid-1950s, Sid Caesar was one of the biggest names in television. Caesar was the star of Your Show of Shows, a live, 90-minute weekly sketch comedy series that featured ambitious parodies and pantomimes and a writer's room so famous that plays, movies, and TV series have been written about the experience. At the end of Your Show of Shows' fourth season, in 1954, the series came to an end, with producer Max Liebman and costar Imogene Coca departing for other TV opportunities, and each bringing a handful of writers with them. Immediately Sid Caesar put together a follow-up sketch show, Caesar's Hour, which had the same format as Your Show of Shows but ran a half hour shorter. To replace Imogene Coca (a legend in her own right), Caesar decided to cast a Broadway star who'd appeared on Your Show of Shows a couple of times already: Nanette Fabray. Unlike Coca, Fabray's work to that point included little comedy outside of musical revues. But her background in musical theater would be one of Fabray's greatest strengths in her two years on Caesar's Hour.
Sid Caesar called Fabray "a soubrette: she could sing, dance, act, and look beautiful. She had perfect timing and a sense of comedy and I knew she had scope." With Fabray, Caesar began to try sketches that felt more impressionist and surreal, knowing that his imposing physicality made a goofy complement to her experienced, controlled choreography. View, for example, this sketch, "The Shadow Waltz," in which Caesar and Fabray push against the fourth wall trying to upstage one another:
It's unlikely Artur Rodziński anticipated this application for Fabray's opera skills. Besides being written and rehearsed, the sketch left space for Caesar and Fabray to improvise together during the live broadcast, and their nonverbal communication throughout shows just how quickly Fabray and Caesar got in sync in Caesar's Hour's first season. Her skill as a singer and comedian let them do more ambitious work, too, like this 13-minute Pagliacci send-up:
The whole sketch is worth watching, but skip to 10:35 for Fabray, Caesar, and Carl Reiner doing some impressive comedy-opera-singing-knife-throwing.
Fabray is completely silent in one of her most famous sketches from Caesar's Hour. This musical bit, an argument set to Beethoven, demonstrates so well how complementary Fabray and Caesar's performing styles were:
He gets bigger and bigger, escalating the fight, while she stays comparatively grounded, having an equal impact timing her motions precisely to the music. It's amazing to watch her move organically between moods throughout, so that when she begins crying it's impossible not to feel genuine pain for her. The two shared a deep commitment to the reality of the scene, without which it couldn't have played this well.
For her work on Caesar's Hour's first season, Fabray won two Emmys for Best Actress in a Supporting Role and Best Comedienne in 1956. After the show's second season, a business manager negotiating on Fabray's behalf without her knowledge or consent made such outrageous demands as costar billing and equal pay. By this point, Fabray was a multiple Emmy winner, a Tony winner, and a star of the multiple Oscar-nominated movie musical, The Band Wagon. Sid Caesar said of these demands, "Even if we could [meet them], the rapport between us probably would not have been the same." Apparently unable to maintain a comedy rapport with a well-compensated partner, Caesar and the producers fired Fabray before the third season began. Her work on the second season would go on to win another Emmy, for Best Continuing Performance by a Comedienne in a Series, after she'd been fired. Caesar's Hour would end after its third season.
Fabray continued to perform on stage, film, and television regularly for decades, including this sketch with Jack Benny:
Like the "Shadow Waltz" sketch from Caesar's Hour, this sketch again has Fabray refusing to be distracted from her performance while a costar mugs for the audience – only this time, Benny is her straight man.
One of Fabray's greatest passions was her work on behalf of the deaf and hard of hearing. Fabray was born with otosclerosis and got terrible grades because no one, including her, realized that she wasn't able to hear her teachers. Fabray eventually got surgeries and treatment for her hearing loss (and of course found huge success as a musical performer), but she took to heart the importance of access for the hearing-impaired. She served as narrator for the Theater of the Deaf's 1967 presentation on NBC's Experiment in Television. It was there that she fell in love with sign language. The following year, appearing as a guest on The Carol Burnett Show, Fabray showed Burnett that she could sign "Somewhere Over the Rainbow" and Burnett insisted Fabray perform it on the show. The CBS executives balked, as they considered sign language "controversial." Burnett wouldn't accept that answer, though, and brought out Fabray for the televised Q&A that began each episode of the sketch series. The result is a transcendently beautiful television moment:
She continued to advocate for sign language education and famously signed to viewers at home during appearances on game shows like Hollywood Squares:
Apart from her appearances in game shows, on stage, and in film, Fabray managed to play Mary Tyler Moore's mother on The Mary Tyler Moore Show in the '70s, Bonnie Franklin's mother on One Day at a Time in the '80s, and Christine's mother on Coach in the '90s. In 1978, she convinced the Writers Guild to fund a creative writing award for students at Gallaudet, still the only college or university primarily designed for deaf and hard of hearing students. Her family has requested that any donations in her memorial be made to Gallaudet. In a 2004 interview, Fabray said, "I hope I'm remembered, but I wonder." Through her philanthropy and her contributions to sketch comedy, that's guaranteed. But anyone who would tell Rouben Mamoulian to fuck himself is a legend.
Harry Waksberg is a writer and lazeabout living in Riverside, California. He is also the writer of the webseries Doing Good.