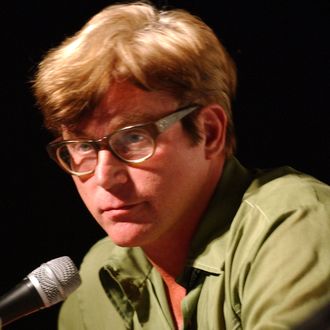 John Kricfalusi.
Photo: Albert L. Ortega/WireImage
Two former employees have come forward alleging that Ren & Stimpy creator John Kricfalusi groomed them from their early teens, and then sexually harassed them when they agreed to come work for him. The women told their stories to BuzzFeed, and their accounts were corroborated by other employees of Spumco, Kricfalusi's animation studio, during that time.
One of the alleged victims, Robyn Byrd, says she first met Kricfalusi when she sent him a videotape of herself at 13, talking about her dreams of becoming an animator. He responded by offering to mentor the young teen, chatting with her through an AOL account he helped her set up. He then reportedly flew her to Los Angeles to become his live-in girlfriend, and hired her as an intern at Spumco.
The relationship between Byrd and Kricfalusi seems to have been an open secret within the animation world, according to other Spumco employees at the time who spoke with BuzzFeed. Kricfalusi also introduced Byrd to another aspiring young animator, Katie Rice, on AOL when they were both children. Rice, too, says she dealt with illicit advances from Kricfalusi at a young age. She was reportedly offered a job by Kricfalusi when she was 18, a job at which she says he repeatedly sexually harassed her. Rice eventually left the job, and she says that one of her breaking points was when she found child porn on Kricfalusi's computer.
Kricfalusi denied several of the charges to BuzzFeed through an attorney, though the statement acknowledged the relationship with Byrd: "For a brief time, 25 years ago, he had a 16-year-old girlfriend."