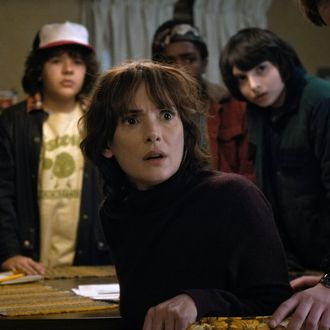 Photo: Courtesy of Netflix
Finding out how much money people make is fun. Finding out how much money teen stars can leverage from a studio after they become sensations is extra fun. Ahead of Stranger Things season three, all the major players are getting a raise. Deadline first reported that the young stars and veteran actors recently finalized negotiations for salary bumps, with sources saying that the core group of boys — Gaten Matarazzo, Caleb McLaughlin, and Finn Wolfhard — would be going from about $30,000 per episode to more than $150,000. David Harbour and Winona Ryder, meanwhile, started the show with higher quotes than the kids, and will now be making somewhere around $200,000 per episode. Deadline did not have a figure estimate for Millie Bobby Brown's salary, but it is reportedly higher than the rest of her young cohort.
The Hollywood Reporter then published a story with different, higher numbers for all parties. According to THR, the Hawkins A.V. Club members, including Noah Schnapp, will each me collecting $250,000 per episode (the outlet speculates they were previously making around $20,000), while Harbour and Ryder will make $350,000 (up from $80,000 for him and $100,000 for her). They also had estimates for the teens — Natalia Dyer (Nancy), Charlie Heaton (Jonathan), and Joe Keery (Steve) — who will reportedly be bumped up to about $150,000 per episode. Brown remains the outlier for both publications, with THR not tagging a specific number to her pay, but speculating she will make "at least" as much as the core group of boys, and could be making as much as Ryder and Harbour. Some of the sources speculated, however, that Brown making as much as Ryder would be absurd, and suggested she was in her own compensation tier of about $300,000 per episode. In other words: Everyone is doing just fine.