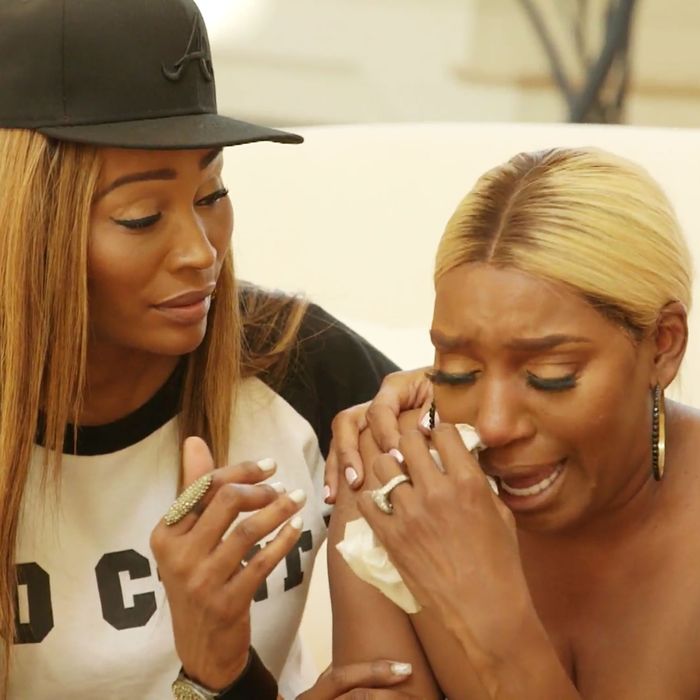 If there is anyone who represents The Real Housewives of Atlanta, it's NeNe Leakes. NeNe is everything that is wrong and right about the Real Housewives franchise. She's such an icon that, at this point, she's become a parody of herself. She's trained herself to speak in confessional interview sound bites and it's made her a very rich woman. So when NeNe's gift for gab fails her, everything just falls apart. Most of the episode is the fallout for NeNe after her VERY stupid and gross comment to a heckler at one of her comedy shows. For now, we are going to have to ignore the concept of NeNe Leakes as a stand-up comedian to deal with what's happening in this episode. Let's get to it.
Everyone is back in Atlanta and it's been a few days since the Barcelona trip, it seems. Kandi is at home with Ace, and I will go out on a limb and say that Ace is the most charismatic of the Atlanta children. Mama Joyce lets herself into the Burress home and catches up with Kandi. You are going to hear a description of what happened in Brielle's video about 15 times watching this episode. We all know what happened, can't we move on? Kandi thinks it was inappropriate for an adult to get into a Twitter battle with a child, and a parent shouldn't let their child go back and forth on Twitter with an adult. We're all past what is and isn't appropriate parenting by just being on a reality show. Kandi tells her mom about Porsha leaving the Barcelona trip and Mama Joyce is sympathetic to Porsha? Well, first, Mama Joyce tells Kandi all about her meeting with Porsha and she believes that Porsha was manipulated by Phaedra, while Kandi thinks that Porsha was just being a bitch. Mama Joyce offers to ask everyone to stop talking about it. Oh, that'll work.
Porsha has lunch with her sister and orders "tea with them li'l balls in it," and no one is allowed to refer to boba tea any other way from now on. She's got a lot going on, from her podcast to Dish Nation to rehearsals for her play Two Can Play That Game, based on the film with Vivica A. Fox. So Porsha isn't exactly ready to go to everyone in the circle and own up to what she did, even though THAT'S ALL ANYONE WANTS FROM HER. Does Porsha think she's made it up to Kandi? Unclear. Porsha isn't really checking in with anyone else.
Kim goes over to Shereé's house and what is most notable about the visit is that Kim drove herself there. Kim's visit to Shereé's is also intercut with NeNe sitting down with Gregg and Brentt. Has anyone ever commented on the extra letters in the men in NeNe's life's names? NeNe and Kim are both commenting on their feud and never before have two people been so convinced that they are the victim in one stupid Twitter beef. Kim had to issue a cease and desist to NeNe because NeNe labeled her racist in a hashtag. Bravo took it upon themselves to create a little montage of Kim's "racist" behavior, and put all together … it's not great. I don't know if Brielle taking that video was racist, but laughing about a black woman's house being full of roaches and refusing to back down when confronted about it feels like something. I don't know if that something is racism, but it's definitely something.
The conversation also leads to exactly how Brielle got into NeNe's bathroom … and it was Brentt! He invited Brielle over because they have been friends since they were little. NeNe thinks children shouldn't be at an adult party. Kim says that she's had to hire security because people are coming to her house to mess with her. I'm sure that's very scary. If it's real. Kim also says, "Not me, my husband, or my kids see color." KIM. You are not going to "All Lives Matter" your way out of this. Brentt just would have killed the bug and not commented on it. (Still, NeNe talking about how her son is very scared of bugs was adorable, and I liked it.)
Cynthia gets a call from Marlo as she's taking Will to the airport. Bitch. You need to drop this dude. I refuse to believe that there isn't another light-skinned, vaguely employed dude in Atlanta for Cynthia to go on a date with. It's Atlanta. That's their chief export. Marlo and Cynthia chat for a little bit about NeNe being removed from Kandi's tour.
The story is that a heckler told NeNe to go kill herself, so NeNe told the heckler that she was going to be raped by an Uber driver.
Y'all. I cannot.
It shouldn't even be said, but rape as a punishment isn't a joke. It's scary and gross.
Meanwhile, Kandi and Shereé grab smoothies and talk about what NeNe did. It seems that Kandi isn't really offended that NeNe said what she said, but she's more annoyed that it became a story. She thought the whole thing would blow over, but pressure from the sponsors and investors in the tour pressured NeNe to leave. Shereé is right that Kandi is pretty casual about rape as a joke when most of her story line last season was about being accused of rape. Basically, Kandi is upset at the negative press rather than what NeNe actually said. Also, Kim wants to meet Kandi for lunch for … reasons.
Then NeNe has Cynthia and Marlo over for a snack buffet to talk about the fallout from her tour comments. NeNe is crying that she wants to feel normal again and that she didn't want to hurt anyone. NeNe also seems to think that part of the reason her comeback wasn't well-received was because there were lots of Uber people in the audience. WHAT? How could you think saying that from the stage wouldn't hurt anyone? She also says that the heckler pushed her to the edge by telling her to kill herself.
Again, you don't just bring up rape unless you think it's an okay thing to joke about. No one has slipped up and said "rape" when they meant something else. NeNe appears to be very sorry, but this just sounds like a "sorry you got caught" thing.
Besides the comments on tour, NeNe's feud with Kim is really taking a toll on her. While she's with Cynthia and Marlo, she breaks down crying and Cynthia and Marlo are not prepared. I was definitely the person who everyone thought was tough and could handle anything, so when anyone saw me cry, they had no idea what to do. Cynthia and Marlo have no idea what to do. They keep telling NeNe that she made a mistake and it will all be okay. Cynthia gives her the best advice and says she's got to watch what she says because she's in the spotlight. If you can't stop yourself from wishing someone in the audience who annoyed you to go get raped, I guess watch what you say.
Kandi goes to have lunch with Kim and SHE'S AN HOUR AND A HALF LATE. Your husband seems to have one job — to drive your ass around — and he can't even do that right! Kim had her wine in the car, so she's ready to get into it with Kandi. Kandi asks why she has to bring her husband everywhere, and maybe it rubs the girls the wrong way because Kim feels like she's always ready to leave if her husband is circling the block. Kim immediately says that everyone is just jealous of her amazing relationship and everyone wants Kroy. Kim starts asking Kandi, "When the fuck do I call my husband?" and Kandi snaps back. Kandi is one of those people who always sounds like she's about to cry when she gets upset. I relate.
When they talk about NeNe, Kandi is still chill about her comments. Kandi and Kim seem to clear the air after the whole "Tardy for the Party" problems and they talk about each other's kids. Kandi asks about the videos of NeNe's house and Kim says that she can't control her daughter, but she will fight and destroy the world for her. Kandi says that as the only white lady in an all-black friend group, Kim should be a little more sensitive than gleefully showing roaches in a black lady's house.
They put most of their drama behind them, but it's only a matter of time, right?
Also, WHERE IS KENYA?