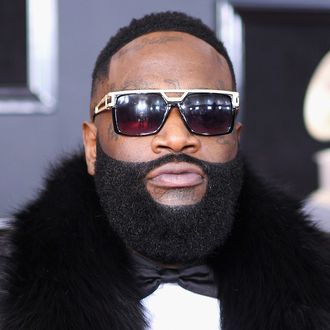 Photo: Dimitrios Kambouris/Getty Images for NARAS
Early Thursday morning, Rick Ross was hospitalized after being found "unresponsive" in his home. Emergency dispatches obtained by Billboard had the 911 caller, who attempted to wake Ross up several times, describing the rapper as "slobbering from the mouth" and "nodding his head." Police were notified when Ross got "combative" with the medics on the scene, but spokesman Sergeant Leone of the Davie Police Department said the officers cleared the location a few minutes after arriving and did not file a report. An ambulance took Ross to the hospital where he is reportedly being treated for respiratory issues. TMZ first reported the news, and said that the distress and heavy breathing could possibly be due to pneumonia. The rapper also has a history of seizures, which he has discussed in interviews and previously credited to lack of sleep.
Update: TMZ is reporting that Ross is being treated in the cardiac unit of a Miami area hospital, and that machines have taken over the functions of his lungs and heart.
Update, March 5, 2018, at 3:05 p.m.: TMZ now reports that Ross has been released from the hospital after four days and is receiving home care for an unspecified illness. Despite earlier reports that Ross was on life support, his close friend Fat Trel said the rap mogul is doing well; Ross continued posting on social media over the weekend. TMZ claims that Ross had been hospitalized for respiratory issues related to heart complications and was treated at two locations.