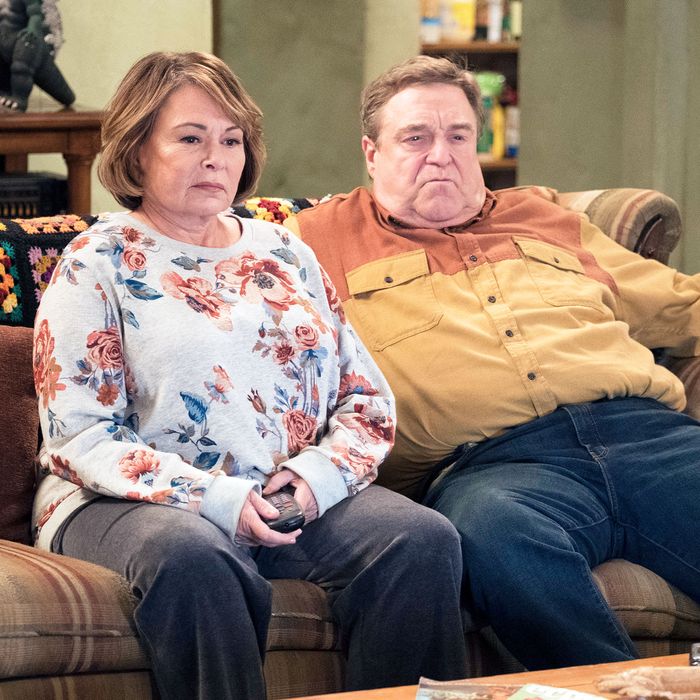 March has been a decidedly good month for broadcast television. Following an extended (and expertly executed) marketing campaign, the first two episodes of ABC's Roseanne revival drew 18.4 million viewers Tuesday, on the way to what will likely be a total audience north of 25 million. On Sunday, CBS's half-century-old 60 Minutes drew its best Nielsen numbers in a decade (22.2 million viewers), boosted by an exclusive interview with Stormy Daniels and a massive lead-in from an NCAA regional championship game (15.4 million viewers). And while their ratings aren't quite as huge, two decidedly old-fashioned network procedural dramas — ABC's The Good Doctor and Fox's 9-1-1 — ended their respective freshman seasons this week as bona fide hits, while NBC recently ordered a third season of the resurrected Will & Grace and CBS gave early renewals to similarly old-school hours SEAL Team and S.W.A.T.  None of this changes a fundamental reality: The era of preeminence for linear TV, be it broadcast or cable, is coming to an end. But there's a middle ground between dominance and death, and this month's developments hint at a potential path forward for the dinosaurs of the small screen.
First, the successes of recent weeks show that networks need to aim for the watercooler with event programming. Not to be confused with buzzy shows — Netflix has no shortage of those — watercooler shows are those programs best consumed the night they air, so they can be dissected immediately on social media, or the next day at work or school. Think singing contests (American Idol, The Voice), weekly elimination competitions (Survivor, The Bachelor), live musicals (this weekend's Jesus Christ Superstar), specials, live sports, or even big newsmaker interviews like the one 60 Minutes conducted with Daniels. "Things that bring people together for a shared experience — that's what we do best," Andy Kubitz, ABC's executive vice-president in charge of programming strategy told Vulture. "It's the unification of of people across the country for a big event. A non-linear distribution platform can't quite do that."
Networks can't exclusively program reality shows or event fare, of course: Some of it's too expensive and there's not nearly as much back-end profit potential in such shows. But even conventional scripted comedies and dramas can be made into events. Instead of continuing to make 20 or so episodes of Family Guy every season, Fox could cut the show's order in half and air all episodes over the course of a couple months — instantly making it more special than it is now. Broadcasters also ought to not give up on coming up with their own version of a limited series like The People v. O.J. Simpson or Big Little Lies, even if their efforts so far, such as NBC's Law & Order: True Crime and ABC's American Crime, were commercial failures.
Perhaps one way for networks to make limited series work for their viewers is to try a few that play to another strength of broadcast TV: nostalgia. As Roseanne and Will & Grace have demonstrated this season, there's a big audience for revisiting the past, particularly in an era of political and socioeconomic turbulence. "Everybody has a fond feeling for a certain kind of show," Kubitz said. "It's a common language … that makes a show a unifying event." Linear TV obviously doesn't have a monopoly on monetizing the past, as evidenced by Netflix's regular raids on the classic TV library (from Fuller House and Arrested Development to its recent Gilmore Girls mini-series). But broadcasters could own the retro space, not only because it can make for compelling programming, but also because it subtly reminds (older) audiences of a time when network TV was TV.
As Television Critics Association president and THR columnist Dan Feinberg noted this week, nostalgia plays come in various shapes and sizes, from straight-up reunions like Roseanne to remakes of classic shows which borrow little more than a show title, theme song, and a central conceit. The latter is far more prevalent, if only because it's far easier than reassembling the original cast of a show (assuming they're even alive or still working). But both forms should have a major role to play in linear TV's future, despite the protestations of critics that such efforts are creatively bankrupt or keep good "original" ideas from making it to air. That may have been true 30 years ago in a three-network environment, when a decision by a CBS to order a really bad dramatic reboot of The Brady Bunch may have indirectly left less room for gems such as Wiseguy or Cagney & Lacey. But it's insanity to suggest good show ideas don't have a path to viability — somewhere — in the era of Peak TV.
Reboots and revivals, if well-chosen and properly executed, are far preferable than many of the filler sitcoms and dramas broadcasters still cycle through every damn development season. And there's also no reason such reunions can't be doled out in small doses. During the '70s and '80s, the networks regularly staged one-off reunion movies and specials for classic shows from past decades. Networks could modernize that concept by making them limited series: Four to six episodes of a beloved (or even just well-remembered) TV show, where there's an overarching story line that plays out between the episodes. Netflix essentially did just that with its Gilmore Girls revival. Maybe nobody wants 20 episodes of Family Ties or The Facts of Life, or perhaps the cast of Friends or Seinfeld would never reunite for even nine half-hour episodes (as with season ten of Roseanne). But a six-episode comedy reunion series, sans commercials, would have a running time of just over two hours, require barely a month of filming and have a much better shot at delivering consistent quality over the course of its run. Plus, what's more likely to have an afterlife in streaming: six episodes of The Nanny: She's Still Laughing or a blink-and-you-missed-it "original" sitcom like Me, Myself & I?
Another lesson network programmers should take from the past two seasons is that there's no shame in admitting their future — particularly when it comes to dramas — involves what used to be called "lean back" fare. Before premium cable networks (and later DVRs and streaming) made niche programming a viable business model, networks made shows aimed at the mass of viewers who simply wanted to come home from a long day at work, click on the TV and … wait for it … lean back in their recliners for an evening of escapism.
Audiences still look to TV as a distraction, but they now have a dizzying array of options and, increasingly, opt to design their own schedules via a Netflix queue. Networks can't ignore changing viewing habits, and they need not totally surrender the mantle of "quality TV" to their cable and streaming rivals. NBC, for instance, has figured out a way to make narrower-appeal comedies such as The Good Place and Superstore work, even using streaming to build an audience for the shows' linear runs. But if the last month has proven anything, it's that there's still plenty of room for broadcasters to cater to the large mass of viewers not impressed by the Emmy bait offered up by FX, HBO, and Netflix — or, at least, are interested in alternatives.
Consider: CBS's core prime-time schedule (i.e., not including sports and special events) has been No. 1 in overall audience for the better part of a decade because it never stopped trying to reach those who prefer Blue Bloods to shows designed to appeal to Emmy blue-ribbon panels. Other networks have followed suit in recent years, ordering more straight-ahead procedurals (Dick Wolf's Chicago franchise, 9-1-1, The Good Doctor) or unashamed soap operas (This Is Us, Empire). Most of these shows aren't going to clean up during awards season, and they won't make many critics' top-ten lists. But what the best of these shows offer is well-executed, habit-forming, and easy-to-digest stories that don't require a ton of effort to follow. There's no waiting three episodes for the show to finally get interesting, or plotlines that require one of Carrie Mathison's corkboards to understand. To paraphrase a famous marketing tagline from the 1990s, it's not HBO, it's TV. And while the days of dozens of shows pulling in Roseanne-level ratings on a weekly basis are long behind us, there's good reason to think some form of that old-fashioned TV can continue to survive — and even thrive — for quite some time.