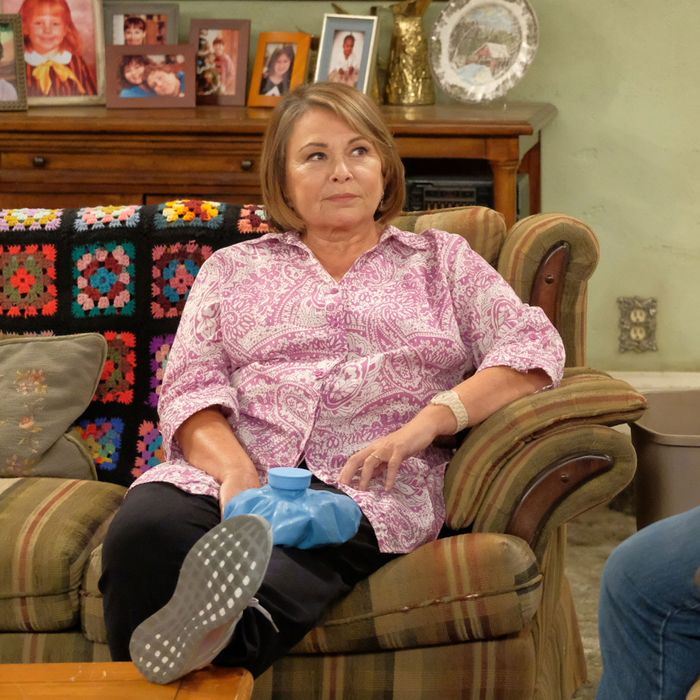 Roseanne (Roseanne Barr) and Dan (John Goodman), together again.
Photo: Adam Rose/ABC
When Roseanne debuted in October 1987, it offered a brash depiction of family life that kept things more real than practically every other sitcom on TV. Roseanne Conner, played by stand-up comic Roseanne Barr, was all the things that good TV moms – or for that matter, "good moms" in general – were not supposed to be. She was loud. She told her husband pretty bluntly when he wasn't doing his part around the house. She had no qualms about embarrassing her kids in public. And she made it clear that being a wife and a mother was, often, a total pain in the ass. That's the default position in a lot of present-day comedies about raising kids, from Speechless to Better Things. But when Roseanne – along with Married … With Children and, later, The Simpsons – routinely showed us the less camera-ready side of parenting in the late '80s and early '90s, it was revolutionary.
More than 30 years later, Roseanne is back for a tenth season on ABC, and has been rebooted in a manner that lightly echoes the way Will & Grace was successfully reincarnated just a few months ago. Like the NBC comedy, Roseanne returns with the same cast, tosses aside previous inconvenient plot developments (Dan Conner: no longer dead!), and focuses its first episode in large part on the impact of Donald Trump's election. The difference is that, while Will & Grace more or less jettisoned Trump talk after the first episode, the fact that Roseanne Conner voted for Trump redefines her character for the 21st century. On one hand, as a working-class white woman living in the middle of the country, it's not surprising that she's a Trump supporter. (The fact that the real Roseanne is pro-Trump also leeches the shock value out of this reveal.) But on the other, Roseanne was always an unabashed pro-choice feminist who presumably would have little patience for pussy grabbers.
"How could you have voted for him, Roseanne?" asks her sister Jackie (Laurie Metcalf) in the first of two half-hours that air Tuesday night. The two have been feuding ever since the election and still haven't buried the hatchet, or the pussy hats and Make America Great Again caps that divide them.
"He talked about jobs, Jackie," Roseanne explains. "He said he would shake things up. I mean, this might come as a complete shock to you, but we almost lost our house the way things are going."
"Have you looked at the news?" Jackie asks. "Because now things are worse."
"Not on the real news," Roseanne shoots back.
Yet when Becky (played by the original Becky, Lecy Goranson) announces that she's planning to act as a surrogate and donate her own eggs to another couple trying to get pregnant, Jackie points out that it's Becky's body, Becky's choice, and Roseanne can't help but agree. Apparently it is possible for this woman to still have some progressive views and, also, buy into aspects of what Trump is selling. Which, in ultra-divisive 2018, is a somewhat revolutionary idea, one that will get even more interesting if the sitcom allows Roseanne to continue grappling more openly with her own philosophical contradictions. (ABC provided three episodes in advance.)
In other important ways, Roseanne hasn't changed at all. It is still funny in the same ways it was always funny, using classic sitcom jokes and storylines to highlight issues of class. When Darlene's teenage daughter Harris (Emma Kenney) asks, "Can I have some money?" Darlene immediately turns to Roseanne : "I don't know. Mom, can I have some money?" Then Roseanne looks to the sky: "I don't know. Can I have some money?"
Some of the writers and producers who worked on the original are back for this one, including producer Tom Werner, Bruce Rasmussen, who penned the premiere, and Sid Youngers, who wrote the third episode. But they're joined by producers, consultants, and writers like Whitney Cummings, Wanda Sykes, and Darlene Hunt, the creator of The Big C and writer of the second episode of Roseanne 2.0, an approach that adds to the sense that this Roseanne is a very carefully designed hybrid of new and old.
Sometimes the carefully designed nature of the show holds it back a bit. Perhaps this is due to the episodes ABC chose to make available to critics – the first two and the seventh, which addresses opioid addiction, were the ones ABC shared – Roseanne seems so driven to advance socially relevant storylines that it doesn't alway unfold with the same natural ease that characterized the original in its best seasons. (Obviously season nine, in which the Conners won the lottery and, in one episode, Roseanne saves most of her family from an act of train terrorism, was not one of those seasons.)
The writers have to engage in a tiny bit of sorcery to bring the core members of the cast back together again, but it's mostly believable sorcery. Darlene (Sara Gilbert), now raising two kids on her own, including a non-gender-conforming son (Ames McNamara), moves back in with her parents, partly to make sure they're taking care of themselves, but mostly to save money. Becky is still in Lanford and working as a waitress, so she drops by the house on a regular basis. So does the Conners's son D.J. (Michael Fishman), who is recently out of the military and raising his young African-American daughter (Jayden Rey) while his wife continues to serve overseas. As for the second Becky, Sarah Chalke, who took over the role after Goranson left the show in 1992, even she gets to reemerge in a way that's handled cleverly enough to enable viewers to (mostly) overlook the fact that she was Becky for nearly half of the series' original run. (Jerry, the Conners's fourth child, is said to be on a boat somewhere and then, at least in the episodes I saw, never mentioned again.)
Seeing all of these actors working together again is one of the primary pleasures of this reboot. Whether you agree with her politics or not, Barr still knows how to wield sarcasm like a ninja demonstrating mastery over a sword. Also, do you ever stop to think how amazing it is that, for nearly a decade, America was able to watch John Goodman and Laurie Metcalf on a weekly basis in a sitcom? The fact that we get to do it again is just a damn gift. Together, Goodman and Barr instantly reconjure the affection and chemistry that made Roseanne and Dan such a charming team, even when they're doing banal things, like sorting through all the overpriced medications they have to take. Gilbert, also a producer this time, is not only still gifted with a swift cutdown, but also just the right amount of sensitive in dramatic scenes she shares with McNamara, who plays her son Mark.
As grandparents, Roseanne and Dan are loving, but also occasionally befuddled by their offspring's offspring. In particular, Dan has a hard time adjusting to Mark's penchant for wearing skirts and nail polish. Roseanne, on the other hand, may not entirely understand why he dresses the way he does, but she'll fight to the death for the kid, as she demonstrates while making a pretty pointed speech to Mark's new classmates.
"I'm counting on you guys to make the new kid feel welcome. And if you don't, I have ways of finding out about it," she says, adding, "I'm a white witch."
The fact that a character on a 2018 sitcom can be pro-Trump and supportive of an LGBTQ middle schooler may seem like a contradiction. But this new Roseanne exists for just that reason: to point out that such contradictions can and do exist in this country.
Like a lot of grandparents in America, Dan and Roseanne also are partially playing parental roles again, which adds another layer to the culturally relevant sense of déjà vu. When Harris talks back to Darlene in tones Darlene once used with her parents, Dan bemusedly notes that it's been 20 years since he's seen this movie. "The classics really do hold up," he says.
Which is true of Roseanne as well, even if it's reinvented itself a little for the current moment. It may not be quite as good or as groundbreaking as the original, but it holds up.