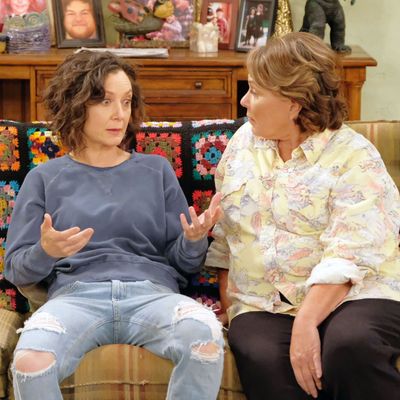 Roseanne Conner is back in prime time, and that thing you've been hearing so much about — that choice she made in the last presidential election — has been confirmed and explained.
Roseanne did indeed cast her vote for Donald Trump, or rather, He Who Must Not Be Named, because no one actually says his name throughout the episode. Ditto She Who Must Not Be Named, the pantsuited opponent whom Roseanne assumes sister Jackie voted for, which led to a year-long rift during which the siblings and best friends haven't spoken to each other.
This part of the Roseanne revival already had some fans vowing not to tune in. How could that liberal, underdog-championing, working-class heroine Roseanne Conner have changed so dramatically that she would turn her back on all she claimed to believe in, all she claimed to be about, to vote … another way? When she and Jackie finally agree to a détente to talk about their beef, Roseanne explains her choice in a way that almost certainly won't change anyone's mind, but nevertheless lays down a point: You can choose to get past it, or at least to keep talking, no matter how much you continue to disagree.
Roseanne and Jackie ultimately make up, even when Jackie's apology is met with nothing more than Roseanne's acceptance of her apology. That's classic Roseanne. Also classic Roseanne, and classic Roseanne-and-Jackie's relationship? Jackie didn't actually vote for Hillary Clinton. Always indecisive and easily swayed by her sister, Jackie heard Roseanne's anti-Clinton sentiments ringing in her ears in the voting booth, and she voted for Jill Stein instead.
Not that Jackie, wearing her best "Nasty Woman" T-shirt and pink pussy hat, completely backs down. She gifts the Conners with a bottle of salad dressing — Russian dressing, natch — when she comes to dinner, after calling Roseanne a "deplorable." Roseanne says she voted for Trump because the Conners almost lost their house, and she didn't believe the promises being made by other candidates. That's the gist of her defense of voting Trump, and the politically charged squabble between her and Jackie, at least in this first episode of the reboot, proves to be more about the sisters' relationship and the Conner family's worsened economic situation than about anything that suggests Roseanne has abandoned her core beliefs about her fellow humans and their rights.
I know, I know, some may argue that's not possible, that too little is being made of Roseanne's choice and its implications. But maybe too much has been made of it, based on what we've seen so far. Roseanne and Dan nearly lost their home. They're providing food and shelter to one of their adult children (Darlene) and two of their grandchildren. They each require more medication than they can afford, a matter that will resonate all too soberly with many viewers, despite Dan's goofy and charming Sammy Davis Jr. "Candy Man" impersonation when he brings home the pills they can buy. The Conners are trying to take care of each other the best they can, in some new but still-trying circumstances, as they've always done.
I don't agree with Roseanne's choice, but I welcome the discussion it might spark. I also welcome the chance to revisit this great TV family, not just for their humor and heart and dysfunction, but also to see how they're handling real-world controversies. That's something Roseanne has always tackled deftly, and this premiere episode suggests the series will continue to tread into uncomfortable and timely topics in honest, if not always popular, ways.
For example, there's Darlene's sweet teenage son Mark, who wears skirts and flashy colors. "May the winds fill his sails and carry him to the boys' section of Target," Dan says. It's a topic that will be revisited in future episodes, as will the fact that Darlene, the only Conner kid with a college education, has lost her job and has been forced to return to Lanford and crash with her parents. Meanwhile, Becky — widowed Becky — is living on her own, but, like her parents, is barely getting by with a low-paying waitressing job. She thinks her only shot at getting ahead is to accept $50,000 to become a surrogate mother, a decision that doesn't settle well with Dan (but which does lead to the continuation of the tradition of great Roseanne tag scenes).
So Roseanne is driving for Uber, Dan is back to drywalling (and he's not dead, hooray!), D.J. and his tween daughter have returned to town after his stint in the Army, and Jackie is a certified life coach. And the presence of children in the household once again has Dan and Roseanne scrambling to remember where they stashed their gun. (Answer: an empty ice cream carton in the garage refrigerator.)
Times have changed, but the people haven't, which is why it's so good to have the Conners back.
Couch Surfing
• Among the many comforting things that haven't changed at casa Conner: the couch and that iconic afghan thrown across the back of it, the industrial-sized can of creamed corn in the pantry (it's Dan's favorite), and Roseanne's chicken shirt, which nearly every main cast member wore during the series' original run.
• Roseanne and Dan's youngest child — remember Jerry Garcia Conner, born in the season-eight Halloween episode? — is off working on a fishing boat in Alaska. Unless they're keeping a secret, we likely won't see the twentysomething offspring during the new season. Though that does seem like an opportunity for some fun stunt casting.

• D.J. is married to a woman who's also in the military. But we don't yet know the status of their relationship.

• Ditto Darlene and David. We know Johnny Galecki has taken time out of his schedule on The Big Bang Theory to join the Roseanne reunion, and Darlene indicates that she has no partner. But she doesn't mention David by name or provide any specifics on her marriage.

• Dan, after teen granddaughter Harris declares all the adults in the room suck, then storms off: "I ain't seen that movie in 20 years! Classics really do hold up."

• The tag scene: Becky (played by the original Becky, Lecy Goranson) meets the woman who wants to hire her as a surrogate. She's played by Sarah Chalke, a.k.a. Becky No. 2. It's the series' second-best "two Beckys"-themed episode ender. (This one is the first.)

• Dan finds the manuscript for Roseanne's novel in the garage, the one she wrote in the retconned season-nine finale. He tells her he thinks it might have been a hit, if she hadn't killed off the most interesting character.
• Darlene, after Roseanne refuses to stop eating old Peeps for breakfast: "Dad, will you tell her how stupid she's being?" Dan: "That's never worked out for me."