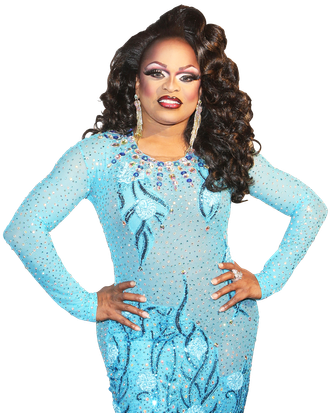 Spoilers ahead for RuPaul's Drag Race All Stars.
On Thursday night's All Stars 3 season finale, the remaining queens were gagged to learn that the final two would be selected by a jury of their eliminated peers. As it is written, so it shall be done: Kennedy Davenport and Trixie Mattel won the most votes. After a wig-tearing (on Trixie's part) and barefoot-twirling (on Kennedy's) lip sync to "Wrecking Ball," Trixie Mattel was inducted into the Drag Race Hall of Fame.
The next day, Vulture debriefed with All Stars runner-up LaGuardia, Newark, Kennedy about watching from Australia, her sky-high kicks, and (sort of) getting a shout-out from Reese Witherspoon. Say yes to drag, and yes ma'am to the dancing diva of Texas.
Congrats on an amazing season! How's Australia?
Australia is good. It's, like, 2:44 a.m. I just got in, still got a face on, just sitting here looking crazy, but other than that, Australia is great. I'm here with Chi Chi and we're on tour. We [just performed] the fourth of five shows. We have one more tomorrow.
Were you able to watch the finale live?
No, I wasn't. I actually had to shut down my phone. It was terrible. I can tell you that we don't know [the results] until y'all know. It was a stressful moment because I couldn't watch when everybody else did. I had to wait maybe three or four hours. It was crazy. I didn't even answer. I took a nap. I couldn't take no more.
How do you feel looking back on All Stars 3?
I'm good. I'm good about it all. It is what it is. It's almost like, I'm used to it. [Laughs.] You just never know in the end what she really wants — I'm talking about Ru. Because we all did a very good job, and I feel like I performed to the best of my ability, but in her eyes it just wasn't good enough. Yet again. But I'm grateful for the opportunity. I'm glad that everything I set out to do, I did. My fans have grown bigger and bigger and I've changed people's lives. I have motivated people to keep moving forward, and that's what it's all about.
Do you think Trixie deserves a spot in the Hall of Fame?
I think we all do, honestly. [Laughs.] Because we all worked hard to get there. It was just a matter of who they wanted. They could have picked me. They could have picked Shangela. They could have picked BeBe.
You got the most votes from the jury of eliminated queens. How does that make you feel?
For my sisters to believe in me enough to put me in the top two made me feel so good.
Do you think fans will still see you as a "second thought" queen?
Not now. What I meant by "second thought" is, probably two or three years ago, I was on the Divas of Drag tour and we would have meet and greets. Me standing next to Alyssa, me standing next to Latrice, me standing next to a few other girls, the fans would run to them first. I would be standing at the meet and greet a good 20 minutes before somebody would actually come and take a picture or whatever. That's what I mean by "second thought." It's still a possibility! [Laughs.] But I know it won't be as a bad as it was.
You've given us some of the highest high kicks in Drag Race herstory. How do you stay so flexible?
I've always been naturally flexible. That was just one of my great attributes as a dancer. I took dance for so long. I always liked seeing a beautiful dancer that could really high kick, I thought it was just so sexy. And I wanted that to be one of the main attractions of Kennedy Davenport — my kicks.
You tweeted the clip of Reese Witherspoon quoting Adam Rippon quoting your "glamazon bitch" line on the Late Show With Stephen Colbert. What was your reaction to seeing that?
I love it! I was just trying to get a bitch to say my name. Like, "In the words of Miss Kennedy Davenport from RuPaul's Drag Race …" Because that's where it came from, you know? I would never repeat somebody else's quote without giving them credit. But I'm not bitter or anything like that. I just think it's great, because it goes beyond my Death Becomes Her look. It's really an attitude that you must have in day-to-day life. No matter what the situation may be, no matter what comes your way, honey — just like what Latrice says — you get knocked down, you get back up, honey. You look sickening. Bitch, you're a glamazon ready for the runway. That's how it is. And the runway is life!
You just dropped a new single, "Moving Up." Does that reflect how you're feeling after the show?
That's my state of mind every day. I've been through a lot in my life. That's just how I live. No  matter what comes my way, I gotta keep moving forward. I can't be discouraged in life. I can't allow things to get in the way of my own destiny.
Any advice for aspiring Drag Race competitors?
I would tell them to keep trying. It's worth a try. Especially if this is your passion and you want this to be your career, Drag Race is the best way to go right now. Because you can't survive off drag if you — I mean, you can, but it's hard. I was doing it before Drag Race, surviving off local fees and stuff like that, but it's very hard. You have to sacrifice a lot and you have to do without. Drag Race just puts you in a different pay grade. It also allows you to tour the world and meet different people. I would say to any drag queens, if that's what you want to do, do it, and don't give up until you get it.
This interview has been edited and condensed.