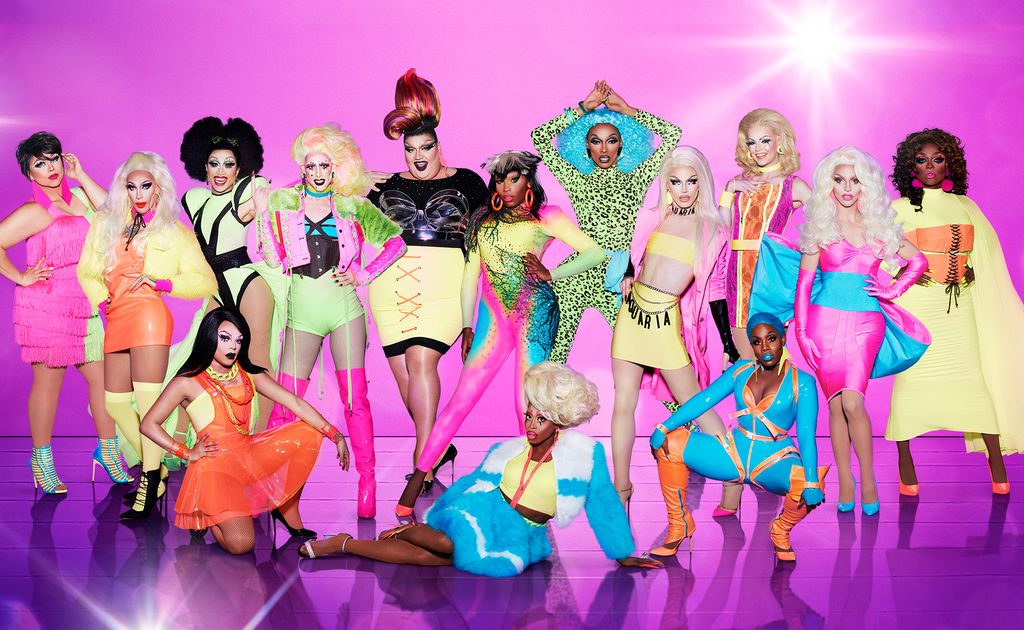 Ladies and gentlemen, the cast of RuPaul's Drag Race season ten is here — and as Ru himself would say, they're sickening. Thirteen new queens have joined the show for the first time, with one, Eureka O'Hara, returning from season nine. The sheer variety is impressive. Some contestants are veteran performers, while one was just 11 years old when RuPaul's Drag Race first premiered. The aesthetics are gloriously different, too — from punk-rock Aquaria to Old Hollywood-esque Blair St. Clair, this next crop of queens is serving up seriously diverse and edgy looks. Dusty Ray Bottoms brings "dark, glamorous, and trashy," while Kameron Michaels serves "bodybuilder-Barbie-doll" realness. This season, according to the contestants, promises to be "everything, the house down, boots, yes God."
Season ten premiered on March 22 on VH1, so now's the time to get to know the latest queens. Who do you predict has the right mix of charisma, uniqueness, sass, and talent to become "America's next drag superstar?"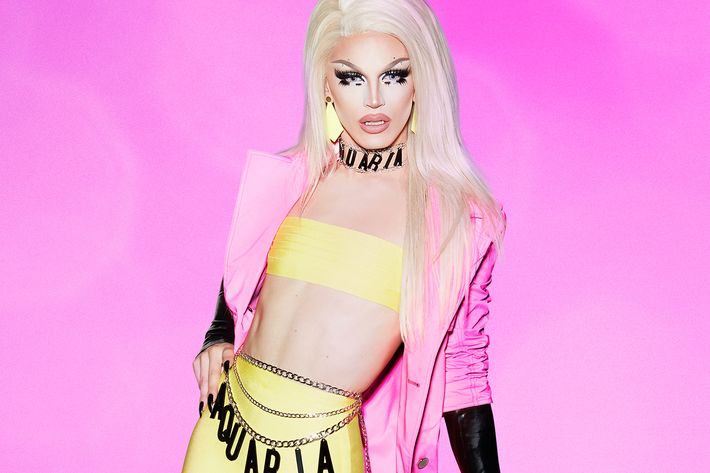 Aquaria is equal parts drag queen and supermodel. In fact, the 21-year-old from Brooklyn recently appeared in the pages of Vogue Italia. Her name comes from her sign — Aquarius — although she admits she "doesn't know shit about horoscopes." What she is certain about is that she's "high energy, high fashion, and high maintenance." With season four winner Sharon Needles as her mentor, aka "drag mother," Aquaria is already one of the top queens of the Brooklyn drag scene.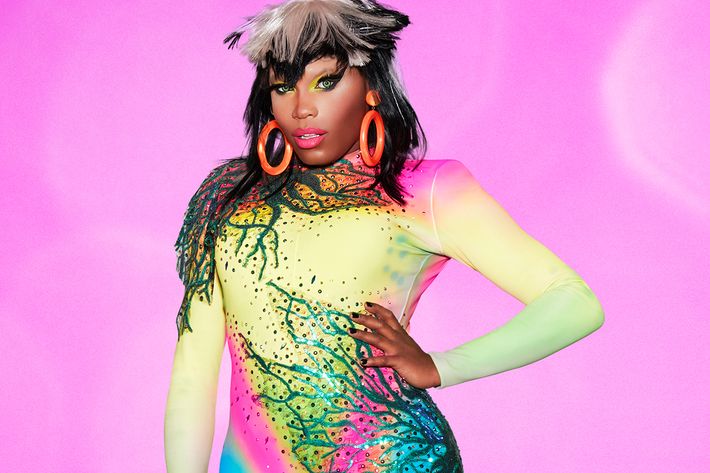 Move over toddlers in tiaras, Asia O'Hara has arrived. The Texas-born drag queen is a familiar face in the pageant circuit: In 2015, she won Miss Gay America Texas and went on to snag the national title the following year — her first time ever competing. When she's not on stage, she runs a costume design business for color guard teams and ice skaters, though she describes her personal style as "a little classic finesse" mixed with a "very modern, post-apocalyptic" vibe. Will this "chameleon queen" be able to adapt to the competition?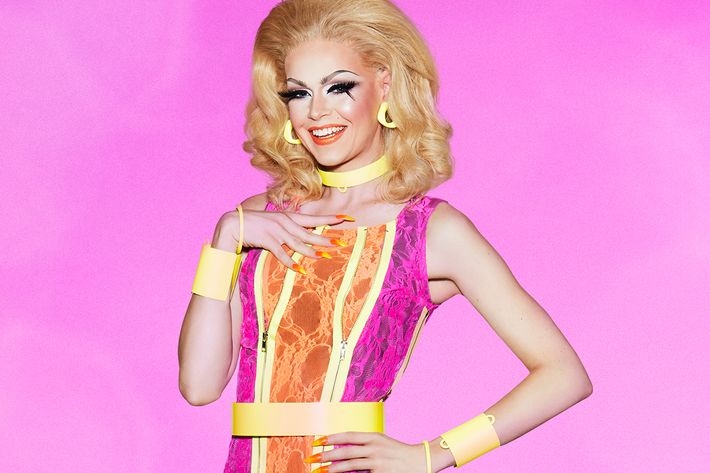 "Small-town girl with big-city dreams" Blair St. Clair is bringing her flair for musicals to the next season of Drag Race. She plans to sing and dance her way into America's heart. The 22-year-old Indianapolis native considers herself a "retro Broadway queen," and plans on serving Ru and the judges Old Hollywood realness.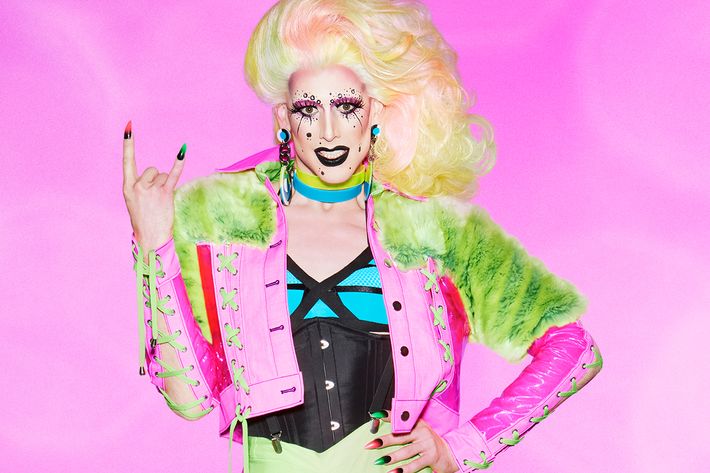 "Dark, glamorous, and trashy," Dusty Ray Bottoms brings something a little different to the season ten cast. The 29-year-old Kentucky native moved to New York to pursue acting, but soon discovered a love for drag. The "theatrical" and "witchy" punk-rock queen doesn't like to be put in a box — with cotton candy-colored hair and elaborate makeup instead of eyebrows, there's no way Dusty Ray won't stand out this season.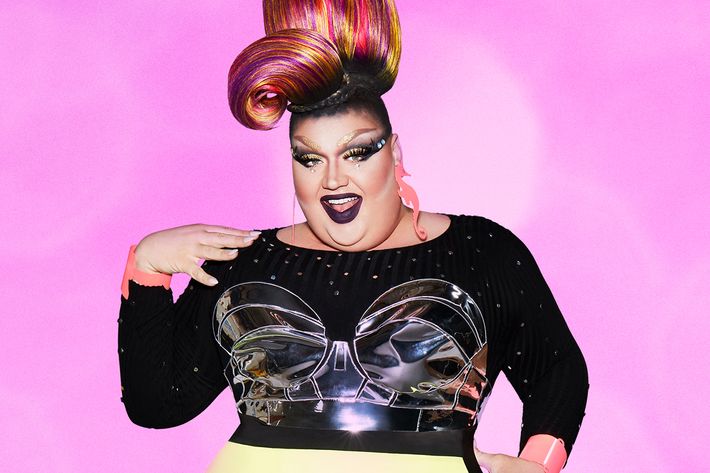 Drag Race fans are already familiar with Eureka O'Hara. The 27-year-old Tennessean had to leave season nine early due to a knee injury, but now the self-described PHAT "pretty hot and tasty" queen is back with a vengeance. This season, Eureka isn't going to do drag the same old way she was taught. "I've decided that I've started doing drag like I want to," she says. We can't wait to see what she's going to pull out of her "big-ass bag of tricks."
Kalorie Karbdashian-Williams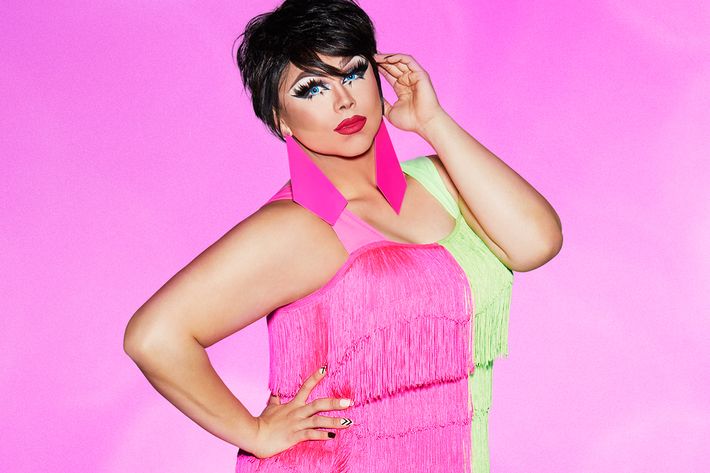 With a name like Kalorie Karbdashian-Williams, it's no surprise this queen dreams of being television royalty. But since she's not actually related to a certain reality-TV clan, she's chosen to become their "wicked stepsister" instead. Although the 27-year-old from Albuquerque, New Mexico, is channeling momager with her hair, her curves are just like one of the girls. In fact, Kalorie considers herself a "body queen," — she believes in being sexy, flaunting said curves, and taking her job seriously just like any good reality star would.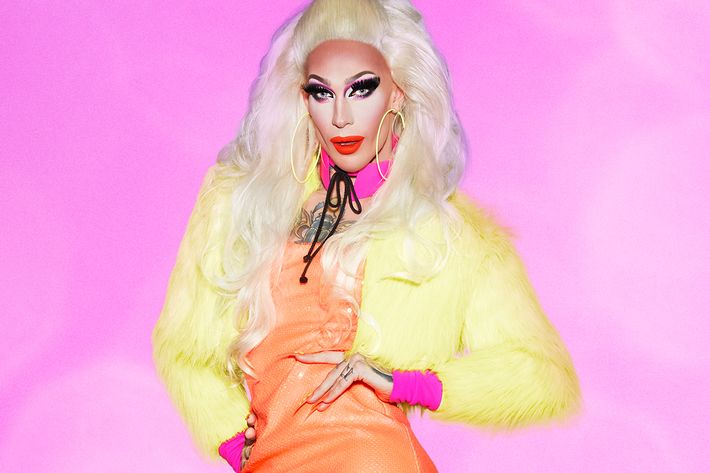 A "bodybuilder Barbie doll," Kameron Michaels is equal parts strength and beauty.
"Fish" (as Ru would say) up top and fierce on the bottom, this muscle queen splits her time between working out at the gym and performing at local drag bars in her hometown of Nashville. She actually chose the name Kameron because it was androgynous. A mix of old-school and new-school drag, Kameron doesn't like to limit herself. And, she promises this season will be "absolutely sickening."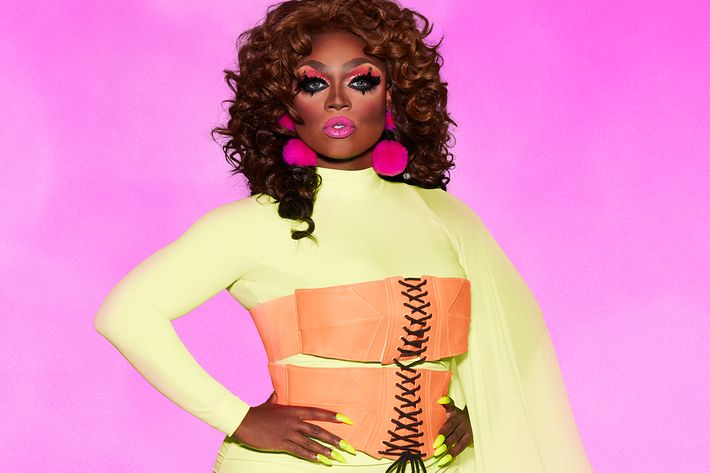 Over-the-top and here to wreak havoc, Mayhem Miller considers herself the "queen of the party." The 35-year-old Riverside, California, native is the "drag sister" of Drag Race legends Raven, Morgan McMichaels, Delta, and Detox. "It's glamour … it's over-the-top," she says, describing her style. "It's just fierce all around."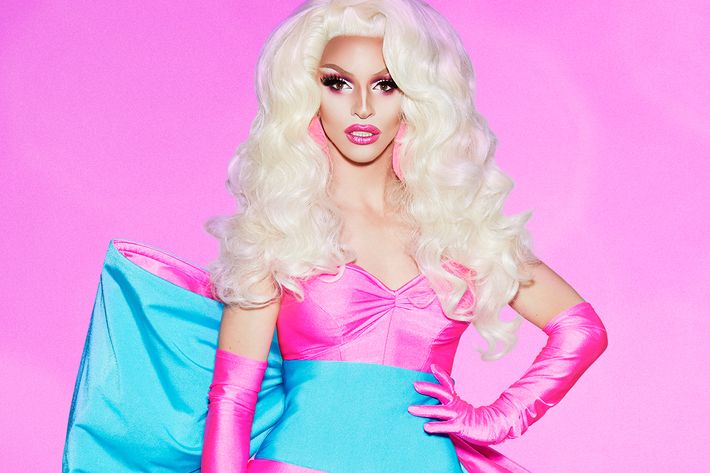 Just like the snack food, Miz Cracker describes her persona as "thin, white, and very salty." The 33-year-old from New York is the "drag daughter," aka protégé, of season eight winner Bob the Drag Queen. She first got involved in drag after participating in Bob's marriage equality marches in Times Square in 2010. As funny as she is fierce, Miz Cracker takes pride in how someone once described her personal style, namely, a "Jewish Barbie on bath salts."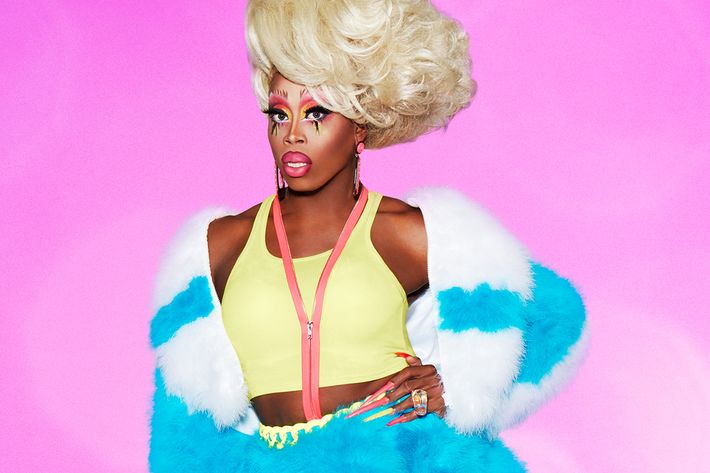 Coming all the way from Kansas City, Missouri, Monique Heart is a self-proclaimed "glam look queen on a budget." She's got a "body-ody-ody" that she dresses up in an "old-meets-new-meets-funk-meets-art" signature lewk. Not really a competitive person, Monique isn't stressing about the other queens. "I just love to go on stage and do what I'm gonna do," she says. "I know who I am, and I know what I'm worth, and I know what I bring."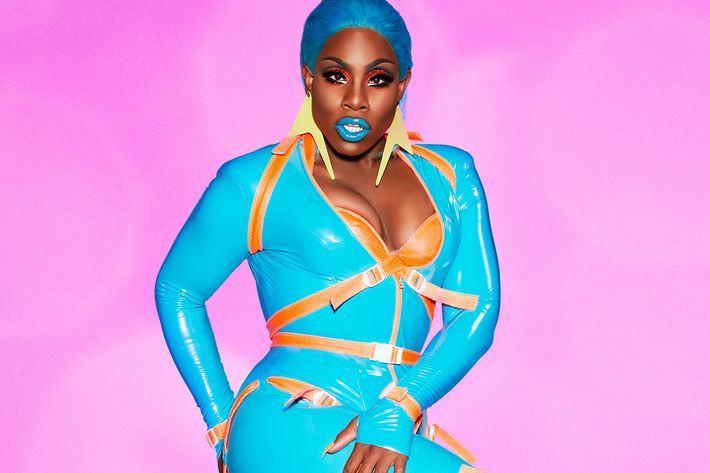 Colorful New York street style meets opera glamour when it comes to Monét X Change. This 27-year-old queen based in the Bronx, has a degree in opera performance, but doesn't take herself, or life in general, too seriously. And while she might seem laid-back, she's bringing her A-game. "I think that staying true and knowing who you are before you walk into those workroom doors solidifies you as being a threat," she says. "Season ten is going to be iconic."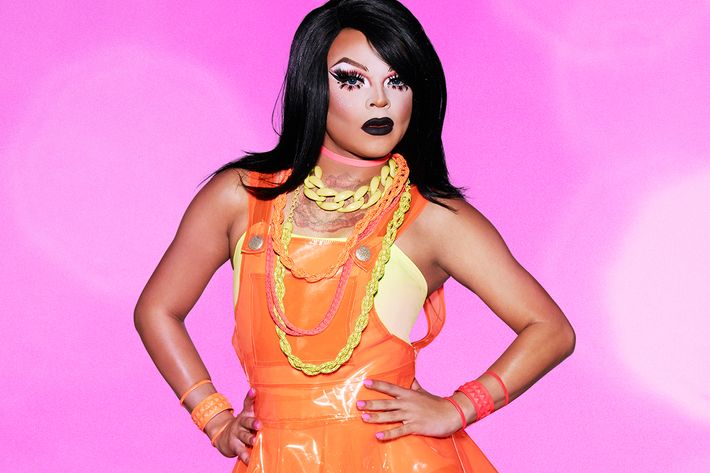 This queen would like you to "get these cookies." Vanessa Vanjie Mateo — Drag Race All Star Alexis Mateo's "drag daughter" — brings high energy to every performance. The 25-year-old from Tampa, Florida, describes herself as a "twerk-a-holic" and she's here to finish the job that Alexis started. She also hopes to be known for "a lot of laughs, a lot of fun, a lot of mug, a lot of hair, a lot of glamour, and a lot of Vanjie."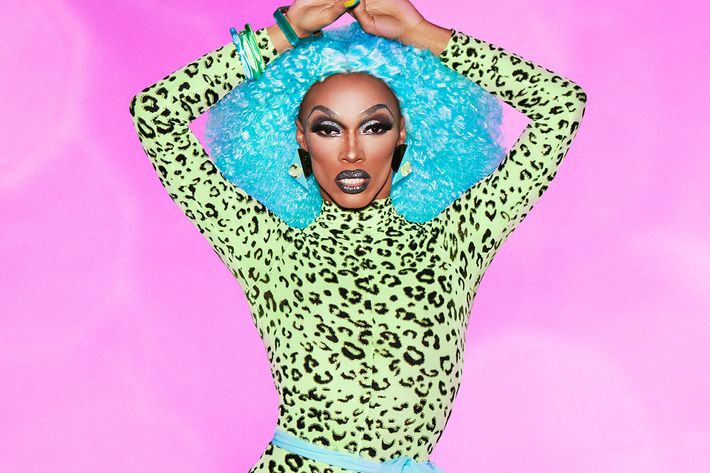 Hailing from Chicago's South Side, The Vixen likes to add some substance to her slay. The 26-year-old queen often incorporates elements of politics and protest into her performances. The Vixen is vocal, woke, and not here to play games. With her pinup-inspired name, she's the self-proclaimed "superhero of the universe" who will give it to you straight. "I'm not a competitive queen," she says, "because I already think that I'm better than everybody."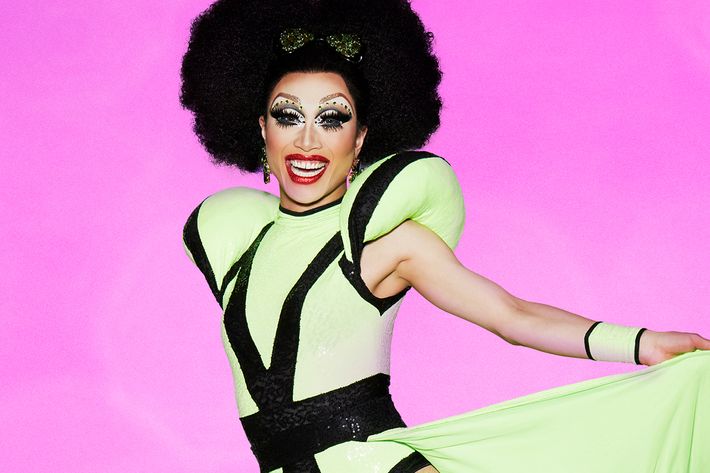 Originally from China, Yuhua Hamasaki moved to New York's Chinatown when she was 7 years old. She's a multi-talented queen who works as a seamstress on the side, creating gowns for NYC royals like Peppermint and Bob the Drag Queen. The 27-year-old is serving camp the house down, with a mix of cabaret and futuristic flare. She says the other queens might think she's "abrasive" because "I know what I want and I go for it."
This is paid content produced for an advertiser by New York Brand Studio. The editorial staff of Vulture did not play a role in its creation.