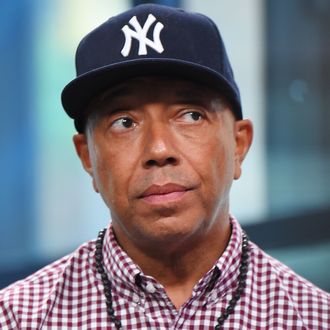 Russell Simmons.
Photo: Michael Loccisano/Getty Images
A new accuser has emerged with rape accusations against Russell Simmons, and she is suing him for $10 million. According to court documents filed on March 23 and obtained by Billboard, a woman designated only as Jane Doe claims that Simmons raped her in a hotel room after she met him at a concert — which she was attending with her son — where he had lured her with an invitation to an after party. According to the suit, Simmons told the woman, "I am going to fuck you," and even threatened her further by saying, "I'm going to fuck you or I'm going to fuck your son." He then allegedly forced her onto a hotel bed and raped her. Simmons's latest accuser is seeking $10 million in damages for "forcible rape, intentional infliction of emotional distress and negligent infliction of emotional distress." Simmons maintained his innocence once again in a statement to Billboard.
"They have shocked me to my core as I have never been abusive or violent in any way in my relations with women. I have submitted myself to multiple lie detector tests. I denied forced sex and sexual harassment allegations brought against me in each test; I also answered no to the question, 'Have you ever physically forced any woman to have sexual intercourse?' I passed all of the lie detector tests."
Simmons has been accused of rape and assault by multiple women over the past six months.