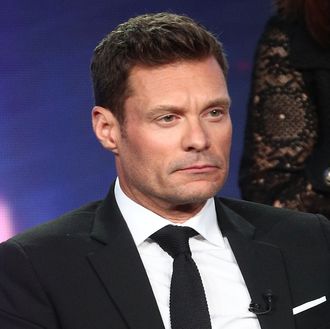 Photo: Frederick M. Brown/Getty Images
Suzie Hardy, the E! and American Idol stylist that accused Ryan Seacrest of sexually assaulting and harassing her, has filed a report with the LAPD. In an essay for The Hollywood Reporter, Hardy details what happened after she reported her allegations to Seacrest and E! She says NBC Universal conducted an investigation and said their findings were "inconclusive." Some celebrities have avoided Seacrest on red carpets, while Seacrest himself wrote a guest column for THR with his side of the story and continued his many television projects. "Ryan chose to take this public, not me," she wrote. "But I will not stand by silently and let Ryan or the sycophants that employ him get away with this." She continued:
So much for "Let's believe the women," right? Unless you're the president of the United States or a TV cash cow, apparently. Those who work with Ryan seem to hope I will just go away. Well, I'm not going away. I'm thriving in the truth and feel more inspired than ever. I recently contacted the LAPD and filed a police report so I'm guaranteed a real investigation this time. (Editor's note: THR confirmed a police report has been filed and the case is being investigated.) Ryan's team of lawyers, who are also representing Harvey Weinstein, do not intimidate me. If Ryan is so innocent, why hasn't he called me a liar or sued me or presented evidence of my so-called extortion plot?
Seacrest denies Hardy's allegations, and his attorneys, in a statement to THR, say he will cooperate with the LAPD.