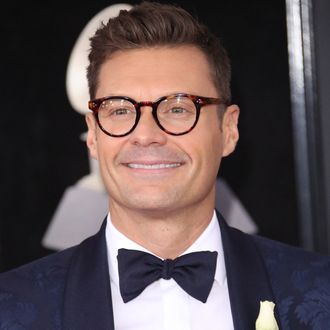 Ryan Seacrest.
Photo: Dan MacMedan/WireImage
With only a few hours to go until E! begins its popular red-carpet reporting for the Oscars, Ryan Seacrest is still expected to be spearheading the network's coverage from the front lines, despite new sexual assault allegations coming forth against him by his former stylist. (As to who will actually talk to him on the carpet remains another story entirely.) Tarana Burke, who founded the #MeToo movement and has become a powerful voice for victims of sexual harassment and assault, believes Seacrest's presence at the ceremony would be an incredibly foolish idea.
"They really shouldn't send him [to the Oscars]," Burke said of E! in a new Variety interview. "We shouldn't have to make those choices of, 'Do we or don't we?' This is not about his guilt or innocence. It's about there being an accusation that's alive, and until they sort of out, it's really on E! News and shouldn't be on us. It will let us know where they stand in terms of how respectful E! News is of this issue — and of women." While Burke doesn't remain optimistic E! will indeed follow through with this, she's confident that the ceremony's "smart" host, Jimmy Kimmel, will appropriately set the right tone for the evening.