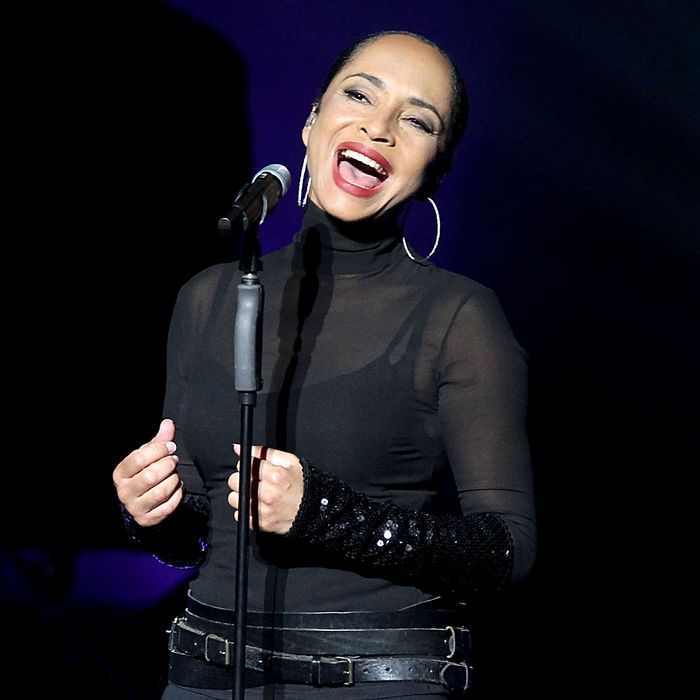 Photo: Gary Miller/FilmMagic
"Flower of the Universe," Sade's first new song following a seven-year hiatus, doesn't quite pick up where the legend left off. Her last album, Soldier of Love, often rang out with the tension between smooth vocals and hard percussion; "Flower" eases the contrast by deftly shifting toward a gentler register. An acoustic guitar is Sade's only accompaniment as she renews her great theme of love. Even without an expansive lyric video, her verses are indelibly maternal, tender, and vast:
They hear you when you cry
This love is far and wide
When you smile the stars align
Flower of the universe
And child of mine
Commissioned by director Ava Duvernay as part of the soundtrack for the new adaptation of A Wrinkle in Time, the warm, dreamy ambience and spare, astral language of "Flower" seem to gesture at the plot of Madeleine L'Engle's classic children's novel, an elaborate religious parable where the importance of love proves key. Given the centrality of love in Sade's own work, it's no surprise that the singer and story, united by DuVernay's vision, make for a perfect fit.
Given that a Times profile last year floated the possibility of a new Sade album sometime in the future, it's tempting to speculate, based on the new evidence, on what direction the artist would take, but the truth is that there's no way to predict what Sade will do. The long hiatus alone is proof enough that she makes music only when she feels an urgent need to, and her penchant for privacy ensures that the personal events that spur her to write, assuming that there are any, won't be widely known. Thankfully, her existing songs make for a sustained lesson in patience and devotion, so true loyalists will have an easier time waiting than most other artists' fans.