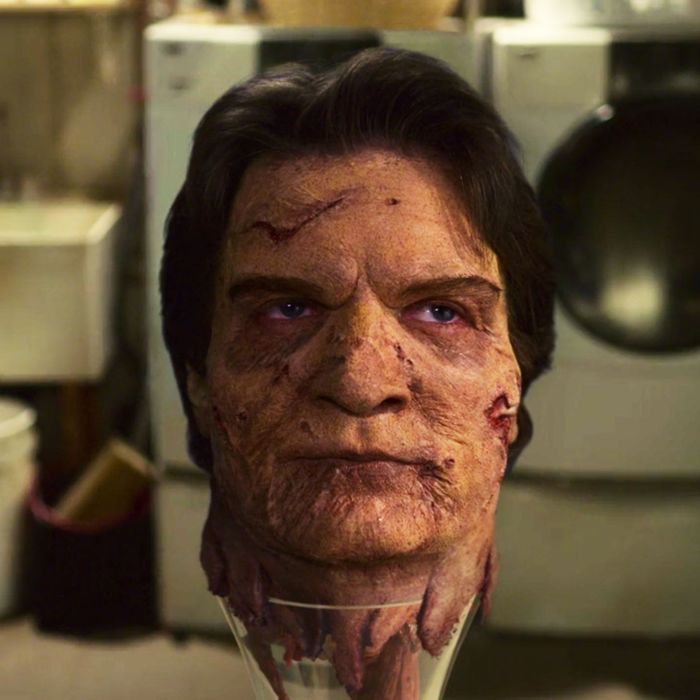 If Santa Clarita Diet were any other show, a disembodied zombie head doling out life advice would be a shock. But Netflix's sitcom about an undead SoCal real-estate agent named Sheila (Drew Barrymore) and her husband Joel (Timothy Olyphant) is a deep dive into horror-comedy weirdness. To wit: After Sheila ate a skeezy real-estate agent named Gary (Nathan Fillion) in the series premiere – and Joel didn't destroy the guy's brain – he returns as a disembodied head in the show's sophomore outing, which premiered last Friday. Soon enough, Gary and Joel are besties. "Joel doesn't have a shoulder to cry on, and as the series would have it, he still doesn't," Fillion jokes.
En route to WonderCon last weekend to screen an episode of another Netflix series he's joined, A Series of Unfortunate Events, Fillion talked to Vulture about finding universal truths in Gary's odd friendship with Joel, how exactly they filmed his disembodied head scenes, and he even humored us with some punny suggestions for a Gary-focused Santa Clarita Diet spin-off ("Quit While You're a Head. It's more of a sitcom vibe, like a Frasier").
Gary and Joel's bromance adds so much heart to season two. They talk baseball, Gary gives Joel relationship advice, and they even rewatch The Wire together.
Well, thank you very much, I'm flattered. First of all, what an adorable show. It's this unusual circumstance about people, relationships, doing the right thing, and how people relate to other people. Obviously, it's a heightened reality, but I couldn't wait to go back.
When Gary was eaten after assaulting Sheila in the very first episode, did you know you would return in season two?
I thought it was a one-shot deal. When I got the call and they said, "Hey, they want you for another season," I said, "Are they calling the right person?" It's just another great way they are addressing the reality of the situation. I mean, if your wife was a zombie and she had to meet people, what kinds of problems would you encounter? There are some really fundamental truths I think we can all relate to – and all laugh at – that keep us coming back to this show. And then they come to a fundamental truth in zombie lore, which is, if you don't destroy the head, it survives. I thought, "Well, that's just kinda perfect."
It also gives Joel someone to talk to, at a time when he can't really share his problems with other people.
Exactly. Joel doesn't have a shoulder to cry on, and as the series would have it, he still doesn't. Hey folks, it's another severed head joke!
How many of those were you making on set?
Oh, there were a few. But I gotta admit, I'm pretty proud of that one, because I came up with that one just now.
It was a good one.
Thanks!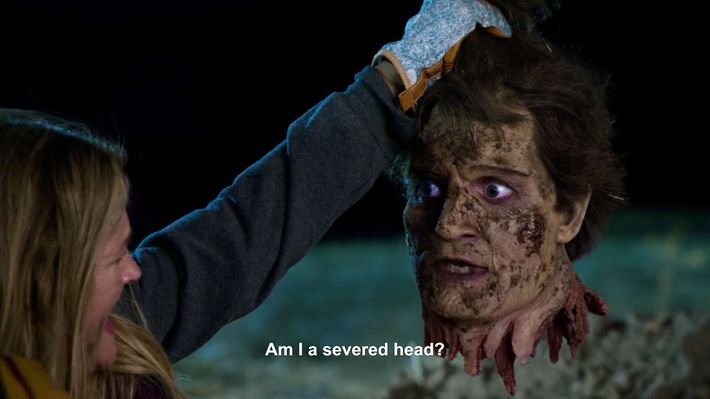 Did you feel like this was a chance to redeem Gary? Before his demise, he was not a good dude.
That's the thing – anybody who encounters a life-altering event, if it doesn't change your way of thinking or give you a new perspective, that's just not realistic. If we suspend the disbelief of the existence of zombies, and say, Okay, yes, zombies exist, I think this show plays some very true notes.
How did you create Gary? Was it animatronics, green screen, or a combination of both?
I filmed all my stuff on a separate day, after all [Olyphant and Barrymore's] shots were finished. We had to create the eyelines first, so half the scene was filmed with a fake head, and then my head on a … scaffold thing. I didn't move. Oh, my God, I realized how much I move my head, even just slightly, while I act. So yeah, I filmed my scenes on a separate day. I'm watching completed scenes, everything except for Gary in them, and trying to match the severed head they had onscreen.
You were never in the room with Tim and Drew?
That's correct.
Wow, I was going to say you all have incredible chemistry, specifically because of the way you interact with each other.
I know exactly what you're talking about. I'm gonna credit that – they have a tempo on their show, and they've had it from the very beginning. So often it takes a program time to hit their stride, but they have a rhythm in their show and a cadence that I got to experience in the first episode. It's very clear and very concise and very entertaining, so all you have to do is slip back into their rhythm, like dancing to your favorite song.
Gary has the last words of the season: "Well, this just got fuckin' weird." Will he return if the show is renewed?
Ah, I have a whole sheet of things I'm not supposed to even go near, and season three is on that list.
Okay, let's talk about your other Netflix series. You play Jacques Snicket in season two of A Series of Unfortunate Events, which means you are once again an adversary of your Dr. Horrible's Sing-Along Blog co-star Neil Patrick Harris.
That's correct. It's not a role we are unfamiliar with, and it's certainly a relationship we enjoy playing. I mean, Neil Patrick Harris, it's no secret that he is wildly talented. But until A Series of Unfortunate Events, I had no idea how incredibly elastic and pliable he was. He has this incredible opportunity in front of him, to portray all these incredible characters, the prosthetics, the accents, the deep character work, the costumes, and he transforms so entirely between episodes. I don't think a lot of people could do what he does so happily, because he goes through hours and hours of prosthetic makeup every day. It would drive me insane. There's so much incredible work being done over there. Just the sheer visual of that program, I've been longing to do something stylized and beautiful like that.
Jacques easily fits into that world. He speaks so eloquently. And that mustache!
It sounds goofy, but when the mustache goes on, so does the character. Everything falls into place with Jacques, with his mustache and his hair, he's like the gentleman swashbuckler. He's the scamp you can trust.
You also have a guest role coming up on American Housewife, where you play yourself, as you've also done on The Big Bang Theory. What's the key to those kinds of roles?
I think the secret to playing yourself on a show is to be willing to laugh at yourself. You're not playing your actual self, you're playing an exaggerated version of yourself – and hopefully, a flawed and embarrassed version of yourself.
This is an opportunity to honor some wonderful friends and excellent mentors of mine, guys who saved my ass at an amazing time in my life. When I became an actor, my first gig was a big old soap opera. Then I'd moved out to L.A., had a couple of jobs right away, and I was on a rocket. Then I was unemployed for about a year. I watched my savings dwindle away, I started paying my rent on a credit card, and I was ready to pack it up and call One Life to Live and see if they would take me back. The phone rang and I got a job on a sitcom called Two Guys and A Girl, and that week-long job turned into two-and-a-half years. The fellas who created that show, [American Housewife producers] Rick [Wiener] and Kenny [Schwartz], they called me up and said, "Would you like to come down and do this?" I said, "Absolutely."
I've got one last Santa Clarita Diet question. I know you can't discuss season three, but do you think Gary could star in his own spin-off?
I can hear you laughing as you ask that.
I'm only laughing because I know how funny it could be. I really, really want to see that spin-off.
Okay, I think we should do a Gary spin-off – and I'm going to throw a couple of titles at you. Quit While You're a Head. It's more of a sitcom vibe, like a Frasier. I think you might like it. Here's another one, it's a buddy comedy, two guys just road tripping. It's called What's That in the Road, a Head? See? These are the jokes. I imagine you're closing your eyes and shaking your head at me.
No, I'm okay with anything that keeps Gary on TV.
Just to make sure this happens, I'm gonna retool the title of What's That in the Road, a Head? to The Road Ahead. There we go. The Road Ahead, it's easier to say, and you can get it on a T-shirt.