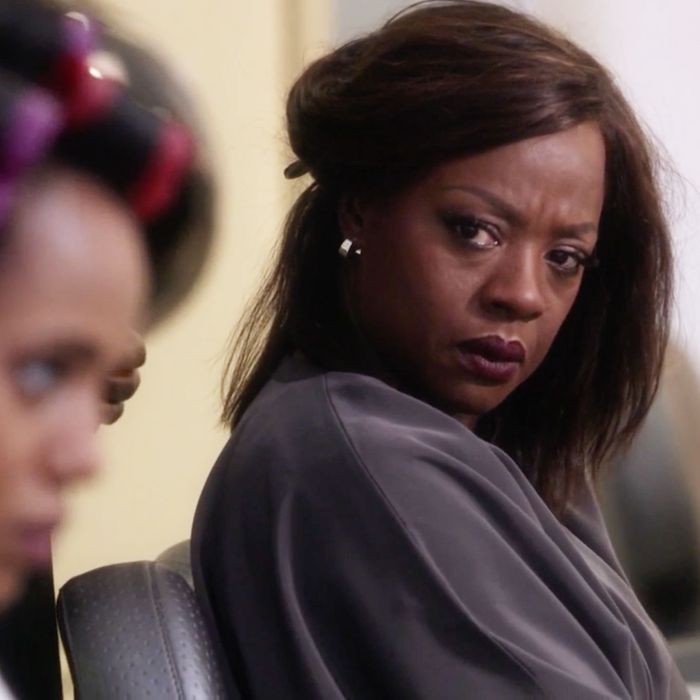 As Marvel's Black Panther continues to shatter box-office records, the film's Afro-futuristic vision is dominating the conversation about what it means to be black in 2018. But if you listen past the whir of the vibranium-powered spacecraft, there are equally interesting conversations about blackness happening in far less exotic pop-culture surroundings. One such dialogue took place on Thursday night's highly anticipated Shondaland crossover, in which How to Get Away With Murder's Annalise Keating (Viola Davis) and Scandal's Olivia Pope (Kerry Washington) teamed up to challenge inequities in the criminal-justice system that almost invariably disadvantage people of color. With such a noble cause on the line, the crossover event could have easily focused on Olivia and Annalise's similarities as powerful black women underrepresented in their respective fields. But the meatiest material instead comes when the two women drill down into their perceived differences.
The Scandal episode, "Allow Me to Reintroduce Myself," provides an origin story for the powerhouse duo of Pope and Keating, with Annalise drafting Olivia to help get her case heard by the Supreme Court. Olivia is reluctant to throw her considerable weight behind the case, claiming it's dead in the water thanks to all the bad press Annalise has generated during her homicide-heavy tenure as a law professor. Later, as the pair gab at a beauty salon that Olivia cleared out just for them, a TV news chyron flashes some truth: Olivia was concealing the fact that she had actually been terminated from her influential job as White House chief of staff, so her baggage is just as inconvenient as Annalise's.
Olivia, who is always most concerned about optics, was probably trying to save face by blaming Annalise for the case's slim odds of success. But Annalise sees something else: an insult from a black woman who feels her class advantages and social station make her superior. And she is 100 percent not here for it. Annalise tells Olivia she's "just like a white man in a boardroom looking down on me because my hips are too wide and my hue's too dark." She lets Olivia know, in no uncertain terms, that her proximity to power and whiteness has left her with a blinkered perspective. There's also the specter of colorism at play in the conversation, with Annalise insinuating that Olivia's relatively lighter tone has given her advantages that she doesn't have as a darker-skinned woman.
It's a criticism Olivia has heard before, most notably in "The Lawn Chair," the controversial Scandal episode that found Liv struggling to represent the D.C. police force after a white cop shot an unarmed black man. That time, her sparring partner was Marcus Walker (Cornelius Smith Jr.), then a community activist rallying an angry crowd to seek justice for the dead man's family. Marcus pounced on her high-end couture and the Prada purse that probably cost as much as a year of his rent. "We live in the same city, Olivia, but this is probably the first time you've ever set foot on this block," he said, insisting the police were using a telegenic black woman to control a narrative spinning out of control.
So when Olivia hears similar class-based criticisms from Annalise, she's already got bullets in the chamber. "You know your skin tone and measurements aren't the reason people don't like you," Olivia says. "It's you, Annalise Keating. You are a bully who insults people and then wonders why they won't help you, but hey, you're just trying to keep it real, right?" The women snipe at each other while Olivia's hair is still in curlers and Annalise is mid-press. It's a stark and powerful image of two accomplished black women arguing about what makes them different even as they sit next to each other in the beauty shop, an environment most known for equalizing black women of different backgrounds.
It isn't long before their differences are as smoothed out as their respective hairdos, but the beauty shop conversation is quietly revolutionary relative to the superhero spectacle of Black Panther. Crucially, it considers the same themes that all black people grapple with when they become rich, accomplished, and powerful: How much responsibility do you have to reach down to help others once you've reached the summit? That's a bigger question that a nighttime soap opera can answer, but the fact that it was broached is enough to make the How to Get Away With Scandal crossover much more than a prime-time gimmick.