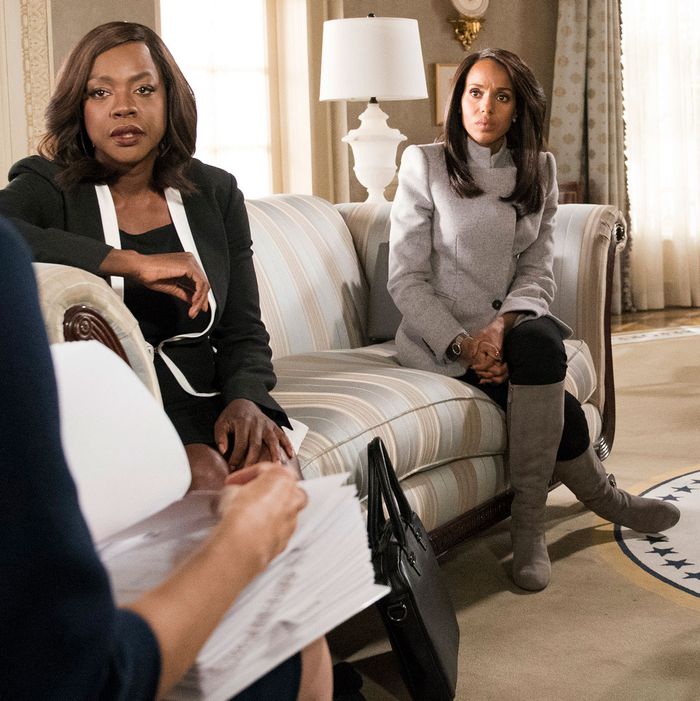 Scandal
Allow Me to Reintroduce Myself
At the risk of damning with faint praise, "Allow Me to Reintroduce Myself" could have been much, much, much worse. Crossover episodes are almost invariably tough to pull off, and that's the case even when the degree of difficulty is far lower. It's one thing for Dick Wolf to find a way for his latest cohort of sexy Chicago-based municipal workers to collaborate, but it's something else entirely when the shows' narrative worlds don't ever intersect. Until the fairly recent announcement of the How to Get Away With Scandal twofer, nobody even knew that Olivia Pope and Annalise Keating existed in the same universe. God knows no town is big enough for those two personalities, but as it turns out, Olivia and Annalise have been sharing the Acela corridor without incident all this time.
As seen at the end of HTGAWM's "Ask Him About Stella," Olivia is using her downtime after being kicked out of the White House to hit the lecture circuit, providing Annalise an opportunity to approach Liv about helping her get a class-action suit before the Supreme Court. Olivia is reluctant to help at first, despite not knowing the considerable baggage Annalise comes with. Liv's reluctance is more about wanting to stay out of the public eye after barely managing to escape the White House with a shred of her reputation. Olivia isn't really in a position to be lecturing people on how to survive a scandal, let alone throw her weight around in a city where influence and proximity to power are the most potent currencies.
Liv is even less inclined to join forces with Annalise when she finds out the sordid details of Annalise's past. Olivia loves a challenge, but according to her internet research, Annalise seems to have a knack for attracting dead bodies and she's been kicked out of her once-prestigious teaching job because of it. The last person Olivia needs to be using her newly limited political capital on is a disgraced law professor with a few murders hanging over her head. (Sure, Olivia has personally murdered far more people than that, but let's not bring up the past.) But Olivia is looking for redemption, so while Annalise isn't the best project to take on at the moment, the case she's representing is. It's an opportunity to radically remake the criminal-justice system and ensure that all defendants get a robust defense whether they're rich or poor. Before Olivia grew a full mustache so she'd have something to twirl while considering whom to blackmail next, this is precisely the kind of cause that would fire her up.
"My town, my game, my rules," Olivia says to Annalise after they make a tentative agreement to work together on a push to get Annalise's class-action suit in front of the Supreme Court. And with that, the newly formed dream team of Pope and Keating is born. Kerry Washington and Viola Davis are clearly having such a good time playing their scenes together, their chemistry alone is enough to dissolve any remaining skepticism about pairing the characters together. The best thing about "Allow Me to Reintroduce Myself" is the way it uses the characters as mutual foils and repeatedly forces them into conflict as the case hits every bump in the road. Olivia, to let Annalise tell it, is just a grown-up version of the spoiled little girl with "a horse between her legs and a silver spoon in her mouth." Not since a pre–Gladiator Marcus has someone checked Liv this efficiently or thoroughly. The actresses bring out the best in each other, and the characters do as well.
But more importantly, "Allow Me" does a surprisingly strong job of incorporating the crossover plot into Scandal's existing story line as the show approaches its end game. This season is still all about Olivia's fall from grace and subsequent redemption, and the case gives her an opportunity to work with Fitz and Mellie again, and ultimately to reteam with Quinn and the gang. As usual, the case comes down to digging up dirt on some powerful person — in this case, a Supreme Court justice — to get them to come down on the right side of an issue. But for once, Olivia isn't interested in doing the wrong thing to yield the right result. Armed with the knowledge that the swing-vote justice helped cover up a vehicular manslaughter committed by his son, Olivia convinces him that had his son been put on trial, he should have had the best possible defense regardless of his bank-account balance. The justice comes around to agreeing to take up the case, and Pope and Keating celebrate their first joint victory.
This big crossover could have easily turned into fan service for its own sake. And while there's plenty of GIF bait, like a scene of Annalise joining Olivia for wine and popcorn, "Allow Me" doesn't feel nearly as much like a stunt as it actually is. It has strong thematic links to both shows and never feels like it's playing fast and loose with Scandal's mythology to accommodate the new guests. Honestly, neither Scandal nor HTGAWM has been this fun or felt this vital in a really long time. Is there such a thing as a crossover season?