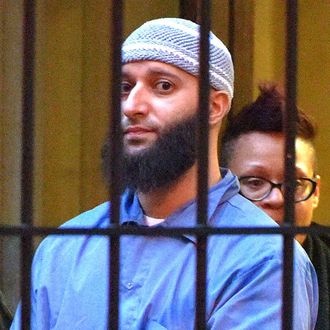 Adnan Syed.
Photo: Karl Merton Ferron/TNS via Getty Images
More than three years after Adnan Syed became a nationwide person of interest due to his alleged involvement in the murder of his former girlfriend, Hae Min Lee, he's been officially granted a new trial. CBS News reports that a Maryland appeals court declared Syed's attorney to be "ineffective" counsel during his original trial because the attorney didn't cross-examine Asia McClain, a key witness. "For the reasons set forth below, we affirm the judgement of the circuit court, but do so by concluding that Syed's Sixth Amendment right to effective assistance of counsel was violated by the trial counsel's failure to investigate [Asia] McClain as a potential alibi witness," official court documents read. "Accordingly, we remand the case for a new trial." The court concluded that if McClain were properly cross-examined at the time, it would have then "directly contradicted the State's theory of when Syed had the opportunity and did murder Hae."
In 2000, Syed was convicted for the murder of Lee and for burying her body in a Baltimore park. At a press conference that followed the court's decision, Justin Brown, his new lawyer, thanked Serial for being "enormously helpful" in making the new trial possible. "Serial kind of shook the trees and that enabled us to get in contact with Asia McClain and bring her to Baltimore for the post-conviction hearing two years ago," Brown said, according to the New York Times. "Serial has also helped build this groundswell of support for us and for Adnan and for the case, and that has fueled these efforts and helped us to fight on as we have." Brown also stated how Syed asked him to convey "his deep gratitude and thanks from the bottom of his heart to all those who have supported him and believed in him."
This post has been reflected to include comments from Syed's press conference.