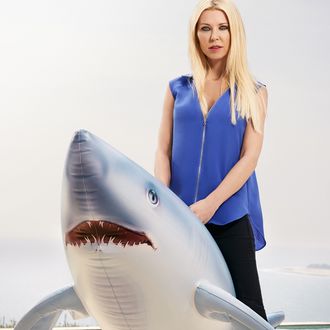 Photo: Syfy/Justin Stephens/Syfy
Remember those simpler days before you had to live in fear of sharks tearing through your town, riding a cyclone, biting any flesh they can find? Or at least an era before the cult-classic made-for-TV B-movie Sharknado franchise? According to Variety, the epic Syfy saga will come to an end with a sixth movie that sends series-lead Ian Ziering (Fin) back to when it all began.
If you watched 2017's Sharknado 5: Global Swarming (Tagline: "Make America Bait Again"), you may remember, if you weren't tweeting, that the fifth movie ended with Fin wandering the earth, the last human left alive. To change his dire fate in the unnamed sequel he's traveling through time to before the first Sharknado. Along his journey through the ages he'll reportedly come across Nazis, knights, Noah's ark, and dinosaurs. Presumably all of these historical and biblical moments will also feature great whites flying through the air. Actors Tara Reid, Cassie Scerbo and Vivica A. Fox are also along for the ride.