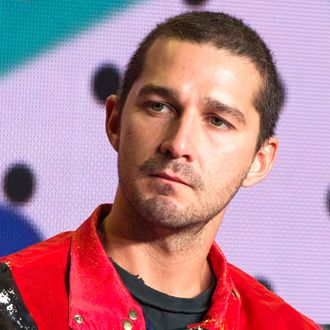 Shia LaBeouf.
Photo: Valerie Macon/AFP/Getty Images
When Shia LaBeouf was arrested in Georgia last summer, he lashed out at the local cops. Footage released by TMZ at the time shows LaBeouf bragging about his "millionaire lawyers," singling out a black officer, and saying a white officer's wife watches porn about "licking a black dick." He also called female officers "bitch" and "whore." LaBeouf apologized shortly after, but revisited the arrest in a new Esquire profile. He's sober now, and says he conducted two months of practice interviews with his therapist to prepare for the magazine's feature.
"What went on in Georgia was mortifying. White privilege and desperation and disaster … It came from a place of self-centered delusion … It was me trying to absolve myself of guilt for getting arrested." And finally, "I fucked up."
LaBeouf was arrested as he filmed The Peanut Butter Falcon, a movie about a developmentally disabled man who leaves a nursing home to become a professional wrestler. When the movie's star, an actor with Down syndrome named Zachary Gottsagen, confronted LaBeouf about the arrest, he says it changed his life.
"To hear him say that he was disappointed in me probably changed the course of my life," LaBeouf says. "'Cause I was still fighting. I was still on my 'Look how fast they released the videos! They don't release these!' Just on my defense-mechanism-fear garbage. And you can't do that to him. He keeps it one thousand with you, and that shit doesn't even make sense to him. Zack can't not shoot straight, and bless him for it, 'cause in that moment, I needed a straight shooter who I couldn't argue with."
LaBeouf says his offscreen conduct made him a liability in Hollywood, and that it has become difficult for him to book new roles, despite being hailed as the "Best Actor for the Buck" in the late aughts.