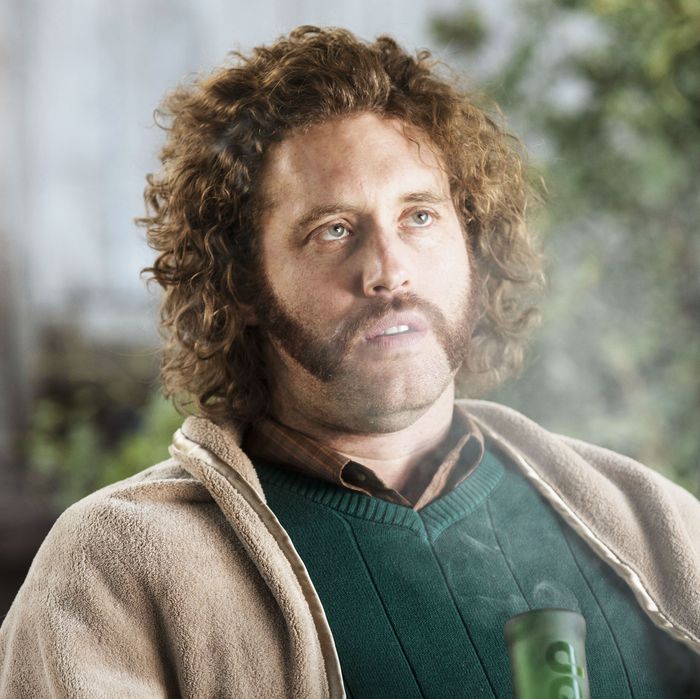 Erlich Bachman: High, but not forgotten.
Photo: HBO
This piece contains spoilers about season five of Silicon Valley.
Silicon Valley returned for its fifth season Sunday night, minus Erlich Bachman.
T.J. Miller, the actor who played the lazy overseer of the show's tech incubator, left the series after season four, and not necessarily on the best of terms. So how is the HBO comedy dealing with the absence of one of its central characters? So far, by acknowledging the fact that he's not there, in a way that is both savage and completely in line with the show's sensibility.
In Sunday's season-five premiere, "Grow Fast or Die Slow," we can assume Erlich is still hangin' in the Tibetan opium den where Gavin Belson left him at the end of season four. But we honestly don't know. That's not explained and no one really asks.
Richard and the rest of the Pied Piper guys don't seem too worried that Erlich never came back. They're far too busy trying to build Richard's decentralized internet to care. But one person is concerned about his whereabouts: Jian Yang (Jimmy O. Yang), Erlich's archnemesis. Instead of trying to figure out what happened to him, though, Jian Yang uses the moment to take advantage.
First, he starts inviting friends over to the Hacker Hotel, where he is still living rent-free.
"Do you think Erlich would want your guys here?" Dinesh asks.
"No," Jian Yang responds. "That's why I invite them. Because I hated Erlich."
Then Jian Yang takes things a step further. He realizes he could potentially inherit the house and Erlich's ownership stake in Pied Piper if he can prove that Erlich is dead, So he begins the absurd and gross process of doing exactly that. Naturally, that involves a need to produce his remains.
"I want to ship a dead body from China, but it's hard to find a white body in China, especially fat like Erlich," he tells his housemates, who respond to all this with  passing disgust. "So I buy a fat white cadaver from Cincinnati Medical School."
In the second episode, Jian Ying unveils the enormous corpse of a pig in the trunk of his car. "It's just like Erlich," he tells Dinesh, adding that, because it turned out to be too expensive to ship a human body from China, he plans to cremate a pig instead. Why? Because "a pig is most like a fat human." This may not qualify as killing off Erlich or Miller, but I'd definitely describe it as roasting him like a pig.
That approach is a slightly milder version of what Chuck Lorre did to Charlie Sheen's character Charlie Harper after Sheen exited Two and a Half Men in a blaze of #winning. First the show suggested that Charlie died in a train accident, then the sitcom implied that, while alive, Charlie regularly had sex with animals, and, finally, Two and a Half Men resurrected him in the series finale just long enough to drop a piano on him. If you know the backstory behind Miller's departure, it's easy to read all the fat jokes and the fake-death story as a similar way of twisting the knife.
These acts of depraved and petty vengeance are also fairly typical of the way that CEOs and VCs operate on Silicon Valley. More importantly, it seems totally in line with something — or at least a believably exaggerated version of something — Jian Yang would do. Which adds another interesting element to the dynamic between Jian Yang and the rest of the Pied Piper guys.
Jian Yang has always been written as a Chinese immigrant who speaks stilted English and is probably sneakier than he is smart. He's also been marginalized, especially by Erlich, who tended to speak to him condescendingly and in often racist tones. In season five, at least based on the first three episodes made available in advance, it seems like Jian Yang could shake up the established hierarchy within Pied Piper and the house, especially if he somehow manages to inherit Erlich's share of the company. Gilfoyle and Dinesh can continue to demean him if they want to, but they do so at their own peril.
Because Silicon Valley has made a point of not saying where Ehrlich is, it also feels like the show is keeping its options open. Erlich is, most probably, not dead. My best guess is that he's still lying in that opium den in Tibet, blissed out and grinning like a red-headed Cheshire Cat. But because the show doesn't clarify, at least at this point, the writers have the leeway to wedge an Erlich cameo in there at some point.
Of course Miller swears he'll never appear on the series again, not even for a brief cameo. But even in the real Silicon Valley, burned bridges sometimes find a way to get rebuilt.