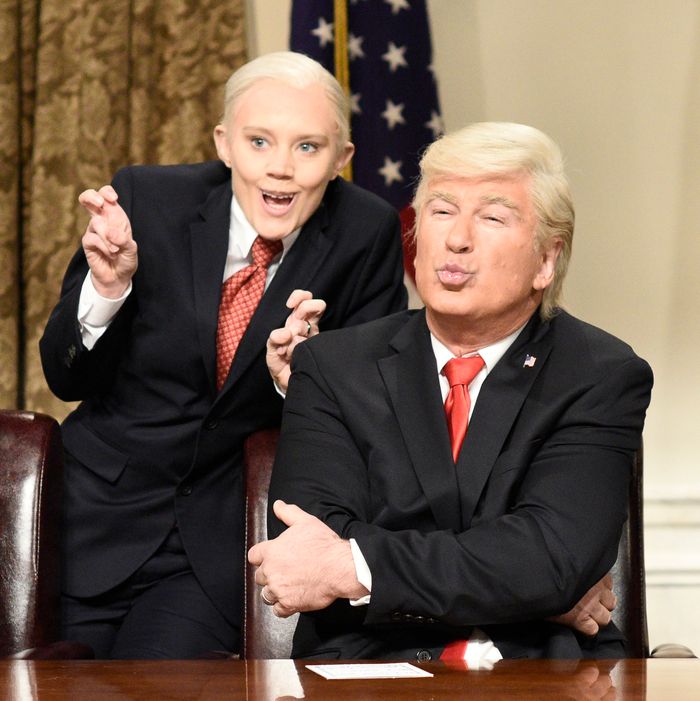 Though Charles Barkley has hosted three previous times, it's worth remembering the sheer duration of and details related to his affiliation with SNL. When Barkley debuted as a host in 1993, he still played pro basketball, he did a "Daily Affirmation" sketch with Al Franken, and the musical guest was Nirvana. Though Lorne Michaels keeps coming back to him, he is an uninspired sketch player; he will always be the lumbering, mush-mouthed, slightly uncomprehending Charles whether he gets a Mayan headdress or a ladies' wig plopped on his head. That said, he's consistent, very self-aware, and always happy to try goofy stuff. As Barkley already played Shaq to Kenan Thompson's own Sir Charles impression, maybe he'll scuffle with Thompson's LaVar Ball this time. Let's find out.
Presidential Address Cold Open
When Donald Trump (Alec Baldwin) calls a bipartisan meeting to talk about gun violence, he refuses to talk only about guns. While Mike Pence (Beck Bennett) and Diane Feinstein (Cecily Strong) look on, Trump talks about staff members resigning, his new plan for steel tariffs, and how foreign nations like Wakanda are laughing at us. "I said I going to run this country like a business, and that business is a Waffle House at 2 a.m.," Trump says. Though he curses his attorney general, Jeff Sessions (Kate McKinnon) pops up anyway, in his toothy, possum-esque glory. This feels more like a laundry list of news headlines to be addressed, but after Trump's rant about Baldwin on Twitter this week, it's worth watching if only to imagine how much the president will hate it.
Charles Barkley Monologue
After a year that black athletes came to the forefront of political debate, Charles Barkley wants people to remember, "I've been saying whatever the hell I want for 30 years — and I'm doing great." As someone who hosting SNL for the fourth time, "for no reason," Barkley wants to encourage people like Lebron James to speak out, despite having to deal with fallout and the horrible personalities on Fox News. It's moving more than it is funny, but the writers tap right into Barkley's voice here, and the tone is set for the evening.
Harassment Awards
On the red carpet before the Grabbies, an annual ceremony that celebrates Hollywood's "worst behavior," the atmosphere is … uncomfortable. This year's crop of creeps are nominated in categories such as "Handsiest Actor" and "Most Open Robe." Meanwhile, the male hosts of this red carpet keep getting replaced because the internet figures out they are terrible people. There is a bright light, however: A woman (Aidy Bryant) is nominated for the very first time. (She had to bite off an intern's penis to get nominators' attention.) It's a smart premise, but given the subject matter, it's not hilarious. It's weird to call a sketch disturbing and useful, but yeah, it's disturbing and useful.
Roach Product
Rather than rely on standard methods of roach killing, Ned (Barkley) advocates a new product with the guiding principle, "The only way to stop a bad roach is a good roach with a gun." The tiny bugs are given AR-15s to blow away any unwanted roaches a customer may have. Because Ned is a Christian, he ensures that only "God-fearing roaches" get to carry guns, and none of them are gay. While it's funny to see roaches firing guns at a gun range, as a parody, this doesn't quite track. The real-world details, like a reference to bump stocks, bring it close to our terrifying reality, but the absurdity of it means there's no genuine excoriation of gun nuts.
Homework Hotline
On their public access show, Mr. Leonard (Barkley) and his blue-haired puppet Bobo (Mikey Day) do their best to help elementary school kids with their homework. Unfortunately, all the kids are more interested in the potential sexual exploits of the teacher and his felt friend. They call in with aliases like Harry Paratestes and want to know if Bobo visited "Balls Deep, U.S.A." There's no twist here, just some puerile jokes before Bobo leans over and tries to generate static electricity by rubbing Mr. Leonard's pant leg very vigorously. Guess what that looks like!
The Champions
This interview panel features three major sports stars representing three different sports: Basketball player Charles Barkley, baseball player Alex Rodriguez (A-Rod himself) and football player D.C. Timmons (Kenan Thompson). As host Todd Hamel (Day) tries to keep the conversation going, Timmons hijacks just about every question to ramble about why "football is war," and how his teeth are fake and one of his eyes is made of sugar. Soon, it becomes clear that poor Timmons has sustained some fairly serious head injuries: He's calling everybody Greg and ordering fast food from anyone who will listen. The sketch makes its point, even if the jokes are a little broad.
Weekend Update
At the top of Update, Colin Jost considers Hope Hicks' resignation: "You know things are bad when a 29-year-old with no experience who works directly for the president of the United States thinks, I gotta get out of this dead-end job." There are some lackluster runs early on, including one from Jost about nuns and priests and one from Che about why hunting is bad. Then Hope Hicks (Strong) shows up to explain the resignation herself. Hicks likens the White House to a summer camp, and then says her good-byes like a heartsick teen heading back to school in the fall. There are a couple of nice moments, as when she lovingly calls longtime Trump staffer Kellyanne Conway a cautionary tale and the "human version of those pictures of black lungs on cigarette boxes."
There aren't a lot of jokes in Update's second half; it's primarily visits from Kyle Mooney and Leslie Jones. Mooney is meant to talk about his Oscar predictions, but it slowly becomes clear that Jost is having a big Oscar party and everyone is invited other than Mooney. The slow reveal turns this bit into a three-person sketch with Jost and Che, and it's a fun twist. Jones then comes on to talk about her time at the Winter Olympics in Pyeongchang. She enthuses about everything from Korean barbeque to violence in hockey before bringing out USA hockey star Hilary Knight. It feels more like a cheerleading session than stand-up, but Jones' presence is always magnetic.
Hump or Dump
This VH1 dating show prepares to match a young woman named Amanda (Aidy Bryant) with one of three hunks: Trent (Moffat), Chad (Redd), or Doug (Barkley). The standard sexy questions and innuendo-laden answers apply until Doug tells Amanda, "If you don't pick me, I'm going to kill myself." Even though Amanda is "looking to get slammed by some trash," she can't help but consider Doug due to his frightening threat. "I'm not depressed," Doug assures everyone, "This is a game show, and I want to win." Doug even has his preferred method of suicide, and he brings the props to illustrate it. The sketch and Barkley's performance are unsettling in a surprising way, but the sketch can't quite find a satisfying conclusion.
Con Ed Repair Site
After catcalling a woman who passes by their worksite, a crew of construction workers (Barkley, Thompson, Redd, Bennett, Moffat, and Davidson) realize they envy women for their ability to wear clothes that "echo the season in such playful ways." They begin to imagine what they'd wear to an event like the Oscars; some imagine gowns, while others imagine "looking like a Bratz doll." By the sketch's conclusion, the only incredulous worker who can't quite see himself in a feminine light is reevaluating the "velvet handcuffs" of "toxic masculinity." Not sure if Con Ed got its money's worth for this sketch; the workers bust through their stereotypes, but no telecommunications are discussed.
Last Call
It's closing time at Donnelly's pub once again, and Chubby Hunts (Barkley) calls Sheila Sovage (McKinnon), "the nominee for the Worst Possible Score." She responds, "Play your cards right, you'll get to walk my red carpet. Unless you'd rather be my seat filler." As usual, the bartender (Thompson) just tries to hold on for dear life as the randy talk gets worse. Sheila and her beau skip past breath mints in favor of smearing Lady Speed Stick on their tongues. For their final act, they lock faces with the aid of some grotesque dental appliances. The writing on this sketch, as it is with every "Last Call" sketch with Sheila Sovage, is just so gross and so good. It's a perfect 10-to-1 sketch, and my favorite of the night.
The Olympics took over NBC for nearly a month, so it makes sense that the SNL crew might seem a bit rusty. The cold open doesn't hit this week, but then again, neither do the jokes in Update. Many bits were more interested in making a political point than getting a laugh, but those were all unpredictable and engaging — much, much better than a full night of sketches like the one-note "Homework Hotline." Charles Barkley did what Charles Barkley does, though he gets extra credit for enduring McKinnon's advances on "Last Call" and even acting a bit in "Hump or Dump." No doubt things will be back on track when Sterling K. Brown hosts for the first time next week.