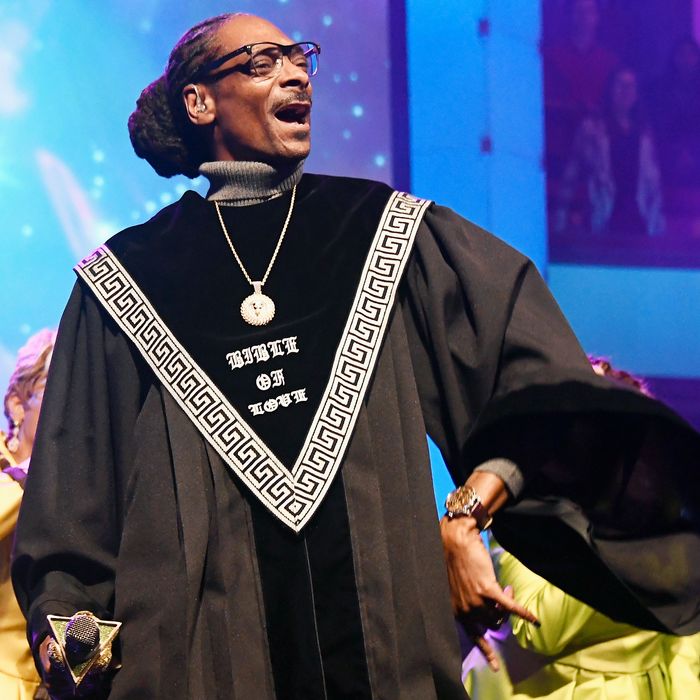 Like most things with Snoop, it shouldn't work but it does.
Photo: Frazer Harrison/Getty Images for BET
Snoop Dogg is having the most absurd rap career of all time. For proof, pick a year and simply read off his endeavors. In 1993, he released the G-funk classic Doggystyle, got accused of the murder of a rival gang member, and cut a short film with Eddie Murphy where he strikes a deal with dark forces to get revenge for a gang-related shoot-out. In 2001, he guested on his mentor Dr. Dre's landmark 2001 album, hosted a porno for Hustler, and starred in Ernest Dickerson's hood horror flick Bones. In the last 12 months alone, Snoop has delivered an EP titled Make America Crip Again, co-hosted a cooking show with Martha Stewart, revived the '70s game show The Joker's Wild, and sold a heartwarming docuseries about his youth football league to Netflix.
You follow Snoop into endeavors outside his wheelhouse of hip-hop and head shops trusting that he'll either really apply himself and come out with something oddly endearing or that he'll stick to the script and reframe his default stoner-comedian persona in a way that still entertains. But what keeps these exercises exhilarating is never knowing which Snoop will show up where. The late aughts E! family reality show Snoop Dogg's Father Hood leaned toward slapstick when warmth was needed. His 2013 album and documentary Reincarnated traced the transformation from "Snoop Dogg" to "Snoop Lion" during his trip to Jamaica to record that reggae album. The project engendered some cynicism; rap's biggest pothead sightseeing in the country that made "Legalize It" is a level of brand synergy that would make most ad guys' palms itch. But the album was solid and engaging, and the flick evidenced a genuine interest in Rastafarianism as a good fit for a gangsta rapper trying to take the edge off.
This month, Snoop has released a double gospel album called The Bible of Love, which seemed like a quirky PR stunt upon its initial announcement because the prospect of hearing church choirs backing the guy who did "Ain't No Fun (If the Homies Can't Have None)" and "Sexual Eruption" is too hilarious to resist. But like Reincarnated, The Bible of Love never affords you the opportunity to laugh at it. It handles the business of melding the seemingly incompatible worlds of G-funk and gospel with respect for the mechanics of both. The beats bang when they need to, and the choirs sound crisp and inspired. Everyone is singing like their immortal soul depends on those vocal runs floating. Where The Bible of Love differs from Reincarnated is that the music is more than just an opportunity for Snoop to match wares with heavy hitters from another genre. He's barely even on it. Bible is a warm, wise survey of gospel music's past, present, and possible future.
That's a lot of work, and The Bible of Love takes a lot of time to get it done. There are 32 tracks, and played in full, they run narrowly longer than Pacific Rim. Were this exclusively a rap album, the length would seem like another obvious stunt for attention on the charts, but The Bible of Love's mission, however overbearing the execution might be, is pure sprawl. There's an EP's worth of tight, brash gospel trap in the spirit of Deitrick Haddon's "Great God" and Erica Campbell's "I Luh God" spread through the project. Singer Sly Pyper and Dogg Pound vet Daz Dillinger's "Chizzle" and the Jazze Pha vehicles "Crown" and "Changed" all slap like the finest of Atlanta strip-club jams. Charlie Wilson serves throwback talkbox vibes from back in his Gap Band days over the West Coast thump of "One More Day." Snoop and the controversial Texan gospel lifer Kim Burrell duet on "Sunshine Feel Good," the most adroitly Snoop-sounding thing on the whole album.
The mainstream hip-hop guests are there to make sure the beats and rhymes on the album pop, but the album's dip into more traditional gospel is equally rewarding. On "Saved," Faith Evans turns your run-of-the-mill one-verse call-and-response choir routine into a tour de force on a boisterous vocal that starts out magnificently high and successfully jumps a key after every chorus without losing any power. Moving renditions of Detroit gospel legends the Clark Sisters' "Pure Gold" and "Blessed and Highly Favored" show why singers like Beyoncé rank the trio among their influences. The former weaponizes gospel's unsung power of repetition as the Clarks push a gutting chorus line ("Though we're tried in the fire, we come out as pure gold") upward and upward toward frenzy. The album's most shocking guest delivers its most mind-blowing appearance. San Diego singer B. Slade, formerly known as the gospel superstar Tonéx, lost considerable cachet in the socially conservative community when an interview about his fashion and behavior turned into an inquisition about his sexual orientation. Slade's off doing his own thing these days, but he is a light throughout The Bible of Love, particularly in "On Time," which, like this album's most audacious showcases, is a sharp reminder that great gospel is a game of genre-busting, envelope-pushing instrumental interplay and gobsmacking vocal excellence.
There's a growing synergy between rap and contemporary gospel, as expressed through mainstream hip-hop albums like Chance the Rapper's Coloring Book and Kanye West's The Life of Pablo, the unexpected chart-topping successes of Christian rappers NF and Lecrae, and the growing rash of choirs being called in for dramatic effect during award shows and late-night performances. People who feel justly incensed by right-wing Evangelical money-grubbing and see the black church as an extension of it often bristle at gospel values in hip-hop on the grounds that they shouldn't have to entertain a belief system they don't subscribe to. These are likely rap fans who grew up listening to songs about shootings without knowing the pop, sparkle, and ensuing hysteria of firearms going off in the vicinity. They listen in suspended belief, taking from the music what they can without buying into the belief system.
The logic ought to work reflexively, but the rap fan's bottomless threshold for gore doesn't hold when you swap blood for wholesome religiosity. Smiling's not gangster. Good cheer is corny. But gospel is the music of black resilience and black fortitude, the sound of the ancestors weathering their cruel lot in the rise of the American experiment by laying their faith in the idea that they were going to make it, and then scratching their way toward that future. The guiding principle joining the Clark Sisters' yarn about cleansing fire, Uncle Charlie's morning affirmation, the Grammy-nominated singer-songwriter Tye Tribbett's breakbeat banger "You," and so many other Bible of Love highlights is disbelief and unbridled joy at our continued perseverance. And that's just "Gin and Juice" in church clothes.