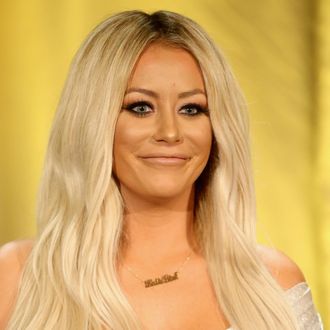 Aubrey O'Day.
Photo: Frederick M. Brown/Getty Images
On Monday reports emerged claiming Donald Trump Jr., currently embroiled in a divorce from wife Vanessa, allegedly had an affair with singer Aubrey O'Day roughly six years ago. The pair allegedly met while O'Day was a contestant on Celebrity Apprentice in 2011, competing under the watchful eye of the current president. While neither O'Day nor Trump have commented on the reports so far, there is the little matter of the first song on the former Danity Kane member's 2013 album Between Two Evils.
Entitled "DJT," the half-electronic-torch-song/half-extremely-long-phone-call features a conversation between O'Day and a former lover, a man who has left her behind to return to his regular life. "I'll always want you and always wonder about it," he explains. "But it doesn't matter because I have to stay here." So, is the song really about Donald John Trump Jr., or is it about another person with the initials DJT? The world will never know, which is honestly exactly how much the world should know about this entire situation.
Update: According to Us Weekly, a source close to O'Day has confirmed that "DJT" and the singer's re-interpretation of Gotye's "Somebody That I Used to Know" are both about Donald Trump, Jr.