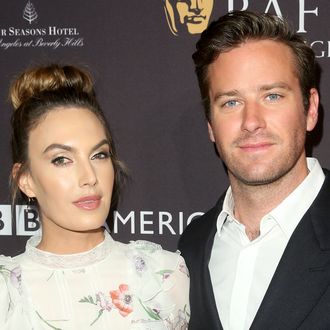 Elizabeth Chambers and Armie Hammer.
Photo: Jesse Grant/Getty Images
Creating the true-life basis for the sequel Call Me By Armie Hammer's Wife's Name, Deadline reports that an imposter pretending to be the actor's wife Elizabeth Chambers attempted to obtain a ticket to Vanity Fair's extremely invite-only Academy Awards afterparty. Chambers, an actress herself who appeared 2 Broke Girls and Criminal Minds, filed a lawsuit in L.A. alleging misappropriation of name and likeness and violation of right to privacy on Thursday. The suit accuses Diana Roque Ellis, or someone known to her, of allegedly using Chambers' identity in an attempt to get a ticket sent to Ellis' home, ostensibly for a guest of the couple. Suspicious, Vanity Fair contacted Chambers' publicist, who confirmed the ask was bogus. Shouldn't have raved about how Three Billboards is definitely taking home Best Picture in your imposter emails. That's always a dead giveaway.