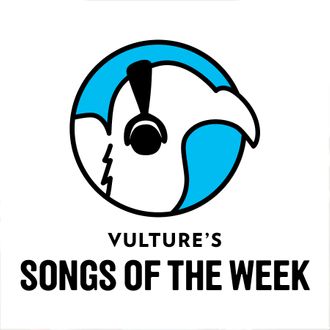 Every week Vulture highlights the best new music. If the song is worthy of your ears and attention, you will find it here. Read our picks below, share yours in the comments, and subscribe to the Vulture Playlist for a comprehensive guide to the year's best music.
Janelle Monáe, "Django Jane"
Tattoo "we highly melanated" on my body and engrave it on my urn when I die. And while you're at it, just keep going with the rest of the lyrics to Janelle Monaé's new song, or shall we call it a decree? Kendrick Lamar said "Sit down, be humble"; Janelle said "Bitch, keep my throne warm." Meet an early contender for the best rap song of 2018 (Grammys, recognize), "Django Jane," a three-minute victory lap. Monáe's been gone from music for a minute, but she never stopped working hard. Check the résumé: "Already got a Oscar for the casa / Runnin' down Grammys with the family / Prolly give a Tony to the homies / Prolly get a Emmy dedicated to the highly melanated." Ya girl wants an EGOT. But with her heightened "moonlit" success come bandwagon fans, so allow her to reintroduce herself to both the uninitiated and those who presumed to know her interior life: "Remember when they used to say I look too mannish? / Black girl magic, y'all can't stand it." Oh, but that's not even the mic drop; that would be this: "Let the vagina have a monologue." As if Janelle has ever needed anyone's permission. —Dee Lockett (@Dee_Lockett)
Natalie Prass, "Short Court Style"
There's no denying that Natalie Prass excels at making lush, fully orchestral music, but what she's really best at is what "Short Court Style" does: compact songs that gesture at an imagined musical history. The song is nonspecifically vintage, which, considering the current pop-music landscape is refreshing. Often, the comfort that can be found in a consciously retro pop song is actually a longing for simpler times, and what, say, a specific drum sound might evoke (right now, everything is '80s; see below). Prass has landed on a style that evokes simpler times, but without flattening herself into a pastiche chained to a series of imagined chronological tics. In other words, "Short Court Style" is new music that sounds familiar, but doesn't suffer for it, and that's a great place to be as a songwriter. —Sam Hockley-Smith (@shockleysmith)
Kacey Musgraves, "Space Cowboy"
Last week Kacey Musgraves, the crossover princess of pop country, released two new songs from her upcoming album Golden Hour. Both tracks, "Butterfly" and "Space Cowboy," are impressive, polished works of country confection, but after seeing her perform the latter song on The Tonight Show last night, it certainly stands out. It's perfectly melancholy, pop, twangy, and earnest. For those of you complaining about missing the "old Taylor," look no further than current Kacey. —Corinna Burford (@coriburford)
Towkio ft. SZA, "Morning View"
One time SZA sang with DRAM on his song called "Caretaker" and it felt like elevating to a higher plane with every listen. It was a vocal commitment to unconditional love and loyalty despite a relationship having dissolved, a balm so soothing that I still slip into a trance if I play it too many times in one session. I'm not comparing "Morning View" to that, but I also kind of am. It yields a similar effect, inducing a dreamlike state where love is at its best when it's simple: Just two people whose history we don't know waking up to each other after the blur of yesterday's bullshit, only to bask in the bliss of their shared sunlit serenity before they greet the new day's bullshit. Sometimes it's so nice not to feel so alone. —D.L.
Trippie Redd, "UKA UKA"
For the past year, the star of Ohio's Trippie Redd has been steadily rising despite, or perhaps because of, his unwillingness to say much of anything at all. Like Lil Uzi Vert, Redd (born Michael White IV) has a certain pop-punk freshness to his delivery, which enables him to skate on sheer charisma; coupled with discerning beat selection, it's enough to mark him out as a big name in the future. Though he lacks Uzi's capacity for intelligent lyricism, the right instrumental can turn him into a monster, and that's precisely what happens on "UKA UKA," a dizzying swagger-fest that feels more like a lap in a fast car than it feels looped — which is, of course, why it's ideal for streaming on repeat. —Frank Guan (@frankophilia)
Janelle Monáe, "Make Me Feel"
In the moments when you dared to dream most boldly, did you ever envision a world where Janelle Monáe and Tessa Thompson would star in a music video together for a queer anthem, and that both women would be drenched in bisexual lighting, hanging out at a funkified version of the club from San Junipero? No, you didn't. Only Janelle Monáe, an ArchAndroid sent from the future, could create such a vision. "Make Me Feel" is sexy as hell and hot to the touch, and the best song Prince never got the chance to release. Speaking of Prince, somewhere in his infinite nature, the artist must have known that he could leave this world because Janelle Monáe was still around to take care of us. As for Monáe and Thompson, who manage to turn fully clothed flirtation into a fully NSFW experience, we're not asking because we don't need it spelled out for us. —Jordan Crucchiola (@jorcru)
Twin Shadow ft. Haim, "Saturdays"
It's like Prince watched Justin Timberlake's Super Bowl tribute from the purple heavens, grimaced, then sent his soul back down to Earth to spend some time in the bodies of Janelle Monáe and Twin Shadow. In the very same week, both artists have emerged from hiatuses to release their homages to His Purpleness after two respective careers built off of impersonating the man. Which would be offensive, like worse than what J.T. did, if they didn't both do him justice (and got his approval, in Janelle's case). Twin Shadow previously covered Purple Rain in full in concert after Prince's death, now his first solo single in three years shamelessly cribs "When U Were Mine," though the song knows what it's doing and never tries to trick its listeners otherwise. On paper, Haim seem tacked onto the song — they technically are, showing up for the last minute — but it would feel incomplete without them. You want to channel '80s vocal harmonies, you call Haim. —D.L.
Yo La Tengo, "For You Too"
I am a firm believer that there is a Yo La Tengo album for everyone. My personal favorite is And Then Nothing Turned Itself Inside-Out, which explores the horrors and anxieties of suburbia. On that album, quietness feels like an invisible instrument. "For You Too" wouldn't fit in there at all — every empty space is filled, and it's so pretty that it glitters. What it does share with the bulk of Nothing is an omnipresent sense of melancholy. Don't confuse that emotion for sadness, though. "For You Too" is far more nuanced. —S.H-S.
Lorde, "Supercut" (Run the Jewels remix)
Lorde is going on tour with Run the Jewels. It doesn't have to make sense, and neither does their remix of her song "Supercut," one of the best songs of last year. Just go with it. Don't overthink that El-P's abrasive, menacing interpretation of Jack Antonoff's production takes a sledgehammer to it to use for parts. In fact, appreciate that this is a bona fide remix, as far as the modern idea of the art stands. While El mutates the existing song, Killer Mike makes it his own, adding a new verse (as does El) that includes the line "Wit' my girl, watchin' seasons of Shameless." So, yes, this remix was made specifically for my ears only. Still, I think you'll like it, especially because it's a free download. —D.L.
Unknown Mortal Orchestra, "Not in Love We're Just High"
As far as titles go, there's not really a more brutal reality check than "Not in Love We're Just High," which manages to take all the air out of both being in love and the appealing parts of drugs. But doing things like this is front man Ruban Nielson's speciality. UMO are a band that specializes in late-afternoon ennui — every song sounds warped with heat and the kind of dead-weight exhaustion that you feel after taking a nap at the beach. In another world, "Not in Love We're Just High" would be a rousing anthem — you can hear echoes of that here, almost like it was the original intention of the song but instead we get the more real version. Sometimes it's great to feel like all the air's been sucked out of a room. —S.H-S.
5 Seconds of Summer, "Want You Back"
Well, would you look at that, 5SOS have not gone six feet under like every other boy band on the planet with members over the age of 16. After retreating into the darkness for two years — or taking an extended vacation in their native Australia, same thing — they've returned with a new single and a new sound. This is not your millennial's pop-punk: "Want You Back" is closer to a single Zayn or Nick Jonas should've released (if 5SOS had originally written it for either of those dudes, I would not be surprised), more mature and inching deeper into the pop waters. It doesn't entirely abandon their DNA in that there are still instruments, they're just pushed to the background (someone's got a cute guitar solo, so there's that). Their audience is aging past puberty, so, parents, resist the urge to clutch your pearls when 5S0S drop an F-bomb in the opening line. This is called growth. —D.L.