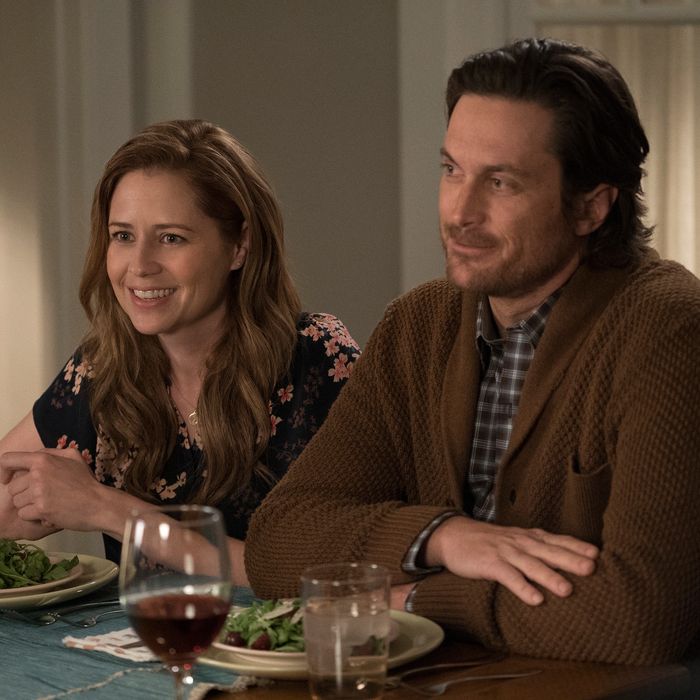 Happily divorced: Jenna Fischer and Oliver Hudson in
Splitting Up Together
.
Photo: Eric McCandless/ABC
Splitting Up Together is a more upbeat, mainstream version of HBO's Divorce. It's a half-hour series that follows a married couple in the process of settling into ex-hood but, unlike the Sarah Jessica Parker–Thomas Haden Church vehicle, is more blatantly a comedy.
Adapted from the Danish program of the same name by Suburgatory creator Emily Kapnek, Splitting Up Together is more of a rom-com — or maybe un-rom-com? — version of what going through divorce looks like. While there are some funny lines and moments sprinkled throughout the initial four episodes, the first of which debuts Tuesday night on ABC, the characters are pretty one-dimensional and the stakes never seem as high as they should on a show that explores one of life's most stressful events.
Jenna Fischer, otherwise known as Pam from The Office, plays Lena, who has been married for more than a decade to Martin (Oliver Hudson, familiar from Rules of Engagement, Scream Queens, and Nashville). But their relationship long ago hit a dead end. They've stopped having sex, they barely emotionally connect, and they can't even see eye to eye on how to handle basic household tasks. "We're pulling the plug," the two calmly announce to friends and family over dinner in the series pilot. They assure everyone that their three kids are fine with the divorce and that not much will change because they plan to continue living in the same ginormous Craftsman Colonial, with one hitch: they'll switch off each week, with one "on-duty" parent living in the house with the children and the other staying solo in the detached garage. It all sounds so simple.
And in some ways, it is. Sure, Lena and Martin still argue about the division of household labor and get on each other's nerves. But they get along remarkably well for two people who just severed their relationship. Their three children — Mae (Olivia Keville), Mason (Van Crosby), and Milo (Sander Thomas) — also seem remarkably unaffected by their parents' unconventional new living arrangement.
Because nearly every character on this show is defined primarily by one personality trait or life challenge, Mae is too fixated on her feminist ideals to care much about Mom and Dad splitting up, Milo is very busy being an adorable TV 7-year-old, and Mason is grappling with seemingly being the only teenage boy at his high school who has never hooked up with a girl. In the first episode, Mason's concern that "his balls hurt" — actual content of a text that he sends to his mother — leads to a doctor advising Lena that the kid needs to masturbate more, which in turn prompts Lena to turn the kitchen pantry into a potential masturbatorium for the boy, complete with mood-setting twinkle lights and a picture of Ruth Bader Ginsburg.
This is just one example of Splitting Up Together's tendency to go for easy laughs instead of humor that's rooted in recognizable truth. It also doesn't make any sense. Considering how large this family's damn house is, it's hard for me to believe that Mason has to share a room with his younger brother and therefore can't have his own space in which to privately relieve his aching balls. To nitpick further, considering Lena's obsessiveness with cleanliness, it defies logic that she would endorse the idea of her son jacking off in the enclosed space where all the food and cleaning products are kept. And no, since you asked, I also can't believe I've spent this much time complaining about a minor teenage masturbation joke in an ABC sitcom. But, well, here we are!
As noted above, Lena is saddled with the defect that has been handed to women in comedies since the beginning of time: She's too uptight. But Splitting Up Together doesn't place the blame for the marriage's failure solely on her shoulders. It also points its finger at Martin, who gets to carry the burden so often placed on men's shoulders: that he's too self-involved and leaves all the domestic responsibilities to his wife. The pilot also tells us that he's so unwilling to compromise that on his wedding day, he refused to share a first dance with Lena because he doesn't know how to dance. Honestly, it's amazing these two stayed married long enough to have three kids.
Yet, the first batch of episodes focuses largely on the possibility that maybe the two of them could get back together, a move favored by their closest couple friends, played by Lindsay Price and Bobby Lee. But the sort of misunderstandings and obstacles that only pop up in unrealistic shows about relationships keep getting in the way.
Fischer brings the same Everywoman appeal that she carried with her throughout her run on The Office, but doesn't have the same chemistry with Hudson that she did with John Krasinski. (To be fair, that's a pretty high bar to try to meet.) No matter how appealing they may be, because of the writing, both of them come across mostly as generic TV people with typical TV people problems. After watching four episodes, I'm still not sure what they do for a living. I think Lena owns an arts-and-crafts type store, but Oliver's job is never mentioned. They're just able to somehow live in this beautiful house with their three mostly good-natured kids and be separated, and also around each other all the time without killing each other. It's a fantasy version of divorce. I tried, but I just can't commit to it.