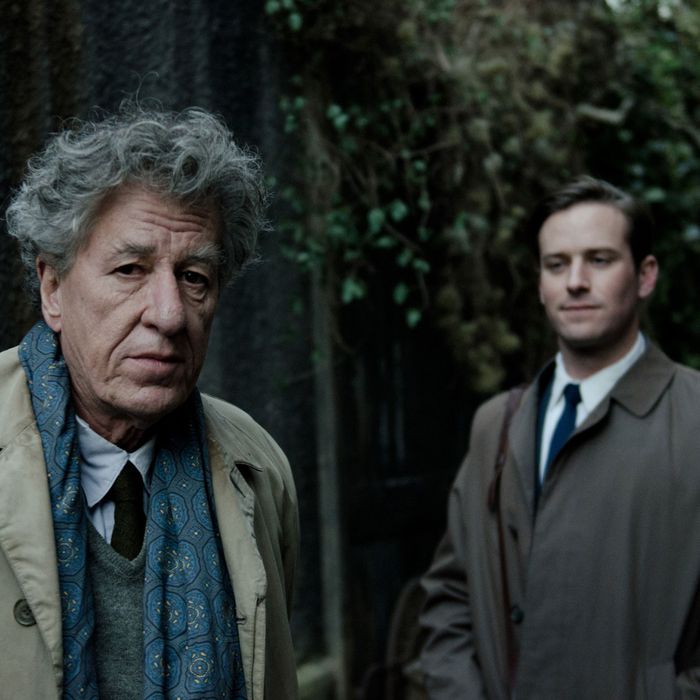 Geoffrey Rush and Armie Hammer in
Final Portrait.
Photo: Courtesy of Sony Pictures Classics
There's a willful temperateness to director Stanley Tucci's work in Final Portrait, in which the American writer James Lord (Armie Hammer) agrees to spend an afternoon sitting for the painter and sculptor Alberto Giacometti (Geoffrey Rush) — and then sits … and sits … as the days go by while the artist grunts, moans, chain-smokes, and disparages what brushstrokes he manages to make. Lord wrote a memoir about those frustrating weeks in 1964, how he'd trudge down the Paris alley to the chaotic studio, how the sessions would be largely silent, interrupted only by visits from Giacometti's brother (Tony Shalhoub), pained wife (Sylvie Testud), and exuberant prostitute-mistress (Clémence Poésy), and by café lunches and dinners in which Giacometti would smoke even more and chugalug red wine.
It's not the most dramatic setup, and Tucci — as I've said — de-sensationalizes his story. But his quiet concentration draws you in, so that you slowly understand not just Giacometti (who is, as a human being, impossible) but an art that proceeds only fitfully, gropingly, in a fog cut by flashes of insight that might shortly be dismissed as lies. Tucci's palette of blacks and smoky grays makes you feel the effects of light and shadow, and he lets your eyes wander the frame. One of the few close-ups is of Giacometti's face as he squints toward his subject, at which point Evan Lurie's lovely score breaks the silence with a mixture of bowed and plucked strings and an occasional impish xylophone.
A generally flamboyant actor, Tucci settles in behind the camera with what I imagine to be a tiny smile, savoring the step-by-step process of creation from both his characters and his actors. They're fun to watch. Under gray hair, Shalhoub speaks in an evenly modulated voice I've never heard from him before. It suits the grounded brother of an increasingly wayward talent. Hammer squirms handsomely and holds himself in: You study his face along with Giacometti's. Rush is a wonder. It takes bravery to convey closure, tunnel vision, total indifference to the camera that actors always know is there, however self-effacing they might want to be appear. Final Portrait is, like Rush's performance, a miniature, but there's a fullness to Tucci's vision transcending every surface.
*This article appears in the March 19, 2018, issue of New York Magazine. Subscribe Now!