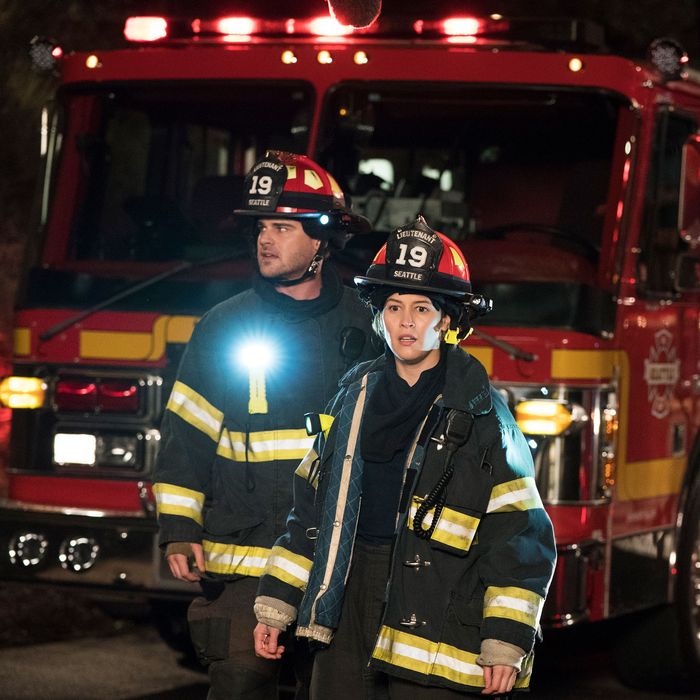 In theory, Station 19 is a spinoff of Shonda Rhimes's indestructible hospital drama Grey's Anatomy, sending surgeon Ben Warren (Jason George) to a new career as an emergency medical technician at a firehouse in Seattle. But the pilot episode, which debuts Thursday on ABC, turns Warren's adjustment to his new life into a secondary plot. Like every other Shondaland series, this one is built around a tough, smart woman with an edge. This time it's Andy Herrera (Jaina Lee Ortiz), one of two female firefighters at the station house — the other is her best friend, Danielle Savre's Maya Bishop — who also happens to be the daughter of the captain, Pruitt Herrera (legendary character actor Miguel Sandoval, doing the warm-grizzled thing to perfection).
Station 19 is a series that's keenly aware of the difficulties of being a woman in a male-dominated profession, and there are moments when it lays on the rah-rah dialogue a bit thick, to the point where it seems as if the series is trying to hard-sell itself to you, even though you're already sitting right there watching it. ("My daughter's fierce," Pruitt exclaims to a table full of his colleagues. "She's got guts. She needs no one.") The portrayal of the potentially deadly grunt work of firefighting could use some work, too: The characters constantly explain the physics of what's happening through dialogue even though everybody on the scene already knows the basics, and they'd be more memorably communicated visually anyway.
Still, showrunner Stacy McKee and co-executive producers Rhimes and Betsy Beers know exactly what they want this series to be from moment to moment. From the playful bestowing of nicknames (including "New Guy" and "Baby Rambo") to the love triangle that dominates Andy's private life (she's dating her dad's second-in-command, played by Grey Damon, but still has feelings for her ex, a cop played by Alberto Frezza), to the copious use of slow-motion and ethereal pop songs to highlight emotionally intense moments (including a fall from a burning building onto inflatable crash mats), all of the signature elements are in place. There's also a sharp left turn into family melodrama that pushes Andy to decide how serious she is about claiming what would appear to be her birthright. Whether these elements will set Station 19 apart from NBC's modest hit Chicago Fire, as well as the innumerable firefighters that came before it — most notably Rescue Me, a show whose constant, exorbitant praise for its hero's bravery made the compliments ladled on Andy seem modest — remains to be seen, even if its place within the Expanded Shonda Rhimes Universe is secure.