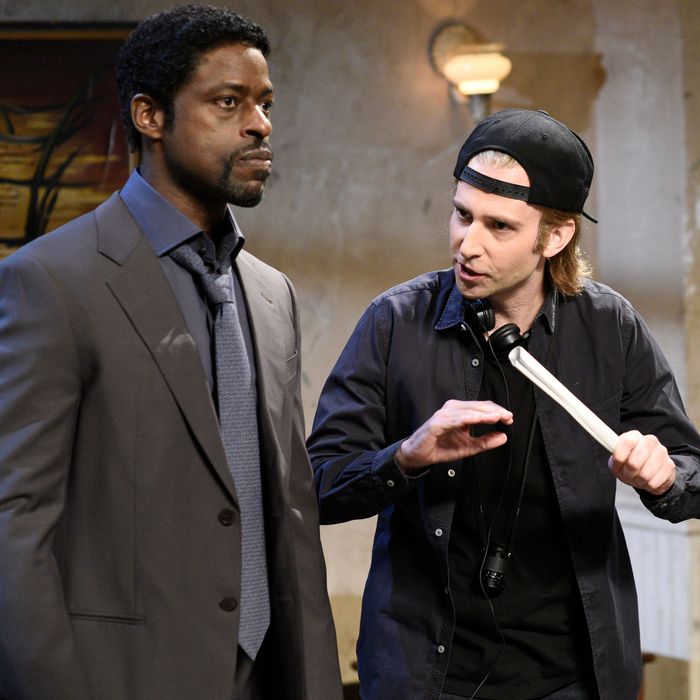 Photo: NBC/NBCU Photo Bank via Getty Images
What a night for Melissa Villaseñor! After a season and a half of 1-2 lines every episode, she was featured in five sketches this weekend and closed out the show with a banger Nickelback rendition. I think the episode needed her more reserved stage presence to counterbalance Sterling K. (Kathleen) Brown's theatricality. Brown brought a lot of energy and commitment to his hosting duties, and it was great. It's neat that the first two post-Olympics shows were not only both hosted by men of color, but that they displayed perfectly the two ways SNL can handle a host. Do you swirl a bunch of crazy around someone who will read their lines blankly, or do you let the host be the crazy? When you have an actor of Brown's caliber (or Jessica Chastain earlier this season), it's a good idea to let their freak flags fly.
Cold Open
This is a perfect premise, mapping the awkward and exploitative Bachelor finale onto the awkward and exploitative political theater of Robert Mueller's investigation. "The more time that goes by, the more I keep thinking about obstruction," says Kate McKinnon as Pinocchio zaddy Robert Mueller. It should have been great, but the parody was so faithful I felt almost as yucky watching it as the real Bachelor. I wish they had let Alex Moffat's Chris Harrison interview Cecily Strong's Becca. First of all, because Alex Moffat has like eighty different ways of being smarmy. His Chris Harrison gave me douche chills in a totally different way than his Arie impression. But also the glee Harrison displayed in making Becca uncomfortable is a way funnier object of parody than just Becca's discomfort.
Monologue
An actor acts! Sterling K. Brown knocked this out of the park. Nodding to his weepy role on This Is Us, Brown couldn't get through more than two lines of his monologue without tearing up at the sheer import of this night. Then Leslie Jones came on, and the two got to just bask in each other's talent. Seriously, how can someone go from a perfect Kenan Thompson impression to very realistically holding back tears like Brown did?
Family Feud: Oscars Edition
This may be controversial, but I hate Feud sketches. Everyone gets 2 lines, there are funny bits but no momentum. The best moment of this sketch was when Kenan let the Steve Harvey veneer slide for a moment, plunged into self-doubt by Chris Redd's Jordan Peele. Don't dangle a fun genre-breaking premise then give me an impression death march. And while we're at it, here are some more don'ts. Don't whitewash Guillermo del Toro (Beck), don't fake sign language (Melissa), and don't come for Allison Janney (Heidi). I have no complaints regarding Pete Davidson's Timothée Chalamet. He did the slouch perfectly. Timothée should probably be taking calcium supplements.
This is U.S.
What if the real tearjerker is …America? Ben Carson (Brown), Sarah Huckabee Sanders (Aidy Bryant), and Jared Kushner (Davidson) weep telegenically as their lives crumble around them. The only problem with this sketch is that none of these people are introspective enough to actually feel things. Kate McKinnon's Kellyanne Conway is at least upfront about it. "Can't cry," she says, "I have nothing in me." Brown's Ben Carson impression is good. I honestly had no idea that's how he really talks. Wow.
Family Dinner - Shrek
A family is torn apart by a fiance's unwavering devotion to everyone's favorite CGI ogre. It was wild seeing the retirement ceremonies for two sources of internet humor: Shrek and Nickelback. Sleep well, green prince, you've earned it.
Sasquatch
Mikey Day just can't catch a break with this bigfoot! If you enjoy pee and poop and violence jokes, this sketch is probably for you. If you don't, you can revel in Brown's interesting vocal choices as Day's sagely Animal Planet-watching friend.
Weekend Update
The Trump boys are a perfect way into the Trump administration. Don Jr. can get some jokes in about whatever topical corruption nightmare is befalling America today, and then Eric can come through and be a big risible dummy. Double acts are rarely this clear, nor do they have so many joke spokes. Eric can get a laugh by imitating his brother's gestures, blurting out harsh truths, or failing to understand the complexities of the world around him.
Hap!
Black Panther
You can't pick your family, which is pretty rough for ancestors that have to live together for all eternity. Brown and Leslie Jones (in a stunning dress) almost break as Kenan makes up his own Lion King lyrics and tries to hit T'Challa up for weed and money—neither of which exist on the astral plane.
Dr. Love
Dr. Hodges Love helps Beck Bennett get to the heart of his relationship anxieties, using a stethoscope. "Your heart seems to be saying 'go to her, go to her,'" he pleads, after finding out that Bennett is "raw-dogging" a woman 7-8 times a week. I'm less sure that unprotected sex is a sign of love, but I salute the enthusiasm of these two performers. SNL has had a run of male vulnerability sketches, and I hope they continue to explore that vein.
Movie Coverage
Brown plays an actor who needs someone to read lines with him for close-up shots. Unfortunately for him, it's this woman who refuses to swear "cuz I promised God." Cecily Strong gives a bravura performance as a script supervisor who won't let her decadent Hollywood job get in the way of her personal relationship with Jesus Christ. I want her to be a recurring character, I want her weird belted button-down shirt, and I want a copy of her singing Adele on cassingle immediately.
Rock vs. Rap
We've been looking for a balm to soothe the tensions that have been plaguing this country, and Kyle Mooney thinks he has the answer: the marriage of rock and rap. You don't often see man-on-the-street bits on SNL. Is it cost prohibitive? Or is it tough to invest time interviewing people for a whole day, then edit and edit and edit, only for Lorne to cut the whole thing at dress? It's fun watching the subtle racism become more and more overt as this taped piece progresses.
Dying Mrs. Gomez
There's nothing wrong with the execution of this sketch. Funny, well-karaoke'd, and showing exactly enough of Cecily Strong's headbanging. Melissa Villaseñor's dying woman kills it. But a Nickelback sketch the day before 3/11? That's mad disrespectful.