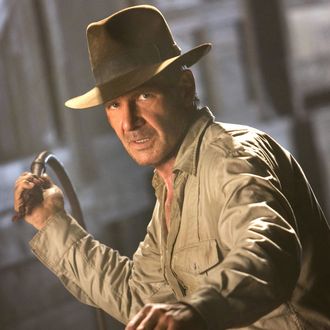 Indiana Jones
.
Photo: Paramount Pictures
That's what you love about these Indiana Jones movies, man. Harrison Ford gets older. International archaeological adventures stay the same age. While attending the Rakuten TV Empire Awards in London, Variety reports that Steven Spielberg announced plans to shoot the upcoming Indiana Jones sequel next year, with at least part of the filming set to take place in England. "It's always worth the trip when I get to work with this deep bench of talent coming out of the U.K.," the director said while accepting a Legend of Our Lifetime award.
"The actors, and the crew, the chippies, the sparks, the drivers — everybody who has helped me make my movies here, and will continue helping me make my movies here when I come back in April 2019 to make the fifth Indiana Jones movie right here." IJ5 is currently scheduled for release on July 10, 2020. While the fifth franchise installment doesn't have a title yet, its screenwriter David Koepp told Entertainment Weekly last fall that Shia LaBeouf's character Mutt Williams will not be returning for the sequel. So, Indiana Jones and That Son We're All Going to Forget I Have is at least in the running.