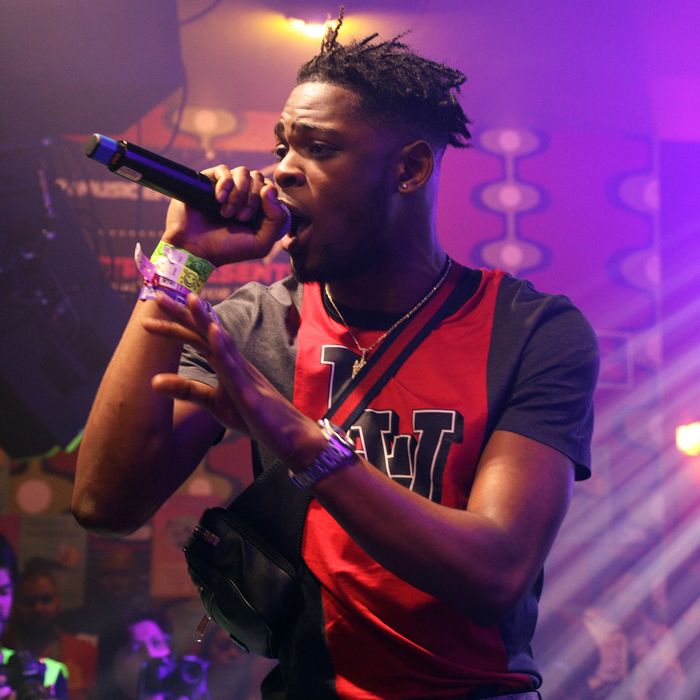 Yxng Bane.
Photo: Mike Jordan/Getty Images for SXSW
Though there may have been bigger names and buzzier bands on the bill at other places during this year's SXSW, the "British Takeover" showcase featured one of the best curated lineups of the 2018 festival, putting a new sound on the map in the States. In previous years, SXSW's U.K. hip-hop show (which has been hosted by a series of companies and curators) has provided a U.S. platform for artists including Stormzy, Little Simz, Kano, and Ghetts. This year, a mix of genres dubbed by London artist Kojo Funds in the last year as Afro-swing took over, with musicians from around London blending Afro-pop, rap, R&B, dancehall, and grime in one of the most vibrant, high-energy shows of the festival.
For the third year in a row, the British hip-hop showcase captured the essence of current U.K. hip-hop and R&B culture, from matching pairs of Diadora sneakers and cross-body fanny packs, to contagious Afro-pop and dancehall hooks, mixed with grime influenced raps. Here's a rundown of the most promising artists the night had to offer.
WSTRN
The aptly named West London group, WSTRN, first gained international exposure in 2015 when Drake's OVO Sound Radio premiered their catchy pop-R&B single, "In2," on Beats 1. Since then, their music has edged closer to the dancehall inflections showing up all over pop music. And despite losing member Akelle Charles to a four-year jail sentence last year, the remaining two WSTRNers, Haile and Louis Rei, have continued to release music. At the British Takeover showcase, they proved they can still put on an engaging live show down a member as well.
Yxng Bane
An East London native, 21-year-old Yxng Bane brought his infectious brand of Afro-pop to four shows at SXSW 2018. On Thursday night's showcase, he danced his way (mostly shirtless) through his big singles — the U.K. top 40 hit "Rihanna"; his duet with Yungen, "Bestie"; and his remix of Ed Sheeran's "Shape of You" — and previewed his new song, "Vroom," which is packed with '90s and early-2000s pop and dancehall references.
Not3s
Not3s, another young up-and-coming Afro-swing artist from London's east side, saved his most energetic show of SXSW for the British Takeover. Though the showcase has annually served as a first look at these U.K. artists for folks Stateside, not all were uninitiated: Some American audience members seemed to know the lyrics to his 2016 breakout single "Addison Lee," an ode to the London-based car service. "Peng ting called Maddison!" one voice yelled out, quoting the song before Not3s launched into it himself.
Hardy Caprio
Like WSTRN, Croydon's Hardy Caprio has pivoted from the more traditional grime and garage of his 2015 mixtape Hardy Season to the Afro-pop/dancehall space in the last year. On recent songs "Super Soaker," "Rapper," and "Unsigned" with One Acen, Hardy raps over Afrobeat and dancehall rhythms. The transition seems to be working well — "Unsigned" has over 12.5 million views on YouTube, and during SXSW, Beats 1 radio host Zane Lowe popped up at the showcase and was impressed enough to feature Hardy Caprio on his Instagram.
By highlighting these artists, the British Takeover did exactly what SXSW music has historically aimed to achieve: introduce up-and-coming, trendsetting musicians to new audiences. The show's lineup also reflected an interesting developing shift in British hip-hop: It highlighted the move toward a new hybrid, diasporic sound representative of the many facets of black British society — from the West Indies, to Nigeria and Ghana, to the streets of London — while also showing a keen awareness of contemporary U.S. rap. It's a sound that feels like it could only emerge from a city like London in a year like 2018.
Of course, this trend does not speak for the entirety of current British hip-hop — the showcase's second night of programming leaned more toward traditional grime — but it's significant, and it sounds great. Drake, on last year's More Life, borrowed heavily from the same current London scene on display at SXSW, and the mixtape's success proved that there's a clear a market for the Afro-swing sound and aesthetic abroad. Time will tell if it can fully cross over without the help of a North American translator.