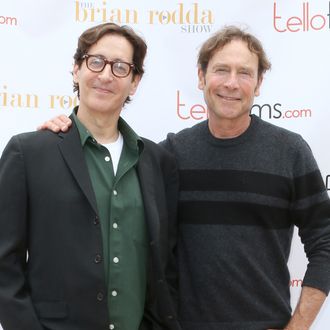 Stan Zimmerman (left) and James Berg in Los Angeles, May 2017.
Photo: Tasia Wells/Getty Images
Writing and producing team Stan Zimmerman and James Berg are developing a comedy series about a group of gay senior citizens, reports Variety. Silver Foxes will be a half-hour sitcom that follows two older gay men and their "buddy's younger lover," who decide to step in and help their friend when they discover that he's been "forced-back-in-the-closet at his homophobic assisted living facility." The four then go on to live together in a Palm Springs house, which makes it sound like an updated male version of Golden Girls. Berg and Zimmerman were reportedly inspired to create the half-hour comedy after watching Gen Silent, a documentary about elderly LGBT folks who face discrimination in long-term care facilities.
The two previously worked together as writers on the aforementioned Golden Girls, on Gilmore Girls, and on Rita Rocks. They also received a Writers Guild nomination for penning the groundbreaking 1994 Roseanne episode "Don't Ask, Don't Tell" in which the titular character shared a same-sex kiss with Mariel Hemingway. They are developing the show with Super Deluxe, with plans to sell the series to a streaming service or cable network.