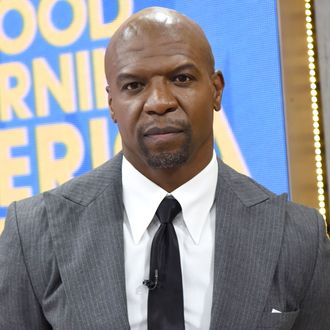 Terry Crews.
Photo: Paula Lobo/ABC
After Terry Crews went public with his allegation of sexual assault against WME agent Adam Venit, he says his management got a call from Expendables producer Avi Lerner. According to a February tweet, Crews said he was told that that he could "avoid any 'problems' on the sequel" if he stopped pursuing charges against Venit. In the month since Crews went public with Lerner's alleged ultimatum, the actor tells BuzzFeed News that he hasn't heard from Lerner or any of his co-stars in the successful series, which includes Sylvester Stallone (a client of Venit's who is also facing sexual-misconduct allegations himself), Jason Statham, Dolph Lundgren, Jet Li, Wesley Snipes, Harrison Ford, Antonio Banderas, and more.
"No words from anybody. Nothing," Crews said. "Believe me, nobody saw that coming. Nobody thought that I was gonna put that out there." For him, it all plays into a bigger picture of what's broken in Hollywood. "People don't understand that Hollywood is a very violent place," he continued. "The best way to put it is that it's like a plantation. You use extreme violence. You see a lot of people who never work again. For even speaking up the whole thing is that they cut your head off so that the next person doesn't speak."
On Dr. Phil Wednesday, Crews described the alleged assault in more detail: He was at a party at Adam Sandler's house when Venit grabbed his groin. "First of all, you wouldn't even grab your pet like that," Crews said. "Why would you touch another human being like that?"
Venit denies the incident took place.