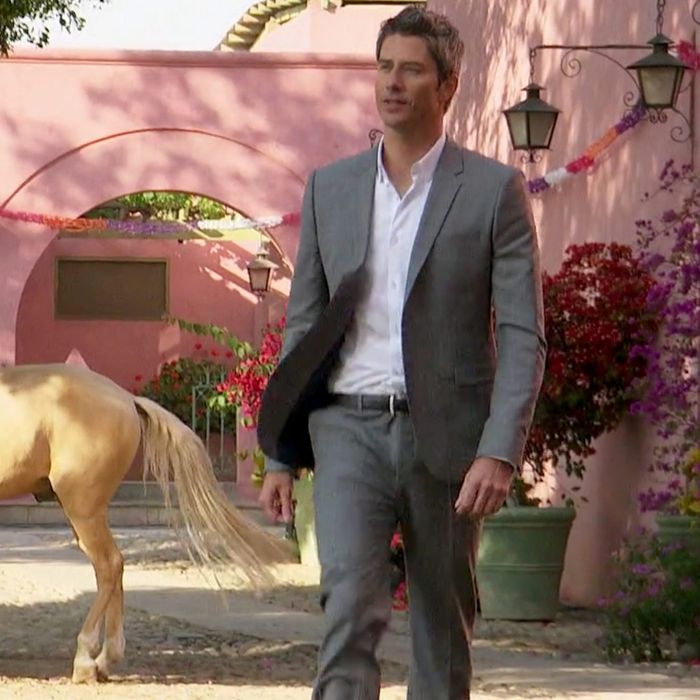 If you wanted to create a reality-TV franchise about fairy-tale romance, be honest: Would it actually look like The Bachelor? Would it begin at a rose-covered mansion, with a creepily smug host greeting limos full of ball gown–clad ladies as they stepped onto slickened pavement to meet their dream man? Would it be designed around an iconography of roses, an elaborate ritual of hometown dates, and fantasy suites? Would there be so much pressure on proposals and marriage that a doofus who can't make up his mind ends up displaying someone's naked pain on a break-up split screen?
Probably not. Although The Bachelor is a vision of love conceived in 2002, odds are the franchise will stay exactly as it is until everyone stops watching. (At which point, Chris Harrison will get entombed in the Bachelor mansion like a rose-themed "Cask of Amontillado.") But after Bachelor in Paradise and the last season of The Bachelorette aimed for relevance and suffered serious missteps, and now that Arie's disastrous season is almost behind us, it's a good time to consider alternatives for the long-term future of the franchise. Here are seven ideas that could save The Bachelor from itself, from overdue changes to radical reinventions. Oh, and ABC? Feel free to institute these before The Bachelor returns. Anything but another season like Arie's.
No more proposals
At the end of the season, the furthest a Bachelor or Bachelorette can go is, "Should we maybe think about moving in together when my lease ends?"
Take diversity seriously
This is the most immediate and obvious need: The cast should always be significantly more diverse than your familiar Three White Laurens and Two White Beccas model. There should be many people of color from a variety of backgrounds. There should be seasons where most of the cast is queer. There should be a season where all of the cast is over 35. There should be a season where the lead has a disability, and that season should include at least one mea culpa for the horrible way the series edited Sarah Herron. There should be trans people and nonbinary people. There should be a season of all military vets. There should also be a season of all librarians, just because.
Get creative with casting and setting
Think Real World mixed with the uncanny congeniality of the Great British Bake Off. Rather than cast contestants nationally, The Bachelor would get local, with each season set in a different city where the contestants (and the lead) all live within, say, a 50-mile radius. Not only would this recast some of the awkward end-game strategy ("So … could you ever imagine yourself moving to the middle of nowhere in Iowa?"), it'd also give contestants more points of shared reference, and it'd give each season a distinct vibe.
The contestants wouldn't even stay in a "mansion" the whole time. Like Bake Off, they'd get to go home and live their usual lives while also competing in the reality show. They'd consult with their friends (which would happen on camera, of course). They'd be allowed to use the internet. They could go on all those bonkers group dates during a weekend of filming, but afterward, they could go home and spend a week obsessing over how producers will edit their narratives. It'd all be a welcome change from the usual Bachelor mansion drama.
Ditch the roses
Repeat after me: "Ladies, this is the Final Block of Cave-Aged Cheddar of the Night." Or, for the lactose-intolerant, a few alternatives: Final Sheet Mask of the Night, Final Bag of Doughnuts From That Place You Like of the Night, Final Advance Copy of the New N. K. Jemisin Book of the Night, Final Pair of Very Comfy Slippers of the Night.
Embrace the crossover episode
The Bachelor, but it's a crossover with Fixer Upper: Everyone works in the real-estate industry and they all renovate the mansion while dating the Bachelor. The Bachelor, but it's a crossover with Survivor: The contestants get to vote each other out and no one has easy access to food or showers. Or even better: The Bachelor, but it's actually just Terrace House. Sure, none of those will happen because they're not all on ABC, but I'm sure there's some version of The Bachelor Shark Tank we could figure out.
Just blow the whole thing up
Ditch the mansion, force Chris Harrison to take up a position of host-emeritus, and start again with a Bachelor that has a whole new look and feel. What if you walked into the new Bachelor mansion and it looked more like a cozy, sprawling upstate New York farmhouse, with a Nancy Meyers kitchen and 17 fireplaces and original hardwood floors? Hosted by Queer Eye's Karamo, the rebooted Bachelor would have lots of wine and occasionally some formal wear. And hot tubs, of course. But rather than bizarre-world group dates, Karamo would invite everyone to low-key daytime hangs where they get to know one another in a more grounded setting. I'm talking cooking classes, trips to a dog park, food-truck festivals. But do not tell me daytime events make for bad television: If Real Housewives can do it, so can The Bachelor.
If all else fails, try these date and challenge ideas
• A guest appearance on the Bachelorette's friend's podcast
• Attend a protest
• Karaoke
• Attend an awkward industry awards banquet for the Bachelor's work
• Canvass for a local politician
• UPS failed to deliver a package, so who can get to the shipping facility first?
• Trivia night
• Trip to the Apple store to get a contestant's laptop keyboard replaced
• Attend a contestant's cousin's wedding
When you're thinking back on the dullness of this Bachelor season or casting your memory over the many identical formalwear-clad contestants of the franchise's past, remember that it doesn't have to be this way. We could imagine a different vision of a reality-TV romance fairy tale. We could say "no, thank you" to the roses, and we could turn our collective faces towards a season of The Bachelorette where host Busy Phillips announces, "Gentlemen, this is the Last Phone Charging Cable of the Night." "I just really wanted to get that last phone charger…" the men would say sadly, as they took an Uber back to their apartments at the end of the elimination ceremony. "My dog really liked her. Plus, I needed a new phone charger."